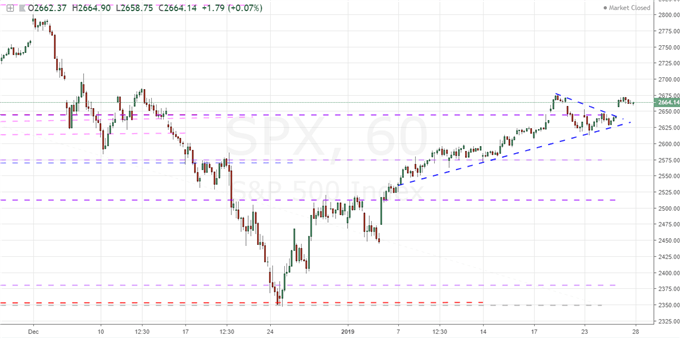 Shutdown End Lacks SPX Lift, EURUSD and GBPUSD Geared for GDP, Brexit Vote, Fed
DollarTalking Points:
The S&P 500 and Dow ended the week with a bullish wedge break and gap, but there was little reaction to Trump's ending the shutdown
Dollar suffers its biggest drop in 4 months with a clear GBPUSD move, but EURUSD and DXY are still far from a clear break
Top event risk next week includes: a Fed decision; Eurozone GDP; Plan B Brexit vote; NFPs; central banker speak and more
What do the DailyFX Analysts expect from the Dollar, Euro, Equities, Oil and more through the 1Q 2019? Download forecasts for these assets and more with technical and fundamental insight from the DailyFX Trading Guides page.
Trump Ends the US Government Shutdown, S&P 500 Surprisingly Unimpressed
We are heading into the new trading week with one fewer unresolved fundamental threat hanging over heads it seems. Friday afternoon, US President Donald Trump announced that he would support a stopgap funding bill to reopen the federal government. That would bring the record-breaking 35-day partial closure to a close and offer up a fundamental cue to 'buy the dip' should speculators be on the hunt for any reason to leverage their bullish appetites. Yet, instead the markets seemed to completely disregard the news. Why was that? There are a few considerations that likely contributed to the market's lack of response to the news that a painful drain on the already-slowing US economy (approximately 0.13 percentage points of GDP lost per week) had finally ended. There is likely a 'buy the rumor, sell the news' element at play here. We started to hear unconfirmed rumors that this break in the standoff was coming earlier in the day which may have helped add to the morning's strong performance. That said, risk trends were robust across the region and well before the whiff of speculation on this front began. Anticipation, however, was not just a 24-hour consideration. The reality that this impasse would end was engrained in the markets for some time, and the sense that its resolution could help provide lift likely inspired speculation for some weeks. What's more, there is the caveat that the government (or a portion of it) could once again seize if a permanent funding agreement is not secured - the key date here is February 15th. If we don't find some delayed lift from this theme next week, it could signal to the market that alleviation of burgeoning threats may not satisfy a continued risk appetite run. Should markets disregard the break in the US-China trade war, a wholesale dovish shift in global monetary policy and the reversal of other key issues; it would likely signal to holdouts that it is time to deleverage.
Chart of S&P 500 (Hourly)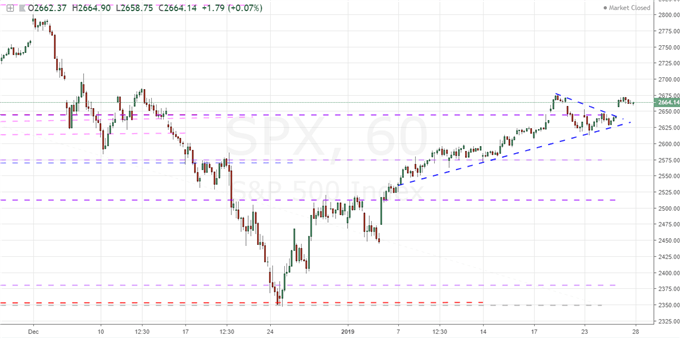 Dollar Shows Some Volatility Before a Fundamentally-Busy Week
By the middle of this past week, the Dollar was exhibiting a degree of inactivity we haven't seen since December 2016. Specifically, the activity level was decelerating such that the currency's five-day (one trading week) average true range hit its lowest level in two years relative to the previous 20 trading days (one trading month). Yet just as it seemed the market was descending into a deep speculative freeze, the Greenback rallied on Thursday and collapsed on Friday. The tumble to end the week marked the single biggest daily drop from the DXY Index since November 1st, but it is the generally extraordinary level of activity that draws our attention. What's more, that charge would come despite the day's data being delayed and the shutdown news promoting an encouraging view for the currency. A market that drops despite encouraging fundamentals, carries more of a bearish mantle; yet critical points of failure to push the Dollar into a true bear trend are still a ways away. We can readily cover that distance and further break lower - or mount a meaningful recovery - with the degree of event risk we have on tap for next week. Top listing will be the FOMC rate decision. This is not one of the 'quarterly' events that includes forecasts and for which the Fed paced out each of its four rate hikes last year. That said, there is still a press conference. There is considerable speculation still tied into the Fed's intentions with implied yields debating one or two further quarter-percent hikes this year. Another top listing is Friday's NFPs. It will do little to actually change the course of growth or monetary policy, but speculation would latch on to a disappointing showing that compounds the general deterioration of economic conditions of late. The US 4Q GDP would be a very important listing for that same reason, but it is unlikely to be released owing to the delay in measuring and calculation following the furlough. That said, the Conference Board's consumer sentiment survey update can cater to this alert skepticism as well.
Chart of DXY Dollar Index and the Ratio of 5-Day to 20-Day ATR (Daily)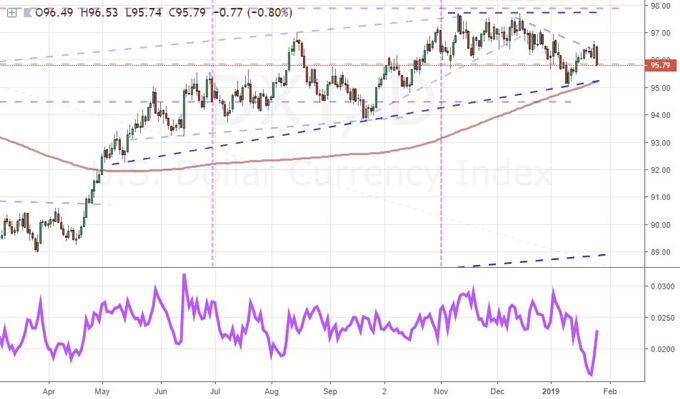 Euro Awaits 4Q GDP Updates and Pound Approaches a Critical Plan B Brexit Vote
If you are looking for a more likely motivator behind the Dollar's malaise of late, you are more likely to find greater influence through its major counterparts. Both the Euro and Pound have been seeing more significant movement recently, and that is likely carrying over to their most liquid - and passive - peer. Of the two currencies, the Pound has mounted the most impressive run. GBPUSD ('Cable') broke through resistance dating back to May and subsequently took out its 200-day moving average. And, this wasn't just the doing of a weak Dollar. An equally-weighted Pound index shows the same general strength, as does EURGBP, GBPJPY and other crosses. The charge here is perhaps even more remarkable than the USD's slide. The Pound is heading towards a decidedly more definitive event risk than the Dollar can claim: the vote on Prime Minister May's Plan B Brexit proposal. While the general consensus for the lack of support and the small differences from the initial plan are still worrying, there have been some headlines that have stirred hope that Parliament could still approve the plan for a 'soft Brexit'. I will not preemptively make a call with a trade. Instead, I will hold out options for a bullish pound outcome (EURGBP) and a bearish conclusion (GBPCAD). Meanwhile, the Euro has also been on the move, but its drift is decidedly lower. Sentiment data has slowly eroded confidence in the world's second most liquid currency and the ECB's dovish warnings didn't help. Next weeks, the stakes only rise. ECB President Draghi is due to speak before the EU Parliament, there is employment data on the docket, further sentiment figures are due and the Eurozone and Italian 4Q GDP figures are top risk in my book.
Chart of GBPUSD and 200-Day Moving Average (Daily)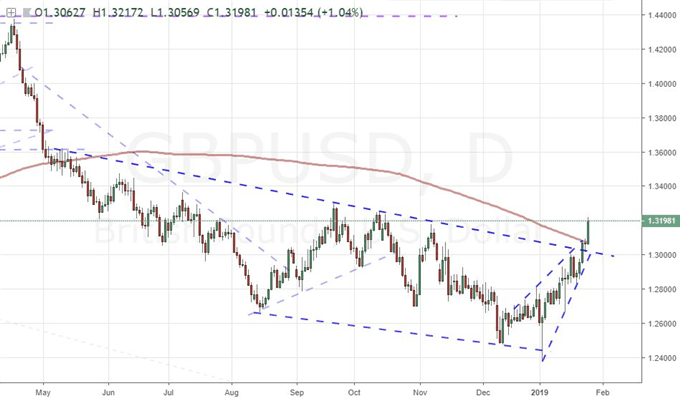 Crude Oil and Canadian Dollar Reversals Tie to the Same Thing, Is Gold's 8-Month High a Warning
Aside from the 'big three' currencies, there is a smattering of important event risk that should be monitored for more economic influence than high level market moving potential. The Japanese Yen will respond with the same sense of helplessness to the BOJ's summary of opinions as their economic outlook this past week. The Australian Dollar stands ready to respond to the 4Q CPI update as well as developments for China's economic and financial health. For the Canadian Dollar, I would put less emphasis on local data like the monthly GDP update and more weight behind the correlation to crude oil. Crude continues to firm up the technical influence that 54 represents as a neckline resistance in loaded inverse head-and-shoulders pattern formation. The right shoulder is also a rising triangle which will add some pressure to the situation. But where will this commodity's cue come from? Will US sanctions on Venezuela or OPEC production updates or US growth downgrades or some other traditional influence prove the spark? I would put greater emphasis on risk trends as the economic connections are growing more and more tight every week. Speaking of risk trends, despite the buoyancy in sentiment across capital markets of late, gold has nevertheless managed to close at its highest level since May to close out this past week. We could say this is a response to the Dollar's drop, but when we price the metal equally across the for most liquid currencies, its progress is even more impressive. This is a statement on our financial condition as much as any other unexpected cue we are seeing across the financial system. We assess the trading conditions ahead in this weekend video.
Chart of US Crude Oil Overlaid with S&P 500 (Daily)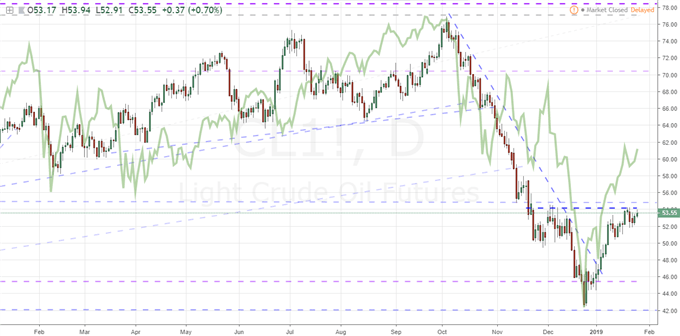 If you want to download my Manic-Crisis calendar, you can find the updated file here.
DailyFX provides forex news and technical analysis on the trends that influence the global currency markets.