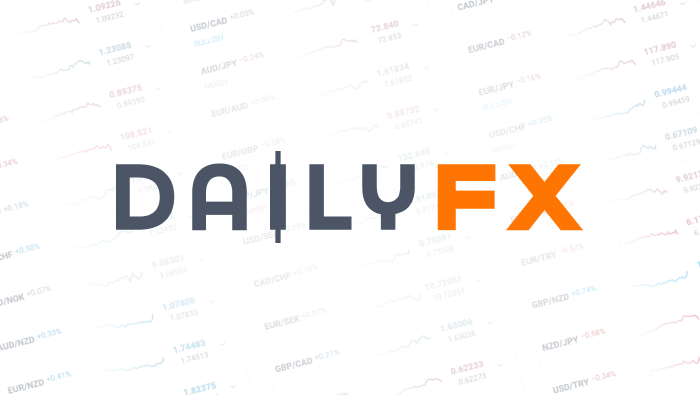 Gauging Dow and Dollar Recoveries Against Shutdown, Trade Wars and Politics
What's on this page
Bull Market Talking Points:
The

S&P 500

overtook the midpoint of its October to December tumble thanks in large part to sheer rumor on trade war progress

Other key themes to watch in the week ahead includes: the Davos summit, US government shutdown, earnings, and general political risks
Do you want to get insight on top fundamental themes over the coming week? Do you want to learn trading psychology? Have just general trading questions? Check out the various webinars that DailyFX hosts each week on the Webinar Calendar.
It Seems Verification Isn't That Important for Trade Wars
Typically, forging a significant move for the global financial system takes considerable influence and a significant depth of reliability. This past week's S&P 500 advance puts that high bar for qualification into question. The benchmark US equity index - and my favorite, singular gauge of speculative appetite - overtook the mid-point of its torrential October to December tumble. That progress was consistent with the general trend we've seen developed over the past four weeks (working on the indice's best month since March 2016), but the most recent thrust this past week was a particularly impressive technical coup. Not only was 2,645/40 the half way point of the steepest drop we've seen in years, it was the 'neckline' on a year-long head-and-shoulders pattern - critical support that would theoretically transition to equally-important resistance. Something material would reasonably be needed to justify such a move, but the normal list of general themes and data has been anything but encouraging. One potential bright spot was trade wars. After more than a year of steady deterioration the critical trade relationship between the US and China, we've seen rumors start to percolate that both sides are willing to make concessions. Thursday, reports relying on unnamed sources suggested President Trump was prepared to drop tariffs on China to help boost stocks. That was quickly rejected by a US Treasury spokesperson, but the general buoyancy held over. Then, on Friday, reports circulated that China was offering a plan to wipe out the United States deficit with the country over six years. Again, this was not verified, but the markets were happy to take it at face value. When there is an underlying bias, news that may seem supportive is given more deference to justify a general view. It is hard to mistake the underlying bullish bias of the past months, but it is equally difficult to miss the thin conviction.
Chart of Shanghai Composite Overlaid with S&P 500 in Red (Daily)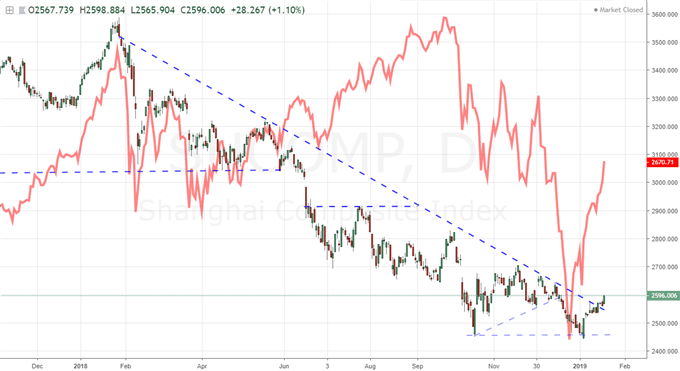 An Economic Summit, Government Shutdown, Earnings and Other Themes
Trade wars remain a universal medium for volatility that traders should keep focus on into the coming week. However, it is far more fundamentally destabilizing than what the market seem to presently assume, so do not be lulled into a false sense of low volatility nor of a definitive underlying trend. What's more, there are a host of other unresolved financial complexities that could readily take up the call of market catalyst with little warning. The economic forum in Davos between Tuesday and Friday will draw more than its fair-share of attention - in part by the absence of the US President. This summit will bring together global leaders talking on a host of crucial economic, financial and political themes important to the world. No doubt issues like trade wars, political instability and global economic pace will provoke plenty dialogue. Speaking of politics, there are numerous flashpoints in the world at present. Most pressing seem the issues in US. The partial government shutdown has surpassed 27 days and has shaved off 0.5 percentage points from GDP according to the economic council's estimates. Unresolved, the problems this reflects will grow exponentially as time passes. Perhaps more provincial is the progression of the US 4Q earnings season. Netflix disappointed Thursday night, but the market held up. In the week ahead, there are large tech firms (Microsoft, IBM, Intel), airlines and Ford. I'm most interested in the auto manufacturer who has more connection to ongoing tariffs.
Chart of Netflix Overlaid with S&P 500 in Red (Daily)
Dollar Will Follow Thematic Issues and Play Counterpart
It would seem that with so many of the high-level fundamental themes centering on the United States that the Dollar would be driven to a clear and prevailing trend. Instead, the currency has struggled with determining a clear course. The Greenback recovered from a technical reversal/breakdown earlier in the month and has since earned a modest recovery back into its broad range. Despite this, to close out this past week, the economic docket offered up a decidedly disappointing University of Michigan consumer sentiment survey. The outcome was the worst we've seen from the series since the Presidential election, the forecast component was the weakest since mid-2014 and the miss relative to economist expectations was the worst since at least 2000. Given the influence sentiment had on the way up, we would expect at least a little swoon; but that was not at all the case. The same general cherry picking fundamental influence has proven the case with general themes. Trade wars, government shutdown, economic forecasts and more would insinuate little benefit for the currency, yet it has still thwarted a full-blown bear market. With a light docket next week and few government-based releases, we will once again have to put the emphasis on open-ended - sometimes existential - themes that can be difficult to read. If that wasn't difficult enough, the Greenback's role as a primary counterpart for its largest peers will not make matters any more straightforward.
Chart of DXY Dollar Index (Daily)
ECB and BOJ Decisions, A Discrete Kiwi Report, Commodities Earn a Break
Spotting other potential critical market movers over the coming week, the Pound remains one of the majors that FX traders should mind. Following last week's crushing Brexit proposal rejection and the government's no-confidence vote survival, we are rushing unrelentingly towards the March 29 divorce date. Supposedly, Parliament will have the ability to take greater authority over proceedings on January 21, but we will need to see if they seize this influence. On the monetary policy front, there are two distinct major central bank rate decisions on the docket. Wednesday morning, the Bank of Japan (BOJ) will no doubt keep policy unchanged. However, as the most dovish major central bank (and arguably, one of the least effective), seeing any updates for its plans in the outlook as a gauge for what other group's may fall back on if they need support will establish boundaries. The European Central Bank's (ECB) meeting carries more immediate potential. Having just ended its QE program this past month, there is tremendous speculative effort being put into assessing the timing of the first rate hike. Their expectations for growth, inflation and external risks can help tell us roughly when that may be. For a more concentrated influence, the New Zealand 4Q CPI reading is one of the few indicators that can offer a clear drive to the aimless-but-active currency. Finally, commodities earned late-in-the-week breaks with gold clearing 53 on a three-week recovery run and gold broke a very tight wedge with the biggest drop since November 9th. If you want to assign motivation for either, watch risk trends first. We discuss all of this and more in this weekend Trading Video.
Chart of EURUSD (Daily)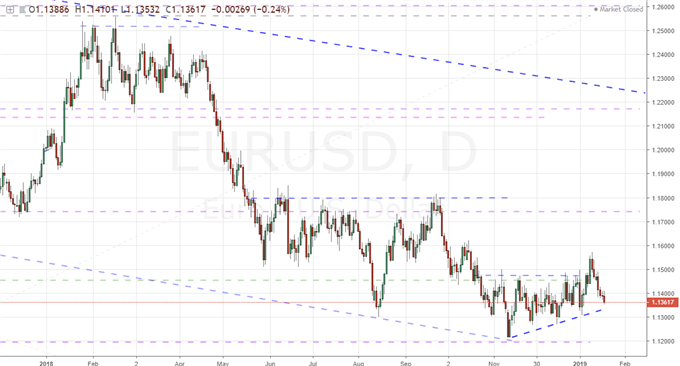 If you want to download my Manic-Crisis calendar, you can find the updated file here.
DailyFX provides forex news and technical analysis on the trends that influence the global currency markets.