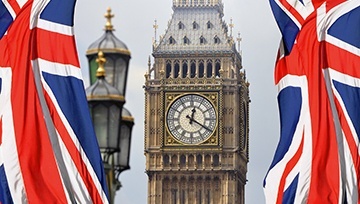 Brexit and Earnings May Take the Market's Wheel Over Shutdown and Trade Wars
What's on this page
Government Shutdown Talking Points:
The

S&P 500

fells just short of its sixth consecutive daily advance, but the week's performance was still firmly bullish

Key themes like the US govenrment shutdown, trade wars and

monetary policy

stability remain open-ended risks moving forward

Among various scheduled events and data releases, the greatest potential for market impact rests with the Brexit vote on Tuesday
Do you want to get insight on top fundamental themes over the coming week? Do you want to learn trading psychology? Have just general trading questions? Check out the various webinars that DailyFX hosts each week on the Webinar Calendar.
These Markets Have Unresolved Issues
It can be easy to forget your worries when the markets are aiming higher. We have seen volatility readings soften and speculative assets advance over this past week - the first full week of the trading year. Yet, the same fundamental concerns that triggered such tumultuous trading conditions over the previous months (even, surprisingly, through the holiday period) remain as threatening as now as they had during the peak of the speculative fear. As of Friday, the United States' partial government shutdown passed through its 21st day, matching the longest the country has seen in its history. The impact to investor sentiment and credit rating agencies' assessments may spring back should the furlough end, but the GDP hit is in the books one way or the other. Perhaps the only silver lining to this situation is the fact that Congress voted overwhelmingly to pay the furloughed workers backpay when the government reopened. Trade wars are more mature and are therefore more prone to complacency. The updates from US and Chinese officials this past week was the lip service you typically expect from politicians to avoid market panic - actually, a change from recent norms. It has been suggested that President Trump has told his negotiators to find a resolution to help bolster the markets. Then there is the question of monetary policy. The Fed has taken a distinctly dovish turn as of late which has stirred old feelings of risk appetite, but recognition of how little capacity the world's largest central banks have in the event they need to fight a financial fire is dangerously apparent.
Chart of USDCNH (Daily)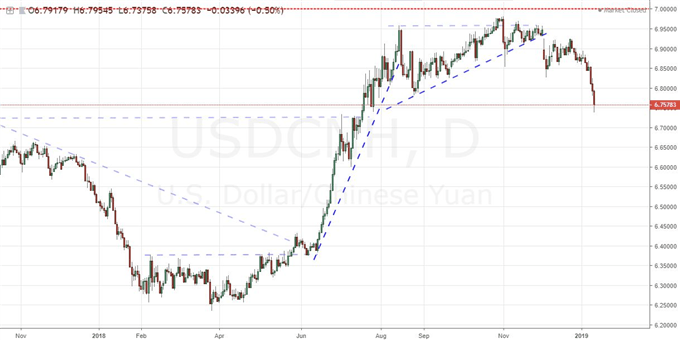 A Speculative Recovery Without Enthusiasm
Across the benchmark capital assets, we have seen a tangible bounce in risk appetite. The HYG high-yield ETF arguably has the most impressive relative performance to its peers with its best week's rally in approximately two years - though it is still far from its highs. Emerging markets and carry trader are showing far less enthusiasm for an outlook that would merely avoid possible financial disasters that are still lurking around the market. Equities is generally on a similar footing. The VEU All World ex-US ETF has itself advanced three weeks from a trough that was as much as 25 percent off the February peak, yet it is currently down 19.5 percent from that aforementioned high-water mark. This performance registers more as a breather in a more prolific slide from over-extended markets than it does an earnest capitulation aiming for new, eventual record highs. The difference is as much rooted in fundamentals as it is technicals. Rousing sidelined speculative capital back into action requires something of genuine substance - an expectation for stable conditions and higher rates of return. We could find volatility retreat under the familiar veil of complacency or through doctored means from loud central bank threats. Yet, the promise of higher returns now comes hand-in-hand with the assumption of higher risk (this relates to the old trading axiom: 'there are no free lunches in the market'). A sudden renaissance in global growth is unrealistic to expect. Perhaps fourth quarter US earnings - which start next week with the likes of JPMorgan, Alcoa and Netflix - can signal a sudden resurgence in corporate profits and anticipated distribution to investors; but that is just wishful thinking.
Chart of S&P 500 and Net Retail CFD Trader Positioning (Daily)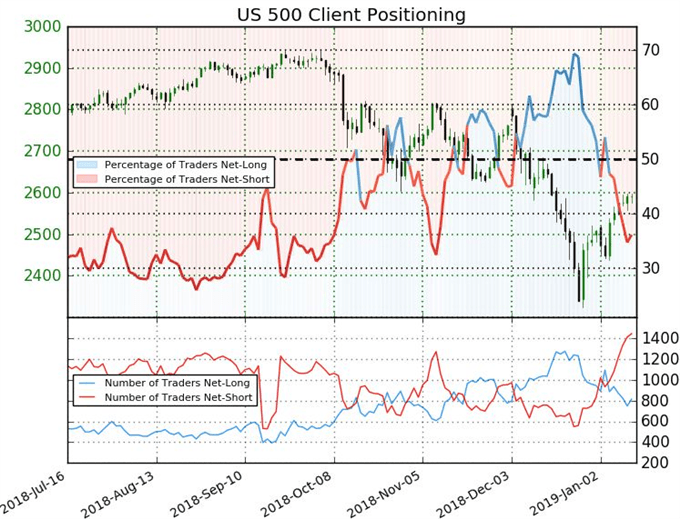 Will the Pound Finally Have a Clear Fundamental Course?
Though it may not carry the same level of global reach as trade wars, Brexit represents the far more loaded fundamental theme for the upcoming week. That is largely due to the fact that we have a specific event to look forward to. Following numerous setbacks on the path to an acceptable separation from the European Union, Prime Minister Theresa May is due to put her Brexit proposal up to vote in Parliament on Tuesday. If you recall, she attempted to push a different proposal a few weeks ago but called it off when it became clear that the MPs were going to soundly rebuff her. Sentiment heading into this vote is not nearly as clear and troubled as the previous one, but the anticipated outcome still points to failure. If that is the case, Parliament voted last week to force an expediated Plan B, due in three open session days rather than the standard 15. And, lest we forget, if the country looks to be on a path towards a 'no-deal' Brexit, Parliament has also given itself more say over the next steps from there. It is almost inevitable that this event will prove market moving. If the deal is approved, the Sterling is likely to rally sharply. If rejected, it compounds skepticism that a deal will ever be struck while the Government continues to refuse alternative paths. And, if it is delayed yet again, it is likely to register a similar response to outright failure. It would be nice to see the Pound commit to a clear direction once again. Be on guard.
Chart of GBPUSD and CME's Pound Volatility Index (Daily)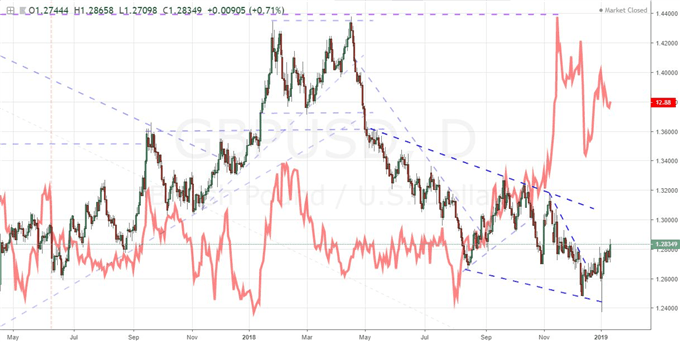 Sorting Out the Dollar, Oil and Gold Both Depend on Risk in Different Ways
If risk trends are unclear on their bearings, it should come as little surprise that the Dollar is also unsure of its course. On its role as a safe haven versus its more recent carry trade advantage, when need severe risk aversion or risk appetite to clarify its virtues. In flight to safety, the currency's liquidity can overcome its troubles while full-tilt risk appetite would keep the Fed on its previous path of three hikes in 2019 while other central banks will have been set back in their slow, eventual emergence from extreme easing. On the docket, this coming week, we have upstream inflation figures and Fed speak for monetary policy assessment. The University of Michigan's consumer sentiment survey is perhaps the top fundamental event, but even insight into fading confidence and spending plans amid economic slowdown and political gridlock is likely to generate enough heat on a Friday to overcome the wind down on liquidity. Meanwhile, both gold and oil will borrow some of their performance from the single currency, but their connection has been lax of late. I would watch the S&P 500 as guideline instead. Gold is consolidating at the top of its multi-month climb - a more prolific move when evaluated in multiple currencies. Crude in the meantime ended its consecutive advance streak with the first bearish day in 9 sessions. I would not to commit to any reversals that are based on historical correlation as previous such runs occurred at higher points in larger bull waves. We discuss all of this and more in this weekend Trading Video.
Chart of US Crude OIl and Consecutive Day Advance/Declines (Daily)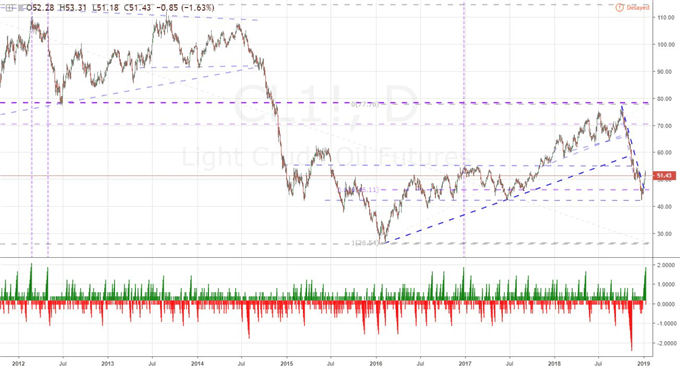 If you want to download my Manic-Crisis calendar, you can find the updated file here.
DailyFX provides forex news and technical analysis on the trends that influence the global currency markets.