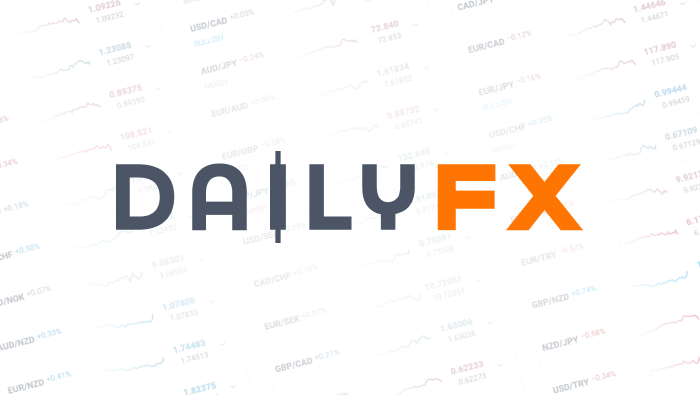 Next Week Starts with Key S&P 500 Support, A Brexit Vote and Fed Speculation
Talking Points:
Volatility proved extreme for US equities as a benchmark for 'risk' assets last week despite the holiday, a

concern

for what's ahead

Fed rate expectations are dropping quickly, but the Dollar is holding due to some haven interest and some sympathy pain

Parliament's Brexit vote, the ECB rate decision, trade war updates and US CPI are key thematic risks in the week ahead
Do you want to learn how to trade event risk? Download the strategy guide discussing trading around news events on the DailyFX Trading Guides page.
Well, That is a Dangerous Way to End the Week...
It is easy to forget that there was a forced breather for the speculative markets this past week owing to the US holiday in memorial to former US President George HW Bush. That was the only day that we didn't experience heavy volatility. A high correlation across 'risk' leaning assets coupled with exceptional swings for a range of benchmarks speaks to a market that is reflecting far more risk than seasonal convention would suggest. December is historically one of the most reserved months of the trading year in volume and volatility terms with a distinct habit towards year-end lift. The risk of breaking these conventions is unnervingly high given the long list of systemic threats paired with growing concern over existing exposure. To make a clear point of the risks we are facing, refer to the benchmark US indices. Now only did the S&P 500 span its past two-months' range in the worst weekly performance since May, the index closed Friday leaning precariously over the edge of significant support. The floor of 2018's flat journey will be under pressure come Monday's open. Should the headlines be clear, it is more likely that we fend off any critical breakdowns; but there are many possible outlets from which fear can radiate. Where US indices (including Dow and Nasdaq) are 'on the cusp' of further retreat that can truly raise the profile of a committed trend lower, many other asset classes seem to be well down that path. Global indices (like the DAX or VEU as an aggregate) are clearly progressing lower, the EEM emerging market ETF merely failed to recovery from its dive last week, junk bonds are sliding and carry trade in FX is holding off full-fledged momentum because it never committed to the preceding bull trend in the first place. Liquidity will be restricted over the coming weeks one way or the other, but that doesn't mean we won't find speculative fireworks.
Chart of the S&P 500 (Daily)
Themes that Will Allow for Speculative Blur or Dependency on Headlines
As liquidity naturally recedes, it is increasingly important that a meaningful catalyst take the reins to affect genuine progress. There are a few leading concerns that can more readily step in to unify the masses to a clear bearish (or bullish) view. At the top of the list is the drama of the US-led trade war. This month started with a view that conditions were in fact improving on that front with Presidents Trump and Xi agreeing to a 90-day freeze on further escalations so they can negotiate without the sense of an imminent threat lurking around the corner. That de-escalation was thrown into disarray when it was reported that the United States had requested the arrest of Huawei CFO Meng Wanzhou. The company is one of China's largest telecomms and consumer electronics goods producer, but more importantly, it represents a key player in the country's technological drive. Though President Trump's chief economic advisor said he was unaware of the arrest, the timing will create inevitable difficulty for discussions. Geopolitical risks are another front that is ever sliding back into conflict. The split in global relationships with dissolving relationships between partners and growing conflict between competitors (like the US and Iran) creates barriers to collective growth. Global monetary policy is another outlet for trouble. A shift away from tentative normalization efforts may be more prominent for those further along (like the Fed and Bank of Canada), but it is happening broadly. Rather than this shift being interpreted as spending a little more time at lower cost leverage, market participants are registering that something is increasingly problematic in growth and financial heath to warrant a return to 'emergency' policy settings. Take your pick for fundamental threats, but ensure there is a viable catalysts.
Chart of the VXX Short-Term Volatility ETF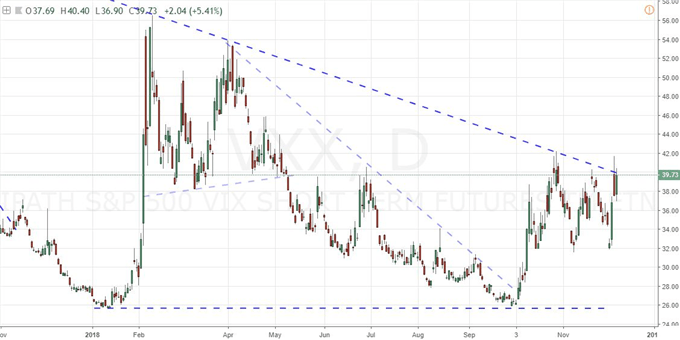 A Brexit Vote With No Truly Encouraging Outcome for Markets
In the week ahead, the top scheduled event is arguably the UK Parliament's vote on the Brexit proposal. Scheduled for 10:00 GMT on Tuesday, the mood leading into the session supports an outcome likely to prompt even greater uncertainty. This past week, a series of votes by the MPs delivered the Prime Minister strong rebuke - including finding her in contempt for her handling of legal guidance on the Brexit findings as well as the decision to bolster the body's say on the proceedings of the divorce should they reject her proposal. It is highly likely that parliament rejects the plan that the EU had already agreed to. There are no immediately encouraging paths for the health of the UK economy and stability of its financial system following such an outcome. Such a development inherently would suggest negotiations between the government and Parliament will be even more fraught and another three weeks to come to terms will push us even further beyond the point of no return. A no deal course would virtually ensure a financial fallout. Some would consider a second referendum a boon as it could turn the country off its path of separation, but there would still be plenty of uncertainty before critical progress is made on that course. Volatility is a very high probability for the Sterling, but clear trend will likely remain frustratingly out of reach.
Chart of GBPUSD with 1-Week and 1-Month Implied Volatility (DailyFX)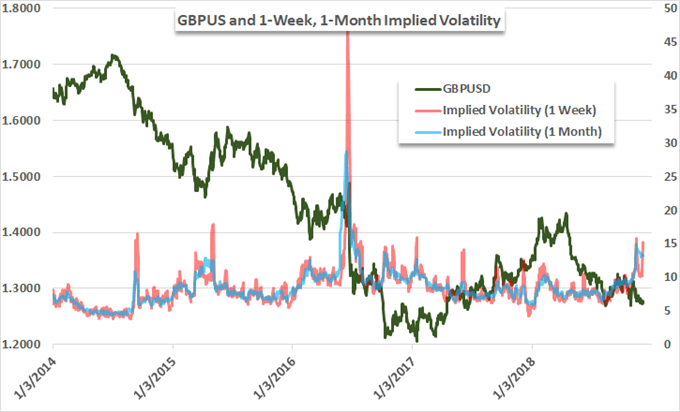 Euro Looks to Span Political and Monetary Policy Risk
In contrast to the Pound, the Euro does not harbor the same open fundamental risk but its issues can provide more decisive bearings for the currency. Italy can remain a course that can maneuver without absolute resolution or crisis for a considerable time. Italian Prime Minister Conte and Deputy Prime Minister Santini are both due to speak before the European Council's meeting where they will weigh in on budget among other other regional themes. Far more decisive over the coming week is the ECB rate decision on Thursday. Given the slide in rate expectations for the Fed, BOE and BOC recently; it stands to reason that Europe's policy group can take a more dovish tack to match global conditions. With the Euro and Pound both facing fundamental skew, the only currency with greater aggregate liquidity stands to potentially benefit. The Dollar is struggling against a slide in Fed rate forecasts seen in Fed Funds futures and other measures of market speculation, but liquidity is often an overriding influence when directing capital. With anticipation for the subsequent week's FOMC rate decision casting a long shadow over commitment to trend, an indirect role may be the best potential for the benchmark. Meanwhile, currencies like the Canadian and New Zealand Dollars may look distinctly appealing for their lack of conflict and anticipation. We look at what the market has to offer in the week ahead in this weekend Trading Video.
Chart of DXY Dollar Index and the Dec 2019 – Jan 2019 Fed Funds Futures Yield Curve (Daily)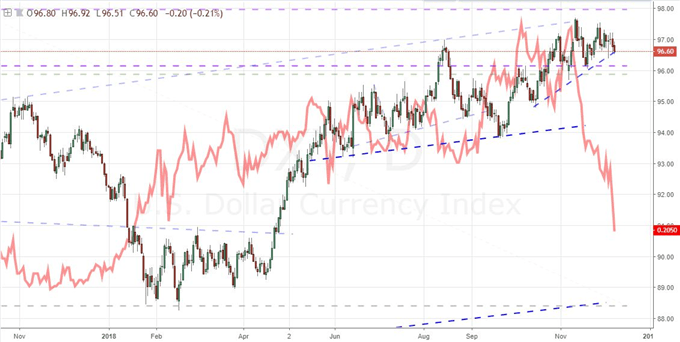 If you want to download my Manic-Crisis calendar, you can find the updated file here.
DailyFX provides forex news and technical analysis on the trends that influence the global currency markets.