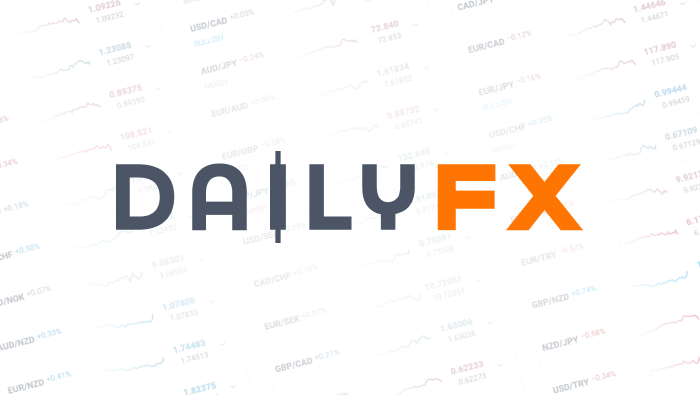 EURUSD Bounces Despite Break, Brexit Hopes Prop Pound, Oil Hits the Gas
Talking Points:
The tumble in risk assets led by the S&P 500 and US indices steadied this past session despite the thrum of trade wars

Reports of agreement between the UK government and EU on a border deal set off a Sterling rally and series of rumors and headlines

US crude oil dropped an unprecented 12th straight trading session with an extraordinary 6 percent plunge drawing traders' focus
What makes for a 'great' trader? Strategy is important but there are many ways we can analyze to good trades. The most important limitations and advances are found in our own psychology. Download the DailyFX Building Confidence in Trading and Traits of Successful Traders guides to learn how to set your course from the beginning.
Risk Aversion Slows but the Machinations are Still In Place
We started off this week with an unmistakable risk aversion. Most assets with a speculative lean were in retreat, but the US indices lead by the S&P 500 were marking off another heady loss that echoed the conditions we had seen through February and October. Naturally, the frequency of dramatic declines this year has made the market particularly sensitive to the next tidal wave. Yet, the recognition of fear doesn't seem to have set up trip wires for self-sustaining runs of deleveraging. This past session, the bears pulled back on the reins as the explosive headlines thinned out. The trade war's evolution from an unchecked US-China escalation into a possible return for the Trump administration to European autos is still an uncomfortably believable risk, but the markets are more than willing to discount uncertainty if the situation doesn't continue to escalate with headlines to confirm a march forward. As for political risks such as international relationships weighing further under strain or the President's Chief of Staff John Kelly considering his resignation, there have been so many headlines in this vein that the markets seem ready to write down the uncertainty they suggest. As familiar as the past session's reversion to stability was given the habitual complacency of past years, traders should not be so readily soothed. Volatility is a more permanent feature of our landscape and it is easy to turn markets in both direction and tempo in this type of environment.
Chart of S&P 500 (Daily)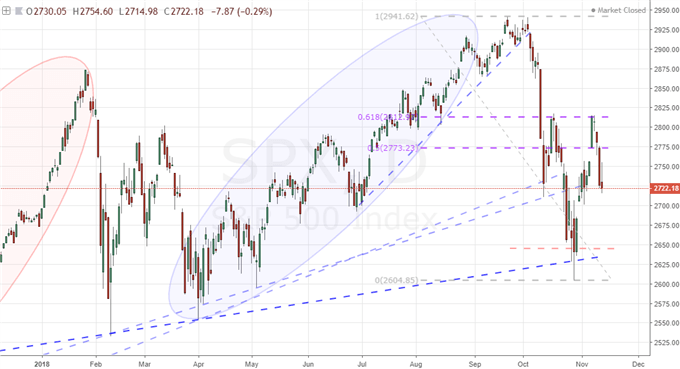 A Pang of Brexit Hope Leads to a Deluge of Rumors and Reports
Perhaps this past session's most remarkable fundamental move was leveraged through the British Pound. The Sterling rallied across the board Tuesday following a report from RTE suggesting the UK and EU negotiators were willing to agree to text around a solution to the Irish boarder. Up until this point, it was reported that the two sides were in agreement on approximately 95 percent of the divorce, with the final stretch including the border representing a serious and potentially unsurmountable hurdle. To see unconfirmed rumors that this critical barrier could be overcome would naturally draw out the bulls. If there was complete buy in on this news, GBPUSD would likely be trading above 1.3500 as of now on its way significantly higher. However, this market and this theme are steeped in skepticism - and for good reason. Progress on this divorce have seen many false starts which ultimately fell through and sent investors, businesses and citizens for a loop. It is important to remember that there is more than just a generic UK and EU side to this situation. There are staunch hardline Brexit supporters in the cabinet, there is a large presence of Labour in Parliament that wants access to Europe or doesn't want a Brexit at all, there are DUP and Irish interests, and of course there is the European Union's interests. Meeting the needs of all of these parties is impossible with the outright capitulation by one or more. And, none of them has voiced any intent of being the group to compromise. The next critical milestone in this saga is the emergency cabinet vote later today after the Prime Minister is expected to meet each of her cabinet members one by one. The nature of Brexit lends itself to a distorted market impact. If progress fall through, there is still time until the official end of Article 50 in late March - though the balance of risks will grow steadily. Alternatively, if there is clear progress, the Sterling will likely rally from its significant discount.
Chart of GBPUSD (Daily)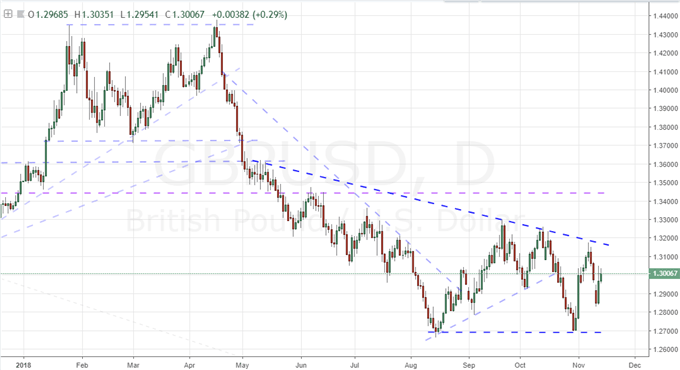 EURUSD Bounces Despite the 1.1300 Break and Italy's Persistence
Just a day after marking an otherwise remarkable technical break when it cleared support at 1.1300, EURUSD would stall and put in for a notable rebound this past session. That is not unprecedented even when the ultimately outcome is follow through. However, in this case, it was the preceding breakdown that was already drawing a level of skepticism. There was a possible direct fundamental influence over the pair via the risk of a revived US-EU trade war with auto tariffs once again being considered, but the more practical driver for the pair would be the individual motivations of the component currencies. For the Dollar this past session, there are few things that can reliably be called upon to sustain a climb. The NFIB small business sentiment report this past session certainly doesn't have the weight, but neither does the upcoming CPI nor Fed Powell remarks on the economy. Sure, if both overtly disappoint, the Greenback can suffer the consequences; but the bullish scenario is hard to muster from the docket. Meanwhile, the Euro's pain is still relatively raw and potent. That said, the currency's primary source of pain of late - the trouble faced in the Italy-European Union budget standoff - actually offered a signal to spur genuine concern. With the deadline passing, Italy's government made clear that they had no intention of altering its budget or growth forecasts despite the EU's rejection of the first iteration some weeks ago. Meanwhile, the IMF warned the budget outlook was significantly higher than official forecasts (2.7, 2.8 and 2.9 percent through 2019, 2020 and 2021) while other European leaders warned all members must follow rules. This situation has only grown more troubling, but the Euro clearly didn't suffer the recognition. Just as with Greece, the lack of a hard time frame for a financial or economic cliff can allow for complacency, but that doesn't allow for the avoidance of a fundamental reckoning.
Chart of EURUSD (Daily)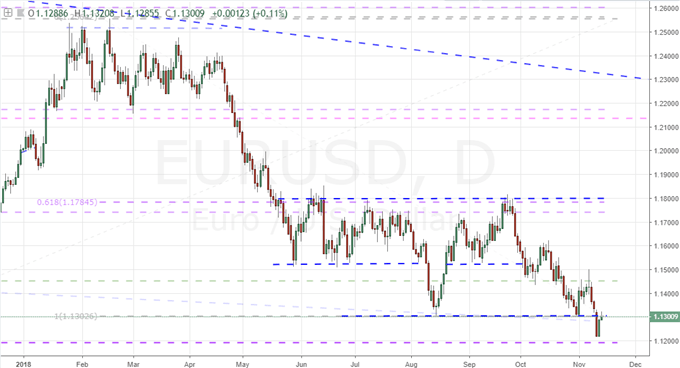 Don't Let Crude Oil Draw Out the Speculative Beast
Looking for the most impressive move this past session, there was little arguing the top spot for crude oil. Not only has the commodity dropped 12 consecutive sessions through the Tuesday session close - a record breaking bear run - but the specific session's performance was particularly painful. A drop of more than 6 percent Tuesday was the worst day's slump since February 2016. That in turn raises the tally of losses for the commodity in the span of just 6 weeks to approximately 29 percent. The move has been exceptional for sheer productivity when so few key markets have been able to render a meaningful trend - bullish or bearish - over the past years. If you intend to participate in the market with a view of continuation and especially attempting a reversal, it is crucial to identify market motivation. There is technical precedence in $55 as a possible pivot level, but I would not put much stock in that floor. Nor would traditional fundamentals with suggested OPEC production cuts or demand shrinking commensurate to growth projections set my views. Instead, speculative appetite will likely carry more authority with the kind of momentum that we have seen recently. Net speculative futures positioning continues to slide from a record high while short-term retail traders are ramping up an effort to pick up a top. We discuss all of this and more in today's Trading Video.
Chart of US Crude Oil and Daily Change (Daily)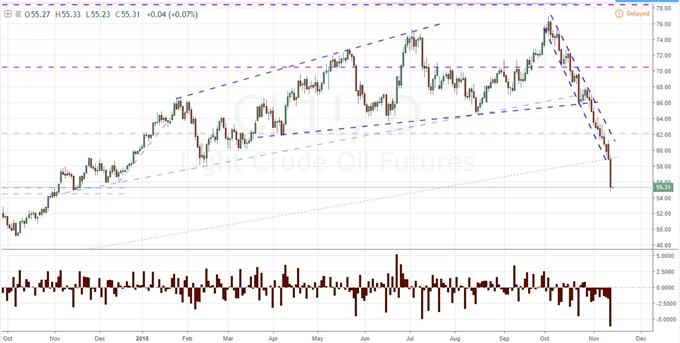 If you want to download my Manic-Crisis calendar, you can find the updated file here.
DailyFX provides forex news and technical analysis on the trends that influence the global currency markets.