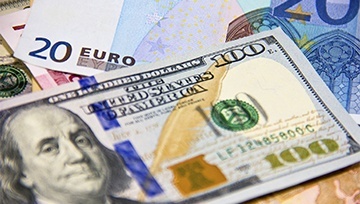 Eying Trendline Support for the Dow, GDP for the Dollar, Italy for Euro
What's on this page
Talking Points:
US equity indices are losing traction as a holdout for speculative enthusiasm, and all risk assets are exposed

Reports Friday evening that the UK government may make a Brexit concession and Italy was downgraded will cue

Euro

and

Pound

Monday
What do the DailyFX Analysts expect from the Dollar, Euro, Equities, Oil and more through the 4Q 2018? Download forecasts for these assets and more with technical and fundamental insight from the DailyFX Trading Guides page.
The Risk of Placing Your Faith in Speculative Holdouts Like the S&P 500 and Dow
'So long as the Dow stays above its trendline support or 200-day moving average, I will remain bullish on risk trends'. While many investors may not spell out this perspective so succinctly, there is plenty of self-bargaining in the markets that follows exactly that line of thinking. Many traders are willing to overlook growing fundamental issues, a deteriorating trading environment or even the troubling signs of other risk-leaning assets in retreat so long as one symbolic benchmark is holding out. It is good to have a plan and certain assets or measures can be used as a gauge of conviction; but pushed to far, the qualifiers can eventually replace a sound evaluation of the risk-reward balance in our exposure. As a measure of general risk trends, there are few more resilient bastions of speculative appetite than the major US equity indices. The S&P 500, Dow and Nasdaq have all established the same technical pattern with two-year long trendline support below recent price action and the long-term moving average (200 day) reinforcing the floor. Meanwhile, most other risk assets are attempting to slow productive retreat - from global markets represented by the VEU to the EEM emerging markets ETF and everything between. What happens if the indices falter as well? Not just a volatility event as we had experienced earlier this month and in February, but a more systemic retreat. The conditions are staged, and now we monitor the catalysts. Trade wars and earnings are more active concerns, but there immediacy has tempered recently. The implications of growing fiscal debts and faltering monetary policy effectiveness are more abstract but significantly greater systemic threats.
Chart of S&P 500 (4-Hour)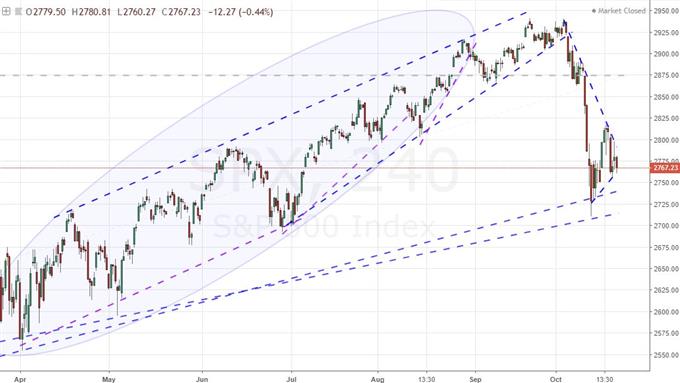 An Important First 24 Hours of Trade for the Euro and Pound Next Week
The EU Summit this past week made the major European currencies a focus for FX traders and international investors. Looking ahead to next week, the scheduled event risk my not be so conveniently concentrated, but it will nevertheless carry significant weight for the bearings for the currencies and their respective capital markets. Right off the bat, we should watch to see how markets react to the late-in-the-week updates this past week when liquidity is restored. For the British Pound, performance will be evaluated against the news Friday after London markets wound down that the UK government was ready to ease opposition to the European Union's demands on the Irish border in order to find a necessary breakthrough on the divorce proceedings. If this is treated as a viable milestone, the Sterling may find itself in a lasting recovery as the path clears towards a deal that stabilizes economic and financial forecasts. If not, the clock is counting down to where room to maneuver will vanish and the Pound will flounder. In contrast to the tentative optimism for the UK's currency, the Euro's open will be registering troubling news to close out this past week. After liquidity drained Friday, ratings agency Moody's announced that it had downgraded Italy's sovereign credit rating a step to Baa3, stating its high debt level reduced its ability to fight an future economic downturns. There are further ratings updates due for the UK and Italy (as well as Germany and France) next week. Another high-profile Euro theme to keep close tabs on is Thursday's European Central Bank (ECB) rate decision. There is still considerable premium afforded to the Euro from 2017's buoyancy forged by a sense that a rate hike is coming just '12 to 18' months ahead. If that probability deflates given recent developments, the Euro can start to sink in earnest.
Chart of GBPUSD (4-Hour)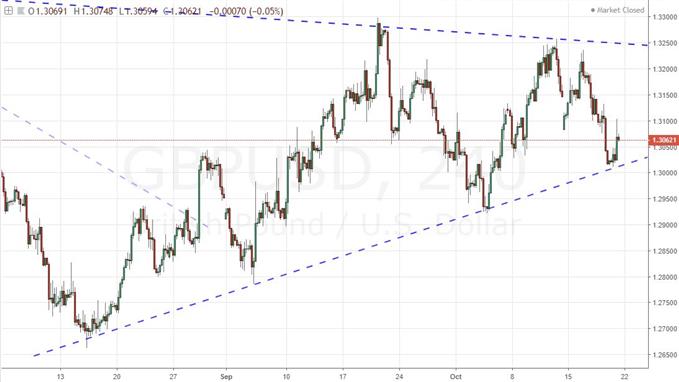 Dollar Will Draw More Charge from Counterparts than Its Own GDP
Where is capital flowing around the world? This is an assessment that most global macro traders try to make on a regular basis in order to establish more systemic views on risk trends or general market conditions (such as erraticism). Following the relative performance of risk assets (equities and carry) against havens (Treasuries and gold) can offer an important perspective on the markets. Yet, asset type isn't the only scale to derive critical market information. Movement of capital through different regions can signal trade opportunities as well as establish critical fundamental focus. For the US Dollar, this relative perspective is particularly important. In years past, there has been a remarkable leverage afforded to the benchmark currency as it positions itself as the alternative to otherwise weak counterparts. We saw exactly this in the climb from the Greenback through 2014-2015 in anticipation of a tepid recovery from an extremely depressed benchmark rate environment. Given the Euro's dalliance with another sovereign debt crisis and the Pound dealing with Brexit, the Greenback looks to be the only high-liquidity viable alternative in the FX market. The Japanese Yen has meaningful liquidity of its own, but the Dollar is better positioned to absorb that scale of liquidity. If USDJPY retreats amid these developments, it will signal something important in risk trends and in the Dollar's fundamental backdrop. For its own standings, the Greenback will have a few noteworthy scheduled data points; but it is the 3Q GDP on Friday that carries the most heft. This will be important to match against sentiment surveys and promises made by politicians - both of which have contributed significantly to the present buoyancy of capital markets and rate forecasts.
Chart of ICE Dollar Index (Daily)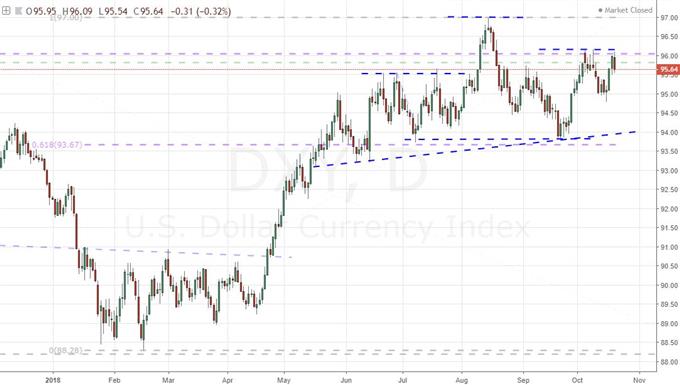 Opportunities Like the Canadian Versus Those Like the Swiss Franc or Kiwi Dollar
In addition to the general fundamental themes (China's health, trade wars, deficits) and pointed scheduled event risk, one of high profile but region-restricted updates that will draw my attention this week is the Bank of Canada (BOC) rate decision. While it is still far from the Fed's pacing, the Canadian bank is one of the most hawkish groups among its peers. What's more, there is a greater sense of uncertainty and thereby underpriced potential for the BoC relative to the clearly projected Fed. Overnight swaps show clear anticipation of a hike before the year ends, but the sharp cooling in inflation statistics to close this past week (down from a 2.8 to 2.2 percent pace) may change the calculus of when to move. With the trade wars behind Canada, will the Loonie shift its focus back to its monetary policy potential? In contrast to the data-centric interest I have in the Canadian and US Dollars, Euro and Pound, there are appealing currencies in the mix that are not waiting for a specific event before choosing direction. The Swiss Franc, Australian Dollar and New Zealand Dollar are tracing moves unrestricted by a key event ahead or even with a tight mooring to risk trends. The Franc's haven status is still there, but it has blurred in the absence of liquidity events or European-explicit fears. As for the Aussie and Kiwi Dollars, they are still carry currencies, but they explicitly ignored the risk aversion moves of the previous few weeks. This puts greater opportunity for these currencies to play the roles as coconspirator counterparts that abide technicals more readily. We discuss all of this and more in this weekend Trading Video.
Probability of Another Central Bank Rate Hike in 2018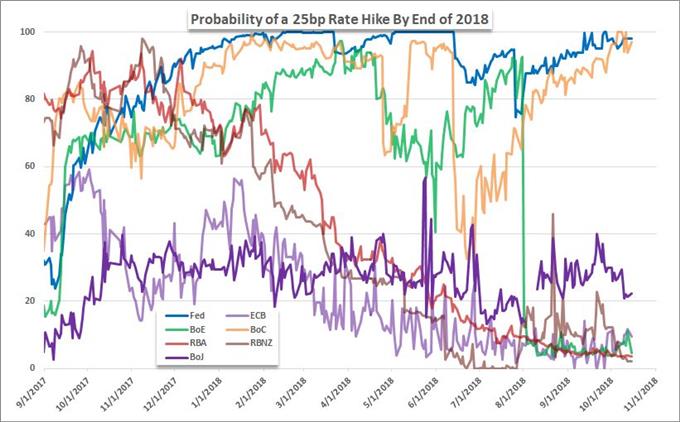 If you want to download my Manic-Crisis calendar, you can find the updated file here.
DailyFX provides forex news and technical analysis on the trends that influence the global currency markets.