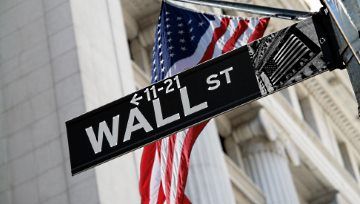 Dow Charges Higher Oblivious of Trade Wars, Dollar Moves Towards Inevitable Break
What's on this page
Talking Points:
Despite the US $200 bln upgrade to its Chinese tariffs and China retaliating with $60 bln of its own, risk trends still advance

The

BoJ rate

decision and start of the two-day EU Brexit summit, neither the

Yen

nor the

Pound

marked a clear move

Brexit talks, the

SNB rate

decision, US-Canada negotiations and risk trends should all be on our radar over the next 48 hours
Do you want to learn how to trade event risk? Download the strategy guide on for trading news events on the DailyFX Trading Guides page
The Five Ton Elephant in the Room: Trade Wars and No Market Response
This week, there has been an unmistakable and even extreme upgrade in the US-China trade war. And yet, the markets have arguably grown more and more disconnected from the economic and financial ramifications of this situation as the intensity increases. Following reports that this step was coming, the White House announced Monday that it would go forward with the proposed escalation of tariffs on another $200 billion in Chinese imports increasing the pressure four fold over the previous step. True to form, China followed with its own retaliation on a reported $60 billion of US goods. The next steps are fraught with greater danger and further straying from a reasonable course of eventually returning to stability. Perhaps China notched a smaller notional group of goods and set lower rates to prevent President Trump from pursuing the threat of further escalation in response to retaliation to the tune of an astronomical $267 billion upgrade that would blanket all Chinese goods. If so, it is unlikely to earn much appeasement. Yet, despite the course we are on, risk trends are remarkably disconnected. It isn't even complacency at this point. It is willful refutation of prominent threats. The S&P 500 just off of a record high and the Dow finding a remarkable charge just this past session is remarkably not that unusual. More impressive is the fact that even the Shanghai Composite has broken up from its bear trend while other sensitive assets have similarly thrown in the towel on caution. Optimism is one thing, purposeful ignorance is something completely different.
Shanghai Composite vs. S&P 500 Chart (Daily)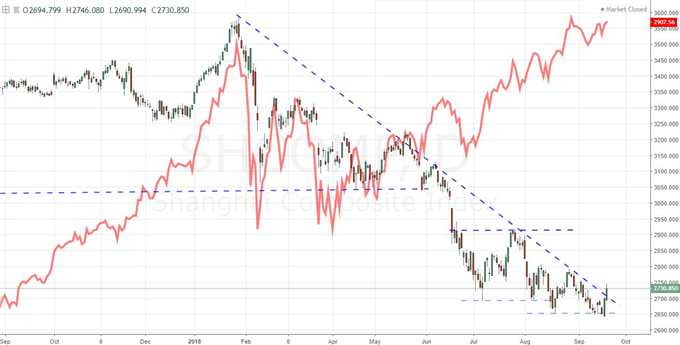 US-Canadian Talks Break Down and BoJ Continues to Tread Water
Aside from the deepest fundamental current - and the market's uncanny disinterest in following its course - there was no lack of targeted fundamental event risk this past session. In the Asia session, the Bank of Japan (BoJ) surprised no one when they decided to hold monetary policy unchanged at essentially-zero while maintaining course with its recently modified massive quantitative easing program. The implications for this unprecedented (remarkable given the efforts of Fed and ECB) program don't seem to catch much traction anymore. In effect, the Japanese currency is only solidifying itself further to its funding currency status, but there isn't presently much carry trade to fight over - even if risk trends are still buoyant. The standing of the Yen crosses is likely indicative of the moderate degree of confidence that is currently present in this market, but can it make the next step to a bullish break just as US indices need to cross to record highs? More thematic in nature, the Canadian Dollar responded quickly to reports Wednesday that talks between Canadian and US officials for NAFTA renegotiations had likely stalled for the week. That said, the loss of altitude was ultimately small and short lived. An equally weighted Canadian Dollar Index stands at the cusp of a bullish break on a multi-month congestion.
CAD/JPY Chart (Daily)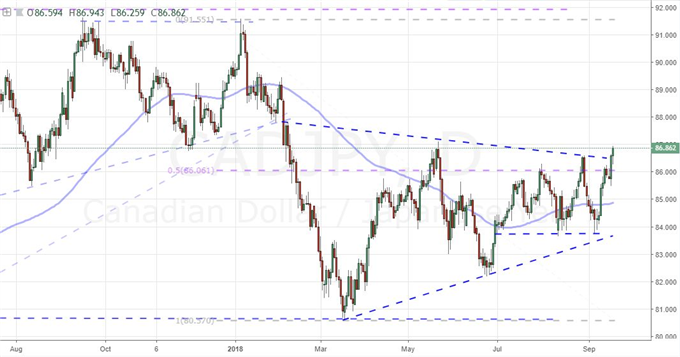 An Inevitable Dollar Break and More Brexit Discussion
Where the Japanese Yen and Canadian Dollar don't face an inevitable break in the near term, the US currency certainly does. The DXY Dollar Index chart presents a wedge that will come to a terminal point whether fundamentals motivates a resolution or not. That will necessitate a break, but not all such cues require follow through. In fact, we have seen plenty technical triggers with no detonation aross the financial markets these past months. The question is not where and when a break occurs, but rather what motivates it. A technical conclusion is likely to come up with the same struggle we have seen so frequently. However, if the markets suddenly start to discuss the fallout of trade wars on so many fronts or growing doubt over the Fed's commitment for hikes out to December and into 2019 (futures show a 94 percent probability of a hike next week), perhaps the opportunity will be seized. A similar capacity for movement rests with the British Pound. It doesn't have the technical geometry, but its build up these past weeks was predicated on beliefs that have quickly eroded. Gone is the encouraging language from the UK and European officials who have talked up the expectations of compromise. Instead, we find EU President Juncker saying they were still far from an agreement and Prime Minister May saying they would stick with the Chequers plan. The second day of the informal EU leaders summit is scheduled ahead. Don't set expectations high, but keep agile.
DXY Chart (Daily)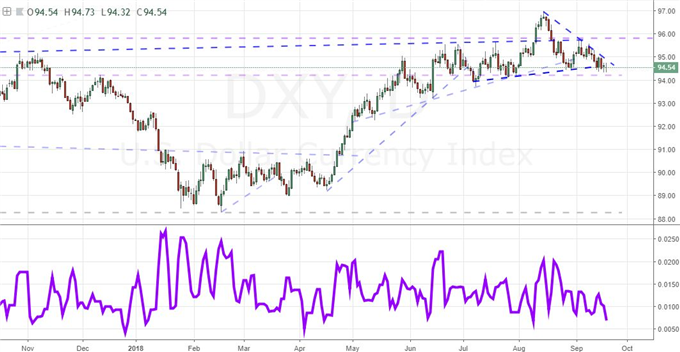 Don't Underestimate the SNB or Overestimate Commodities
Given the environment of the speculative backdrop and the scheduled event risk that we have to deal with, it is easy to disconnect from good trading policy. However, we shouldn't discount the inevitable return of volatility or systemic reference to trends. Similarly, we shouldn't ignore event risk or technical developments as they come. Due for release Thursday, the Swiss National Bank (SNB) rate decision is expected to end as they have for years since the failure of their EURCHF 1.2000 floor policy. No material change to the substantial, negative rate is likely. That said, the group is likely more anxious than normal given the Swiss Franc's advance these past few months. Their desperation to force FX depreciation is well-know and its peers are slowly starting to reverse course on boundless accommodation. Be ready for a market impact, and the bigger impact would be a slide from the Franc. Alternatively, there is no specific data to track for commodities but technicals that suggest a break is inevitable. Gold is working to a terminal wedge and there is a lot of traditional risk theme to work with. For oil, US-based WTI produced a bullish break this past session. Europe's preferred Brent didn't follow suit, yet. If it does, the break above 80 would be far more suggestive. We discuss all of this and more in today's Trading Video.
CHF Index Chart (Daily)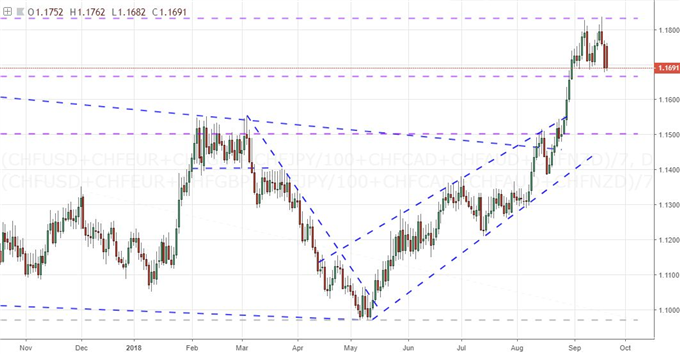 If you want to download my Manic-Crisis calendar, you can find the updated file here.
Written by John Kicklighter, Chief Currency Strategist for DailyFX.com
DailyFX provides forex news and technical analysis on the trends that influence the global currency markets.