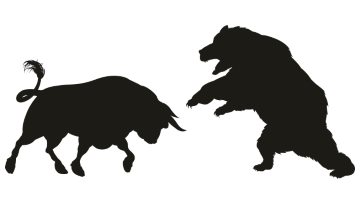 Risk Trends Uneven Amid FANG Earnings, EURUSD Moves from ECB to US GDP
What's on this page
Talking Points:
After the close Thursday, Amazon offered generally bullish earnings; but can it offset FB's record-breaking, single-day loss?

Top event risk Friday is the US 2Q

GDP

release, but it is unclear whether it will register more with the Dollar or 'risk'
What do the DailyFX Analysts expect from the Dollar, Euro, Equities, Oil and more through the 3Q 2018? Download forecasts for these assets and more with technical and fundamental insight from the DailyFX Trading Guides page.
Risk Trends are Remarkably Uneven and FANG Threatens to Add Fuel to the Fire
Taking stock of the various 'risk' benchmarks that I keep tabs on day-to-day, this past session offered an unstable view of broader sentiment for the market. A retreat in the EEM emerging market ETF following the trade war 'breakthrough' between the EU and US was troubling but the junk bonds seemed to hold their line. Commodities seemed to have a solid footing which could be construed as an optimism for growth, but carry trade offered little reinforcement in financial market terms. Equities were arguably the most conflicted asset class. Globally, the Shanghai Composite dropped, the UK's FTSE 100 spun its tires and the DAX jumped higher. Sticking to a single region, the US top indices showed the blue-chip Dow gap higher and advance, the S&P 500 struggle and the Nasdaq 100 suffer its biggest bearish gap lower on a day since April 4. That latter index suffered in particular due to the shudder running through the market from Facebook. Following the disappointing earnings and guidance after the close Wednesday, the company's stock opened to a near 20 percent collapse on the open Thursday. The single-day loss in value for this company was well in excess of $100 billion, the largest in financial market history. It will be hard to ignore something of such a magnitude even in our remarkable times of complacency. If FB's pain turns into a general and momentous FAANG reversal, the fall of a speculative leader may more efficiently usher in global risk aversion.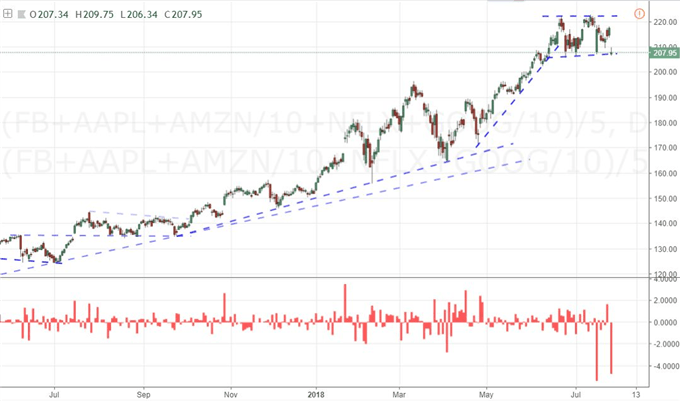 The ECB Decision Doesn't Maintain its Favorable Long-Distance Bias
As we await guidance on sentiment be it through earnings, trade wars or some other systemic theme; there are more traditional fundamentals vying for our attention. This past session, the European Central Bank (ECB) offered an update for one of the most heavily speculated policy courses among the major central banks. The group did not change any material setting in its very accommodative program, and even the course settings via forward guidance were little changed. The central bank still seems to be on pace to announced its first hike in approximately a year's time. However, this clearly would not offer the same kind of traction for the Euro that it has compared to previous periods - such as 2017. Throughout this past year, the world's second most liquid currency maintained a remarkable climb largely on the basis of a market looking to apply speculative value to anticipation of a (distant) reversal in policy. Yet, what we saw Thursday was a retreat despite the group's persistence in the face of growing fundamental head winds. Perhaps it was ECB President Draghi's restating concerns about risks to the future - moving from his personal views to the group's worry - that hobbled the enthusiasm. On a trading basis, this aligns better to trading conditions for a range setup like that in EURUSD or EURGBP, but systemically, it can also serve to show us what themes are capable of dictating market movement and which are not.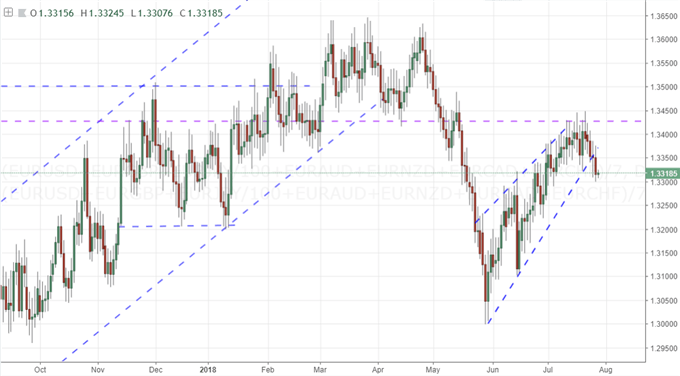 Where Is the Dollar's Advance Originating - And Can it Continue?
In contrast to the Euro's slide, the Dollar would post a robust climb the past 24 hours. This helped shape the technicals in a EURUSD wedge reversal and produce a mirror rebound from support for the trade-weighted DXY Dollar Index. If we were tempted to attribute the Greenback's performance purely to the move in the benchmark exchange rate, an equally-weighted Dollar index rendered the same bullish outcome. Where was this strength coming from? Is this follow through from the trade war relief from Wednesday between the EU and US? A closer evaluation of that deal shows there was little gained beyond vow not to escalate in the near future. Was the Dollar playing the role of safe haven again? Well, as discussed above, there was little consistency in risk trends across other asset classes. It is very likely that the Dollar's check higher is merely a means to conform to uncertainty and thereby technical congestion. If that is the case, we won't be easy to establish a trend. Yet, we will have a spark to put these different themes to the test. The US 2Q GDP figure is due Friday morning in Washington and it ties back to growth, trade wars and risk trends. Yet, which concern will it latch to? And will it depend on whether the data is better or worse? Further, it is worth keeping in mind that any reaction to this data will have to contend with the weekend liquidity drain and anticipation for next week's FOMC rate decision.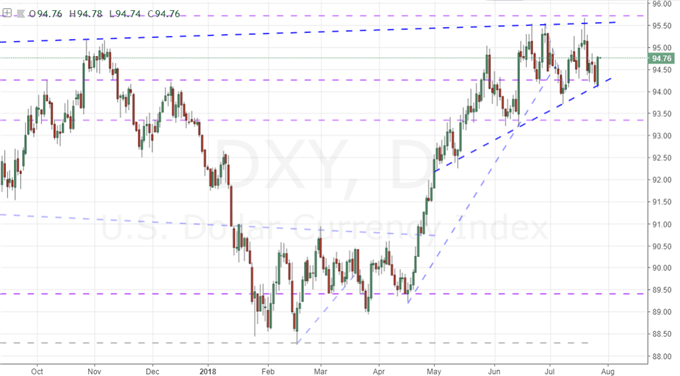 Peso and Loonie Continue to Advance on NAFTA Talks, Another AUD Jolt, Steady Brexit Updates
Though the Greenback has enjoyed a broad strength against its major counterparts this past session, it was notably still under pressure versus two of its closest trade partners' currency's. Optimistic diplomatic remarks on trade have been trumpeted by Canadian and Mexican ministers this week. Thursday, Mexico's Economy Minister Guajardo told reporters the meeting he had with the US Trade Representative Lighthizer was positive, with the latter suggesting a deal could be struck between the two by the end of August. He would also suggest that after an agreement was had with Mexico, the US could then find a happy middle ground with Canada. This is still more enthusiasm than action, but it has helped the Loonie and Peso recover ground. In contrast, the Australian Dollar continues to exhibit remarkable, knee-jerk volatility without committing to genuine direction. The tumble this past session was sharp, but it notably lacked strong fundamental charge and is coming on support across many pairings. Forging a clear move is a lower probability outcome. The same is true for the Pound - though it doesn't lack for a theme to circle back to. News that EU Brexit negotiator Barnier rejected a proposal by Prime Minister May to circumvent a customs need didn't truly trouble the Sterling. We discuss all of this and more in today's Trading Video.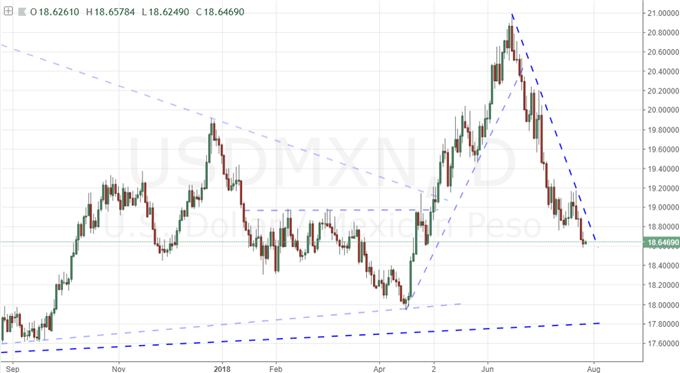 If you want to download my Manic-Crisis calendar, you can find the updated file here.
DailyFX provides forex news and technical analysis on the trends that influence the global currency markets.