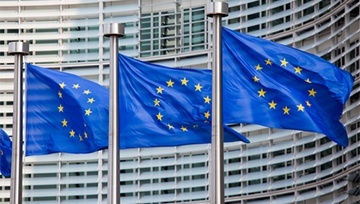 Questions for EURUSD and Risk Trends Between EU-US Trade, ECB Decision, Earnings
What's on this page
Talking Points:
EU President Juncker and US President Trump spoke of progress after their trade meeting but will

EURUSD

and risk trends run?

In contrast to the general 'positive' outcome of EU-US trade talks, earnings this past session were definitively unsettling

If enthusiasm were clear for trade wars, it could offer an overriding trend; more likely the ECB and US

GDP

will matter ahead
What do the DailyFX Analysts expect from the Dollar, Euro, Equities, Oil and more through the 3Q 2018? Download forecasts for these assets and more with technical and fundamental insight from the DailyFX Trading Guides page.
Have the US and EU Truly Averted a New Trade War Front?
The meeting scheduled between US President Donald Trump and EU President Jean-Claude Juncker carried the potential to determine a definitive bearing and conviction in global risk trends. Yet, just because it offered the capacity to define a trend doesn't mean that it was guaranteed to do so in the event of an ambiguous outcome. The economic and trade relationships between the two largest aggregate economies in the world is arguably far more important to the health of global growth and financial stability than the more dramatic tension between the US and China. Erecting barriers between dominant developed world economies would create far more disruption in capital flow than what is at risk with a semi-closed system like China's is involved. With onus of a fast-tracked financial crisis and/or recession in mind, the markets were waiting to see whether the pressure would boil over. As high as the stakes were, however, the pressure eased. If we were to take the politicians' assessment, it was a waterfall of relief. Yet, for the more observant investor or citizen, much of the agreement was facade. The EU committed to buying more US soybeans and natural gas - though forcing member countries to buy these goods is suspect. They committed to reforming the WTO together and lower industrial trade barriers towards zero - those are inherently difficult to make progress on. The most material outcome was the vow to avoid implementing new tariffs so long as negotiations are ongoing - though metals tariffs would not be reversed and auto taxes are still loosely being discussed.
Manic/Crisis Calendar
EURUSD Position Uncertain and Heavy Event Risk Ahead
Following both the early leak of progress - which prompted more enthusiasm due to its ambiguity - and the official statements, the EURUSD showed limited response to the EU-US trade war updates. We could chalk this lack of commitment to dispute over whether the US or European Union stood to gain more from the thawed relations. Yet, when we look to either the Euro or the Dollar in relief (equally-weighted indexes or observation of multiple crosses), we find that neither currency mounted a meaningful advance. There is skepticism following this event that it has amounted to anything significant as to the future of the benchmark currencies' trends. This middle-ground outcome is not particularly surprising as far as fundamentals go - either event or theme, we often find such events' scenarios fall within extremes - but this does set up another charged situation for the benchmark pair. Whether your interest is in EURUSD or any other Euro cross, the ECB rate decision on tap Thursday can render a clearer verdict and stir more active speculation. From the Dollar, the more material event listing is Friday's US 2Q GDP release. Monetary policy and growth are their own key themes, but expect both to be interpreted in terms of trade wars.
EUR/USD Daily Chart
Risk Trends Left Without Clarity on Trade Find it From Earnings
Looking to risk oriented assets that were still active when the EU-US trade discussion headlines started to cross the wires, there was a distinct response to the rumors that slipped half an hour before the official presser was scheduled to begin - and notably half an hour before the market close. The S&P 500, Nasdaq 100 and Dow all enjoyed an advance through the session close. Other assets that are active during the US hours such as the EEM emerging market ETF and HYG junk bond ETF would similarly end on a strong footing. Yet, when the details started to cross the wires and it became clear that the trade relation situation was more ambiguity than speculative windfall, regular trading had already closed. We will see how sentiment settles when the Asian markets take up the risk baton and then into the European and US sessions thereafter. If the Juncker-Trump discussions were a scratch, earnings offered a more definitive view this past session - a definitively negative perspective. Following Google's strong showing earlier in the week, the next FANG member to report (Facebook) delivered a hearty disappointment. In afterhours trade, the company's shares dropped over 15 percent. These tech market-cap giants are the symbolic leaders of the years-long speculative charge. If they lose traction, will it encourage a systemic shake down in US shares? Amazon is in many was the most critical on the FANG members, and its numbers are due Thursday. In the meantime, trade wars creeped into more blue-chip firms' earnings updates. Automakers GM and Ford both disappointed in part due to higher material costs as a side effect of metals' tariffs and Boeing shares would also sink despite steady numbers.
FAANG Daily Chart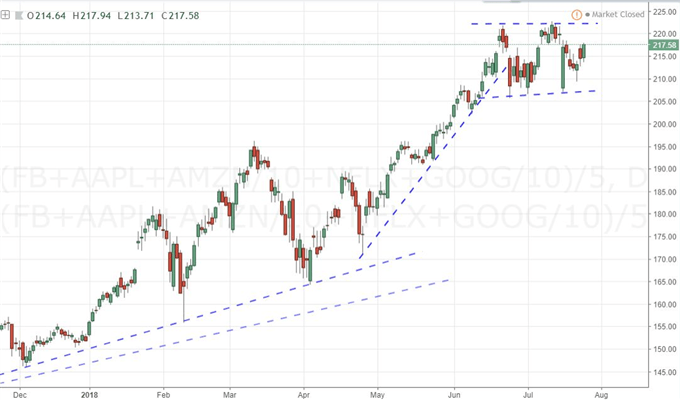 NAFTA Members Rally while the Australian Dollar and Crude Reserved after Data
While trade wars will continue to steal the fundamental spotlight as often as they pop up in the headlines and the next 48 hours will produce key events in the ECB rate decision and US GDP report, these are not the only games in town. Perhaps noticing the spirit of compromise - or at least political point scoring - Canadian and Mexican officials participating in trade conversations in the three-way NAFTA talks were mounting an optimism offensive. They offered enthusiastic assessments of developments and tight bilateral relations with a subtle dig at the US which is still holding out in full commitment. Notably, both USDCAD and USDMXN have been making moves lower lately. Perhaps this is evidence that the market recognizes the US is not immune to blowback from its charge towards trade wars. An interesting assessment in these times is to keep tabs on CADMXN - an unusual pair but more and more relevant. Meanwhile, the Australian dollar registered a moderate improvement in the 2Q CPI figure, but it wasn't hearty enough a pace to excite speculation that the currency can recover its status as a carry currency amongst the majors. There is still import and producer level inflation data due ahead. Another fundamentally charged but technically disappointing market was crude oil. The commodity could have registered economic enthusiasm on the trade headlines while responding directly to the 6.15 million barrel drop in US inventories as well as news that Saudi Arabia had halted shipments through a key supply route from the Red to Arabian Seas due to a terrorist attack. Instead, it was characteristically crawling higher. We discuss all of this and more in today's Trading Video.
CAD/MXN Daily Chart
If you want to download my Manic-Crisis calendar, you can find the updated file here.
--- Written by John Kicklighter, Chief Currency Strategist for DailyFX.com
DailyFX provides forex news and technical analysis on the trends that influence the global currency markets.