No Trade Wars Relief from G20, Trump Warns Iran, Google Steadies US Earnings
What's on this page
Talking Points:
Risk trends struggled through much of Monday's session with trade war carry over, but afte

rhours Google earnings offer

hope

Shifting the global political tension from trade and early currency wars, President Trump fired off an angry tweet at Iran
What do the DailyFX Analysts expect from the Dollar, Euro, Equities, Oil and more through the 3Q 2018? Download forecasts for these assets and more with technical and fundamental insight from the DailyFX Trading Guides page.
What's Driving Risk Trends Today?
If there was an undisputed driver for global risk trends, there wouldn't be so much restraint with forging a clear bullish or bearish course for the wider financial system. As it stands, the trade wars present the most voluminous fundamental threat and the headlines do not give over to clarity. Over the weekend, the G20's two day summit bringing together finance ministers and central bank heads (including the United States' Mnuchin and Powell) found little resolve to the steadily escalating pressure. Once again an official communique would offer little in the way of optimism for what the future holds beyond the loose promise to speak between world powers - alongside a clear warning that trade wars was a growing threat and one of the most ominous we currently face. Last week, the IMF warned that the duties already put in place would translate into a $430 billion (0.5 percentage points) hit to global growth by 2020 if not headed off. Quite the contrary, the Trump administration's course seems set to further escalate the issue to force a more seismic rebalance. This will be a difficult theme to distract from moving forward, but the spill over to a currency war could certainly take up the baton. Trump's weigh-in on the Fed's policy and perceived currency policies from China and the EU have spread the focus. Meanwhile, in anticipation of the US GDP report on Friday, it was suggested that President Trump had suggested a 4.8 percent reading will come out on Friday according to sources. Earnings is also rousing attention as FANG member Google beat expectations after Monday's close. We'll see how much run this theme and specific update have with Tuesday's New York open.
FAANG Daily Chart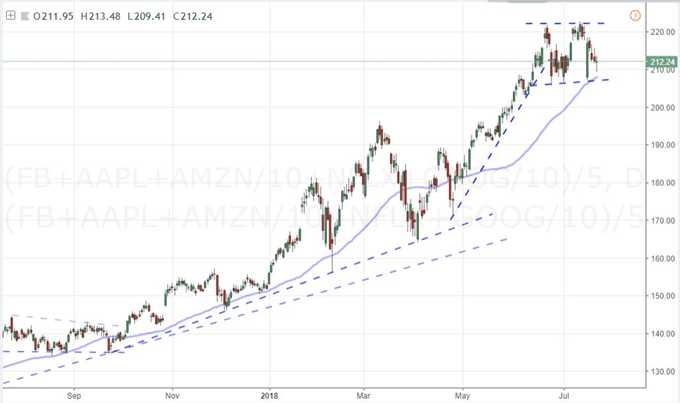 The Dollar and Yuan Fundamentally Connected
Last week, we left off the constant escalation of threat between superpowers on trade with President Trump warning that his administration was looking into the possibility of implementing tariffs on all Chinese imports (the equivalent of $500 billion in goods). This dramatic escalation is more likely evidence of an underlying strategy that required more leverage rather than the aimless need to promote chaos that so many are assuming is behind this drive. With the threats cast, we received reports from China that the PBoC had boosted liquidity (injecting 502 billion yuan in one-year MLF) and state-sponsored radio was calling on vigorous fiscal policy that was just shy of stimulus. Naturally, the USDCNH continued to advance under this pressure - but the claims of currency manipulation would also make this a point of speculative confusion. Despite the capital flow the exchange rate - and global risk trends - would insinuate, the Chinese Shanghai Composite actually rose to trigger the neckline of an inverse head-and-shoulders pattern. If we adjust the benchmark index for the exchange rate and compare it to other global standards, there is certainly evidence of external support. Chinese assets aren't the only ones at risk though. The Dollar may have found a bounce to fend off a medium-term break lower, but the long-term risk is growing more and more mainstream.
Shanghai Composite vs. USD/CNH Daily Chart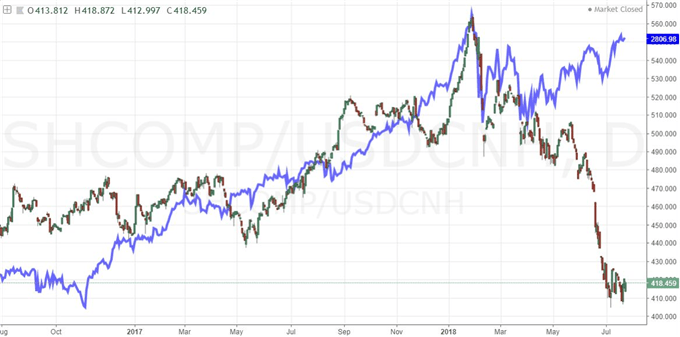 Warnings Issued by Old Foes Doesn't Trigger an Oil Charge
Recently, the global pressures have been heavily centered on trade spats and only recently have the currency wars started to re-enter the picture. However, geopolitical tensions cover far more territory in these populist times. In response to another - standard - warning from Iran's political leader, President Trump fired off an angry tweet Sunday evening warning the country's frequent foe against making any future threats. The all-caps threat would leave an impression to the younger generation used to the 'yelling' via texts and social media, but it was generally difficult to miss the intensity insinuated in the open statement. This certainly adds another point of instability to risk trend, but one market that didn't seem to respond as expected was crude oil. Prone to unexpected reactions, the commodity actually opened the week with a sharp gap lower on the open - in fact, it was the largest jump lower between sessions since April 2016. Buffeted by growth, risk trends, trade and unique supply-and-demand; crude oil is a market that should be monitored closely whether you intend to directly trade it or not.
Light Crude Oil Futures Daily Chart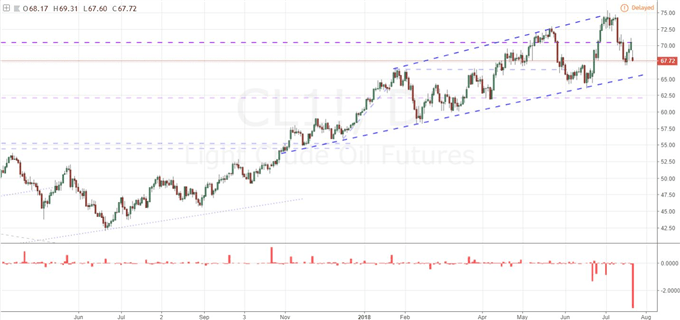 A Vague Horizon for Euro and Pound, Less Interference for Kiwi and Yen
While much of the market's fundamental intensity is currently focused on the Dollar, Yuan and broader risk trends; these aren't the only markets with more complication than opportunity. Two currencies that are properly stocked with high level themes and event risk - but lacking for clarity as to which path to follow or awaiting the releases - are the Euro and Pound. Monday was the Euro's only day without a substantial release with only Eurozone consumer confidence on tap (printing poorly). Ahead, we have the Euro-area PMIs due Tuesday; the EU leadership's trade meeting with Trump Wednesday; an ECB rate decision Thursday and French GDP Friday. For the Pound, the concern is Brexit which has notoriously crawled forward mired in uncertainty. Neither currency will find it easy to make progress - so don't set unrealistic designs for EURGBP especially. In contrast, the Yen and Kiwi Dollar may find it easier to navigate. The former is risk sensitivity which started the JPY climb (pairs' retreat) last week, but reports that the BoJ is readying for a policy shift has added another facet to the conversation. As for the New Zealand dollar, the course is set specifically due to a lack over overbearing influence. With an open field and a heavy discount, a speculative reversal is possible depending on the pairing. We discuss all of this and more in today's Trading Video.
If you want to download my Manic-Crisis calendar, you can find the updated file here.
--- Written by John Kicklighter, Chief Currency Strategist for DailyFX.com
DailyFX provides forex news and technical analysis on the trends that influence the global currency markets.