Risk Aversion Builds, Spreads to S&P 500 with Italy and Trade War Headlines
Talking Points:
US and UK markets were back online after a long holiday weekend, and the added liquidity fueled the latent risk aversion

The US-China trade war attention was revived Tuesday, but its impact was readily outshined by fears over Italy and the EZ

Risk trends when stoked overwhelm all, but monetary policy should be considered for the Dollar and Loonie moving foward
See how retail traders are positioning in key Dollar pairs like EUR/USD, US and European equity indices, USD/CAD and oil amid volatility and technical developments using the DailyFX speculative positioning data on the sentiment page.
Risk Aversion Spreads on Italian Politics and Refresh US-China Trade Tension
In firefighting, there is a condition known as a backdraft where the sudden return of oxygen to a depleted but smoldering fire reignites it to dramatic effect. That describes what we had seen in the global markets this past session. Risk trends had been burning down through the second half of this past week, but the pain never grew too intense or wide. Then, over the weekend through Tuesday morning, the speculative fuel was stoked by headlines that hit on points of particular concern for the broader financial system. It wasn't until liquidity was topped off with the US and UK markets back from long holiday weekends this past session though that the fire spread. The particular headlines that troubled global investors this past session were reports that the US would push ahead with a $50 billion tariff on China for intellectual property theft despite talks and the hangover of Sunday's top headline that Italy's Prime Minister-designate had abandoned the effort to form a government after his economy minister was rejected. See our brief history of Trade Wars from 1900 to Present here.
What to Watch in the Event of an Intense Risk Aversion
In the event of global risk trends - bullish or bearish - the tide will raise or lower all boats. So, if risk aversion is indeed gaining purchase; we will see a broad correlation match intensity of assets that are considered high risk or haven (obviously on opposite ends of the spectrum). Yet, in the lead up to that more definitive and binary state, we should keep a close eye on US equity indices. Though risk aversion was building through the latter half of the past week, benchmarks like the Dow and S&P 500 notably refused to yield to the pressure. Both held to a two week range as international counterparts like the DAX, FTSE and Nikkei 225 all succumbed with readily defined breakdowns. That resistance fell apart Tuesday with considerable attention on financial headlines with hearty losses and definable breakdowns for the S&P 500 and Dow. Full commitment to this theme is a stretch to call though with a conditional factor as simple as the tech-heavy Nasdaq as yet following suit or a deep as over-leverage in capital-intense / yield-light assets not yet participant. However, we should be prepared should caution devolve into fear.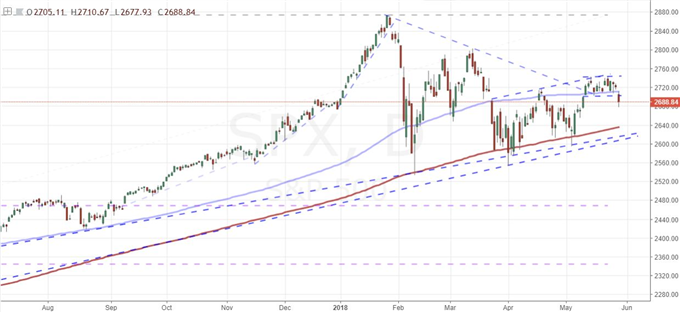 The Complexities of the EUR/USD
On the one hand, it is appropriate that the benchmark currency pair - EUR/USD - has slid in response to the general concept of risk aversion and given the particular sparks that has inspired the shift. The troubles for the Italian political backdrop readily translate into tangible risk for the Eurozone and its currency. Over the weekend, it was reported that the effort to form a government by the Prime Minister-designate (supported by both the 5-Star Movement and League) was abandoned after the President denied a economy minister candidate with a history of anti-Euro and anti-EU views. This was not going to play out in the favor of Euro stability with either outcome. If accepted, the pressure to question participation in the common monetary union would be intensified. Rejected - as is the case now - we are led towards further uncertainty and the probability of another election. This certainly troubles the Euro. Yet, it further creates a contrast between the Euro and Dollar in particular because the environment of growing uncertainty around risk trends moves investors to consider more extreme havens and to fully prize stability. The US, for all its many faults, is ideal as speculative concerns build for its unparalleled liquidity. So much so that it can even counter act another issue arising in the Greenback's own background: a fading US rate forecast. Rate expectations for a hike in a few weeks has dropped back from virtual certainty to a much more mortal speculation. It is the long-term forecasts for rates through the end of this year, 2019 and 2020 though that truly concern on this front. If the intensity to drive to liquidity abates, the Dollar could find itself in a difficult spot.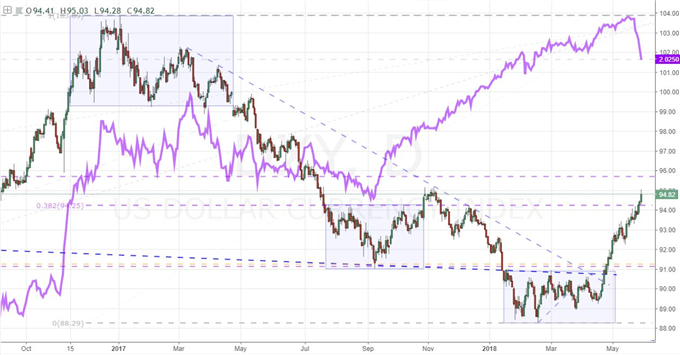 Keeping Tabs on China, the Canadian Dollar and Global Growth Forecasts
Wholesale risk trends amid trade wars and systemic debt crises aren't the only fundamental influences we need to keep lines on. There is more concentrated event risk on the docket that can alter underlying trends or charge short-term and acute volatility. Taking the events chronologically, we first come across the IMF's Article IV review of China. This is a third party evaluation by the international community on a critical economy for which the market is notoriously skeptical over official data. USD/CNH has recently marked progress with a break above 6.3800 as trade tensions clearly intensify. Later in the day, the OECD is due to offer an update economic forecast for its members. It is worth noting the Secretary-General recently called for continued fiscal and monetary policy accommodation remarking that nearly three-quarters of those countries part of its monitoring group based their forecasts on some degree of extra-ordinary support. In the North American trading session, we will come upon the Bank of Canada (BoC) rate decision. The currency has seen strong swings in 2018 prompted in part due to oscillations in monetary policy speculation. The Loonie is currently buoyant relative to its dimming fundamental backdrop. We discuss all of this and more in today's Trading Video.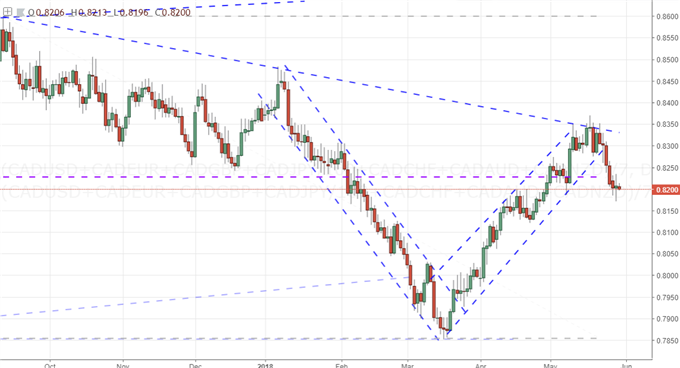 If you want to download my Manic-Crisis calendar, you can find the updated file here.
DailyFX provides forex news and technical analysis on the trends that influence the global currency markets.