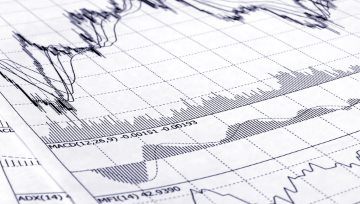 A Steady Dollar Rally and Smallest SPX Range of 2018 Amid Trade Wars?
Talking Points:
The S&P 500 and Dow finished out the least active weekly range since the Christmas holiday despite many lingering risks

Speculative rebalance has kept the Dollar bid, but political risks are 'coming from inside the country'

Tentative turns from a stretched Swiss franc, Canadian Dollar and Kiwi should keep our focus but be mindful of conviction
What makes for a 'great' trader? Strategy is important but there are many ways we can analyze to good trades. The most important limitations and advances are found in our own psychology. Download the DailyFX Building Confidence in Trading and Traits of Successful Traders guides to learn how to set your course from the beginning.
Event Risk Retreats and Open Themes Grow in Prominence
There was a dearth of high profile scheduled event risk this past week which could reasonably be expected to trigger a wide and sustained speculative move. The week ahead of us offers up few individual events or data points that can compensate us for the fundamental indecision. For some, that may be seen as a burden as we will have to suffer from another period of listlessness until the next headline recharges greed or fear. However, the opportunistic will appreciate the range environment that can be exploited; and the speculatively-tuned will recognize that a horizon uninterrupted by a cloud of anticipation will be more capable of developing moves unencumbered. There is a dramatic contrast between the S&P 500, Dow carving out their narrowest weekly ranges since December 25, 2017 - a holiday period following a six-month stint of quiet without precedent in modern finance. Against the backdrop of trade tensions between the US and many of its partners, the uncertain outlook for Iran and wavering enthusiasm for a North Korea deal; there is plenty of reason to remain cautious.
The Dollar's Rise Has Continued Despite Itself
Fundamentally-speaking, there was relatively little to base the stubborn bullish sentiment carrying the US Dollar this past week. Nonetheless, the currency has revived its progress to trade at highs last seen in early December. The pacing is certainly not extreme, but the tenacity of its climb is impressive against the aimless bearings of risk trends and the dubious backdrop for the US markets. This past week did little to hearten growth forecasts for the United States, feed interest rate expectations to greater heights or prompt capital inflow seeking the extreme safety the Treasury market often represents for global investors. What we do have however is the slow retreat of a heavy net-short position behind the Greenback. The market continued to work down the record net long speculative futures holdings on EUR/USD and the broad net short Dollar holdings continued to pick up from its five-year extreme. There is plenty of wick to burn in this theme, but it is easily waylaid should the attention turn to more extreme circumstances such as international blowback from numerous WTO complaints leading to action against the economic behemoth. I will continue to monitor EUR/USD as it tracks down to a support zone around 1.1750. If the Dollar continues, GBP/USD could be in a position to join the run. If the Greenback holds and retreats; consider USD/CHF, AUD/USD and NZD/USD.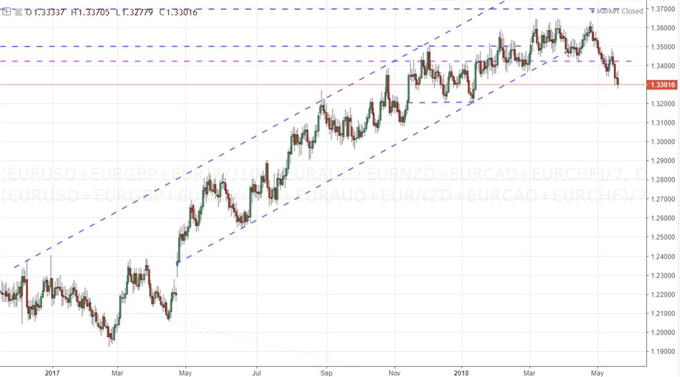 Keep Tabs on the Euro
The Euro may be an unmotivated and compliant counterpart now, but it has proven that it can quickly become a primary driver for the FX market. We only need to look back to 2017 to see when the world's second most liquid currency has taken over the reins to bend even the Greenback to its whims. Outside of EUR/USD, there has been relatively limited progress in the Euro's months of congestion. That said, it seems the currency has made a noticeable pitch lower through this past week on an equally-weighted index basis. Though tentative thus far, there is considerable potential in speculative positioning against a lackluster fundamental backdrop. With the aforementioned speculative futures retreat noted above, we also have an economic environment that can struggle under scrutiny and even be driven to retreat should distinct risks build traction. In general, the Euro's climb through 2017 progressed on a questionable rate forecast, growth assessment and political unity. That progress is starting to be unwound with the ECB doing what it can to knock back speculative forecasting and Italian politics drawing serious concern over the future of the union. Beyond my interests in EUR/USD, there is range potential to be found in EUR/GBP and EUR/NZD. For the big moves, EUR/JPY and EUR/CAD offer substantially more weight.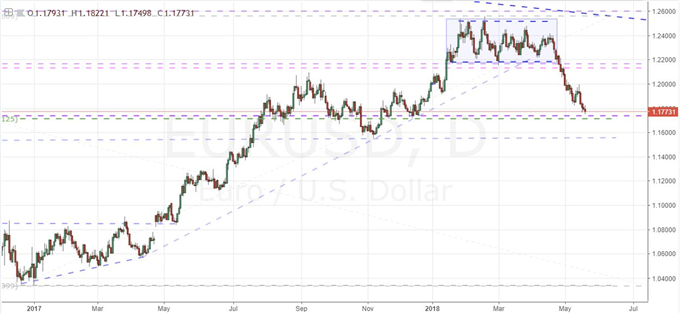 On the Lookout for Reversals
Picking substantial tops and bottoms in the markets is a crap shoot - and such odds are the antithesis of a reliable trading strategy. However, turns do occur; and we should monitor the unfolding both for opportunities and to garner important insight into the environment. I'm on constant watch for turns in both broad risk trends and benchmark Treasury yields as these changes can lead to systemic upheaval in the flow of capital around the world and the effectiveness of monetary policy. Where there are high profile - but still tentative - turns in the likes of the Dollar, 10-year yield and even S&P 500 (we are still well off record highs); there are less imposing developments in the FX market that deserve monitoring. The turn from the EUR/CHF this past week has been a move I have been monitoring closely since the pair stalled at 1.2000. I like this benchmark Swiss cross the most, but conviction could find great opportunity in CAD/CHF, CHF/JPY and GBP/CHF. The New Zealand Dollar attempted to regain traction action to close this past week. We haven't forged any bullish breaks just yet, but pairs like NZD/USD, NZD/JPY and NZD/CAD stand to gain a lot of prompted. Then there is the Loonie which was unsettled by a modest bout of uneven data in retail sales and consumer inflation. Given the drive behind this rally, there are an array of options in the even to of its retreat. We discuss unrestrained markets ahead in this weekend Trading Video.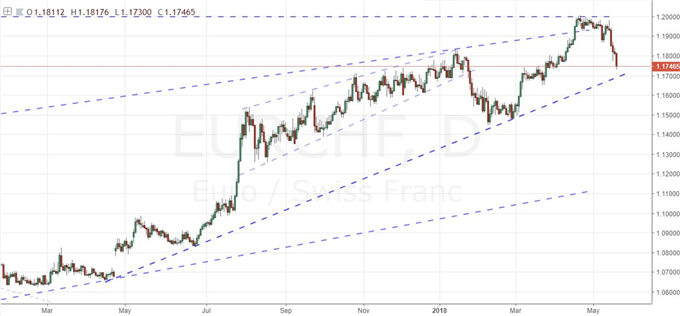 DailyFX provides forex news and technical analysis on the trends that influence the global currency markets.