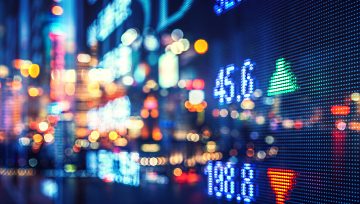 Dow Advances Despite US-Iran Deal, US CPI and BoE Decision Targets GBP/USD
Talking Points:
President Trump's decision Tuesday to pull the US out of the Iran nuclear deal hasn't capped the Dow or S&P 500 yet

Despite an slip in the PPI inflation report, the Dollar edged higher; but the more important CPI update is due Thursday

Top event risk in a dense calendar ahead is the BoE rate decision with the Quarterly report and presser to offer details
Are you trading the Sterling or waiting for a Pound-based cross setup to trigger? The BoE decision is a critical event risk to keep track of. Join us on DailyFX as we cover the event and market reaction live. Sign up for the webinar on the DailyFX Webinar Calendar.
Market's Iran Deal Response Hints at Important Bias Shift
Investor sentiment has eroded significantly over the past three months. That is not to say the markets are simply falling apart, but there has been a notable shift away from a complacent bid that was found despite constant waves of troubling event risk to a backdrop where troubling news can charge volatility and undercut risk-leaning assets. This drought in conviction certainly has not passed, but its oppression may have eased recently. The reaction to the news Tuesday that President Donald Trump had pulled the United States out of the Iran nuclear deal was a good litmus test to this general bias. There are concerning implications to this move. Some are more overt like the increase in energy prices which will filter down into the economy. Then there are the more nebulous but far more systemic risks such as the chances that global security will eventually deteriorate into another war or steady breakdown of global economic and financial relationships as the US pursues isolationism. Nevertheless, the S&P 500 and Dow posted gains Wednesday - the latter closing its first five-day advance in three months. On a similar path, the VIX dropped back to its levels before the February explosion.
Dow Jones Industrial Average Daily Chart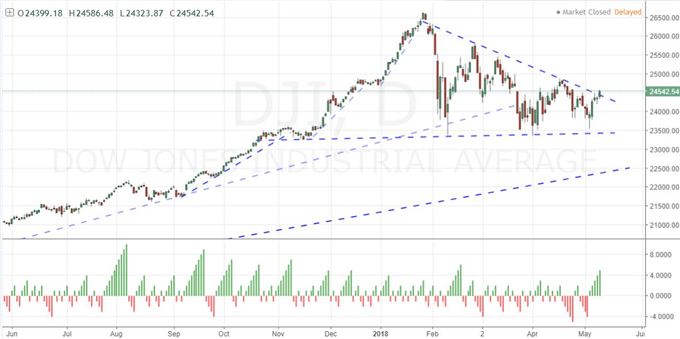 How Much Lift Can the Dollar Draw from the CPI
The coming trading day is loaded with market-worthy data. Some of those listings promise discrete infusions of volatility to perhaps offer a short-term move or trigger a technical break. Yet, there are also those scheduled updates that will tap themes. The April consumer inflation report (CPI) from the US is one of the latter. Fed policy is definitively an important theme that has contributed its fair share to exchange rate and capital market uncertainty in the past years. The recent update from the FOMC met expectations for no change at that particular meeting while still reinforcing anticipation of further hikes as the year progresses. There is still a running expectation that the US authority will go in for three hikes through 2018 with debate over a fourth ongoing. There are few things that can materially change this forecast, but the market's favorite inflation statistic is one of them. This is the key ingredient to pacing, and it is notably in check despite the policy adjustments we have seen thus far. Given the Greenback's rebound recently, there is perhaps a short-term 'overbought' label that can be attached to the Greenback if the data disappoints and encourages profit taking. That said, longer-term the USD's bounce is proving so steadfast largely because the move is being fueled by a deleveraging from an extreme net speculative short view that had been building up over the past months. The operable question - bullish or bearish - is how effectively this data can actually motivate the Dollar.
EUR/USD Daily Chart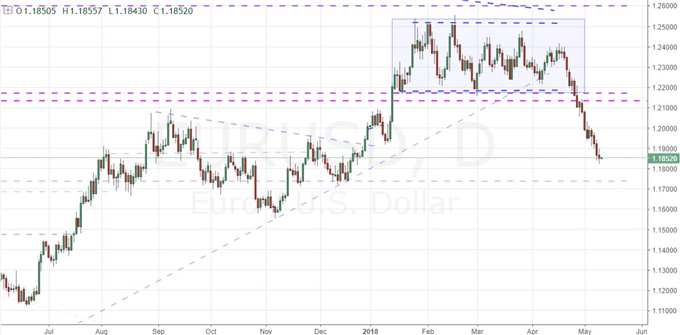 Rate Decisions: Two for the Price of One on Thursdays
There were two rate decisions scheduled for Thursday. We have already registered one, and it proved to be surprisingly market moving. The Reserve Bank of New Zealand (RBNZ) was expected to hold its policy bearings and voice general caution about its outlook moving forward. The event was expected to be a non-event. While the group did hold its benchmark rate at a series low, it actually managed to up the ante more than voicing its concerns or threatening the currency have been able to achieve over the past few years. New RBNZ Governor Orr said in the statement that the next move by the group could just as likely be a rate cut as a rate hike. That is materially more dovish than the market had been expecting, but certainly troubles a carry currency that has clearly fallen from grace. The Bank of England (BoE) decision ahead in the London session present a more predictable volatility threat. The central bank is highly unlikely to move its benchmark rate at this meeting, but its Quarterly Inflation report and Governor Carney presser can offer important detail for a monetary policy backdrop that has seen a remarkable swing over the past month. The probability of a rate hike by mid-year from the BoE dropped from near certainty to virtually impossible over that time frame. With the Sterling's swing to match, there is clearly sensitivity to the event.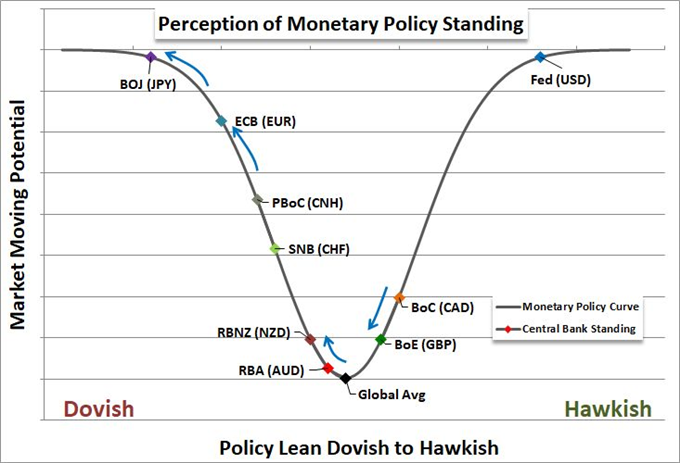 Strong Swings from the Japanese Yen, Aussie and Canadian Dollars
Typically, we following the line of high profile scheduled event risk to volatility. However, that is not necessarily always the case. We have seen some remarkable jumps in activity for specific currencies this past session despite a dearth of critical updates. In a mixed backdrop for 'risk trends' the Yen crosses mounted an impressive bounce Wednesday. That disrupted a USD/JPY head-and-shoulders pattern and turned GBP/JPY on a large channel floor. We'll see if this currency can carry the move without a clear docket support. Then there was the Canadian Dollar. The bearish reversal starting to form for the Loonie this week ended in dramatic fashion despite a lack of strong and definitive catalyst. That has made for disrupted technical patterns for the likes of EUR/CAD, GBP/CAD and CAD/JPY. Another unexpected bout of volatility was registered with the Australian Dollar. Its own faltering recovery effort with the pullback this week has a tentative check to hold some critical technical levels. Pairs to watch with this cross as the benchmark includes: AUD/NZD, GBP/AUD and AUD/USD. We discuss discrete moves, building trends and prominent event risk in today's Trading Video.
GBP/JPY Daily Chart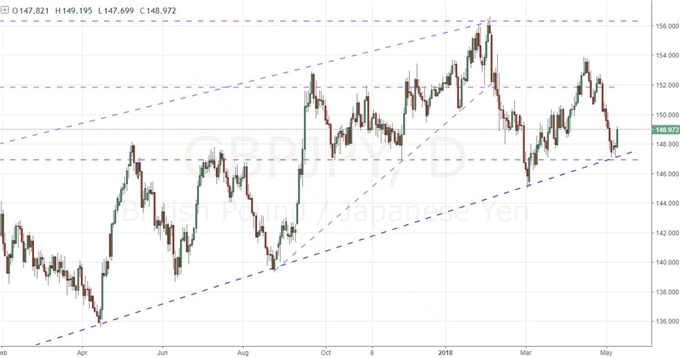 To receive John's analysis directly via email, please SIGN UP HERE.
DailyFX provides forex news and technical analysis on the trends that influence the global currency markets.