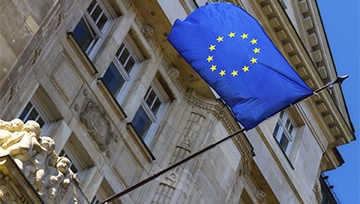 EUR/USD Clears Support in Historic Midpoint, but Does it Have Run?
Talking Points:
EUR/USD moved below 1.2150 and in doing so slipped a three month range as well as the midpoint of the Euro's historical range

The ECB rate decision was a motivator this past session, but it was far from a bearish catalyst; so is there drive?

Ahead, the economic docket is packed with US and UK 1Q GDP; the BoJ rate decision; a US earnings fueled open and more
What do the DailyFX Analysts expect from the Euro and Dollar on a fundamental and technical basis? Find out in their 2Q forecasts.

EUR/USD Makes A Defining Technical Move...With Questionable Motivation
We have registered a critical technical breakdown this past session. EUR/USD closed below 1.2150 for the first time in over three months. For me, this is a weighty level in the market with remarkable, historical pedigree. On the face of it, we have cleared a three-month range that has defined the consolidation that followed a bull trend more than a year in the making. Yet, when we zoom out to appreciate the historical context, the heft registers a little more clearly. The upper bound of the same range was around 1.2600 and was shaped by a trendline resistance that dates back a decade and happens to coincide with a host of Fibonacci levels. It is difficult to make that the 'easier' level to puncture, but 1.2150 is as close as you can get to out quaffing the ceiling. The midpoint of the 2014 to 2017 range stood at 1.2175 while the center of the pair's historical range back to its inception in 1999 stands at 1.2135. This is not a small foundation to push through.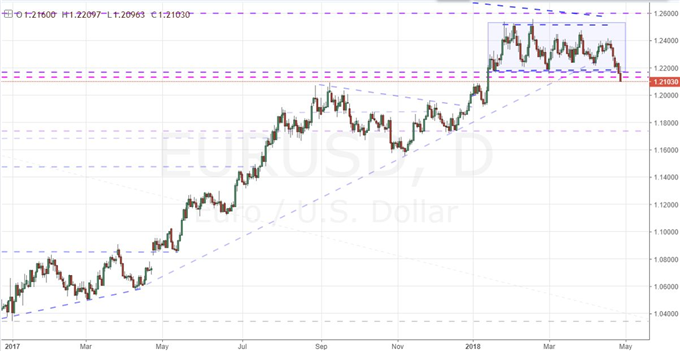 A Dollar Break that Presents More Questions
If I had only followed technicals, I wouldn't be nearly as hesitant with the EUR/USD as I am. The immediate flush of momentum after clearing an important level wasn't as dramatic as one would expect, but it still qualified the move nicely. Yet, follow through is not well-established by technical cues alone. That is more the territory of fundamentals. On that front, there are serious questions as to intent. The real opportunity to leverage a prolific move for this benchmark pair rested with the ECB rate decision this past session. The Euro is one of the most over-bought currencies on a fundamental (and arguably technical) basis, but its buoyancy needs to be clearly taken to task if the speculators are pushed to cannibalize the premium. If the ECB had signaled a clear intent to push its currency lower at all costs, it could have handily instigated the move and fueled it for weeks and hundreds of pips. Yet, President Draghi and his colleagues would not take this move. Likely because such an approach could in turn raise fears over growth and financial stability in the Euro-area. So, the Euro isn't leading the cause, and the Dollar's recovery looks just as lacking. Can this move truly flourish?
An Important Call by Risk Trends after Strong Amazon, Microsoft, Intel Earnings
As we keep tabs on the EUR/USD, another important move will have to be determined through the upcoming session: risk trends. We finally found a meaningful rebound for US equity indices Thursday, but there is more climb that must be made before we can find any hope of a self-sustaining bull trend. And, if the market fails to capitalize on the earnings headlines after the close Thursday with Friday's session; we will be left with a far more definitive view that a 'bearish' bias is calcifying. We have seen the market struggle to respond with enthusiasm these past weeks to important, strong earnings reports: Netflix, Google, Facebook, Twitter. Now, with a modest rebound in place, hope will be revived that a optimism can take advantage of the strong showing by Amazon, Microsoft and Intel after the bell. We are heading into the week's natural liquidity drain; but if we don't foster some strength to close out the week, it will foster a more troubled outlook for the coming week.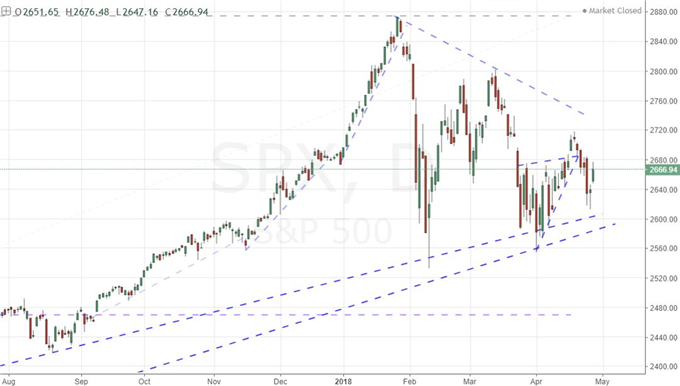 Key Data to Watch Through Friday
Heading into the final 24 hours, we are not set to simply cost through a quiet session. The docket is packed with high profile event risk, but it is not all capable. While we will touch upon economically and financially important updates, there are certain themes which are currently guiding individual currencies, broader markets and sentiment behind the financial system itself. Top traditional listings are the US and UK 1Q GDP updates. Growth is always important, but that hasn't been the first thing to be referenced in either the Dollar or the Pound's trends much less the performance of their respective capital markets. The Euro is loaded with sentiment surveys, ECB-collected forecasts and French GDP; but those follow themes that have rendered little market response as of late. Australian upstream inflation, New Zealand trade, a BoJ rate decision and sovereign credit rating updates for the UK should all be monitored but not immediately qualify trades. We discuss all of this and more in today's Trading Video.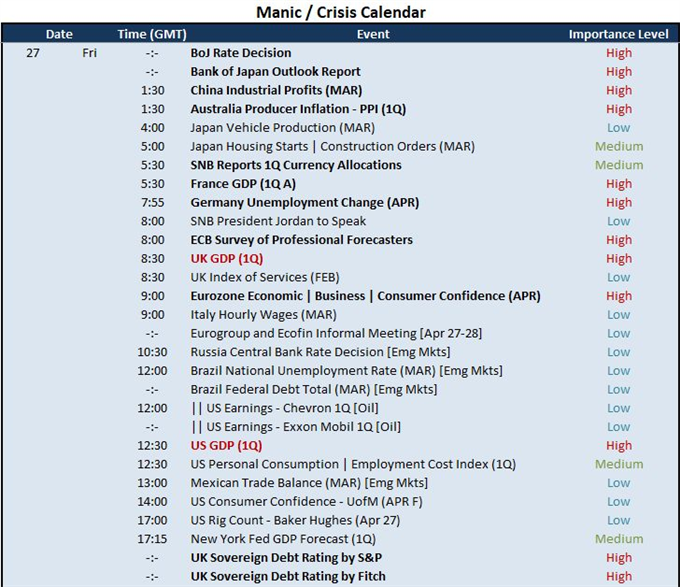 To receive John's analysis directly via email, please SIGN UP HERE
DailyFX provides forex news and technical analysis on the trends that influence the global currency markets.