Can the ECB Decision Launch the Dollar and Is SPX On Life Support?
Talking Points:
Earnings fail to offer any meaningful support to equities with another day of struggle for SPX, Dow and Nasdaq
The Dollar has yet to clear critical resistance with DXY and EUR/USD, but speculative interests may amplify fundamental offering

Top event risk Thursday is the ECB decision which may prove more systemic than many market participants appreciate
Retail traders have flipped to a net long EUR/USD position for the first time in months yesterday despite the Greenback winning noteworthy bullish breaks against other major counterparts. Keep an eye on this positioning on an intraday basisusing the DailyFX speculative positioning data on the sentiment page.
Earnings Season May Signal a Bearish Turn in Market Sentiment
How do we qualify a 'bearish' market? There is the technical definition of a benchmark dropping 20 percent from a given high to signal a deep enough retrenchment to qualify as a turn, but what can we use as evidence much earlier in the process? There are many possibilities, but one of the most rudimentary indications through sentiment itself is the market's response to event risk. We have seen plenty of stretches over the years where positive news has lifted risk-oriented assets like equities higher while the negative and concerning are minimized or completely overlooked. That would certainly denote a bullish bias, and the inverse of that situation would fairly be termed a 'bearish' market. We have at least a modest form of that right now as the benchmark equity indices have struggled in the face of encouraging earnings reports from Netflix, Google and Twitter. With a little more analysis, we could also say this has been happening with traditional economic data, speeches, political developments and more; but there is something about earnings that seems to elicit a feeling of certainty from speculators. Keep an eye on the S&P 500, Dow and Nasdaq as those major support levels linger so close.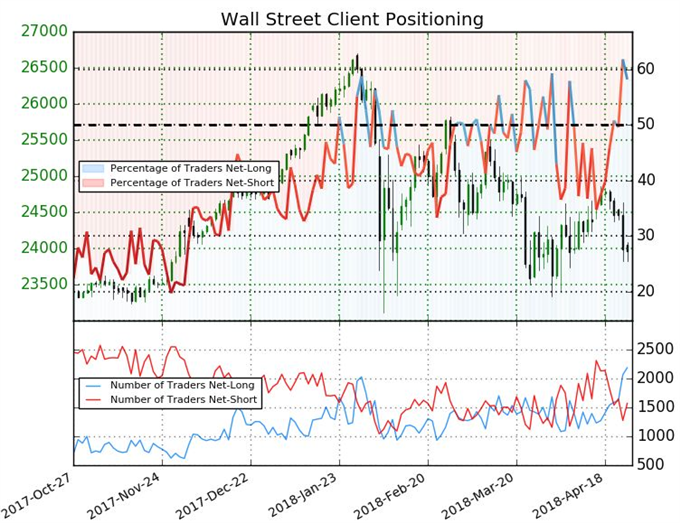 Trade Wars and the US 'AAA' Credit Rating
From corporate earnings, we are seeing some market attention shift back to the political risks that have taken control of the financial system at various points over the past months. President Trump's remarks following his meeting with French President Macron are still hovering in the air and the May 12 deadline he gave for the Iran Nuclear deal has the markets guarded. Yet, the threats to global norms are still so numerous that it seems to numb investors' fears. Well, we have seen the implications of these moves start to register with the Moody's credit rating agency this past session offering an update to its US sovereign review. The company maintained the country's coveted top 'AAA' rating and a 'Stable' outlook, but it issued a warning as well. If the medium-term 'adverse fiscal dynamics' (ballooning of the deficit) isn't answered, the group said it could cut the country's rating. Thursday, we will find actual measurement of how threats and early actions have actually influenced economic and financial health. We are due the March US trade report and US Steel is due to report its 1Q earnings.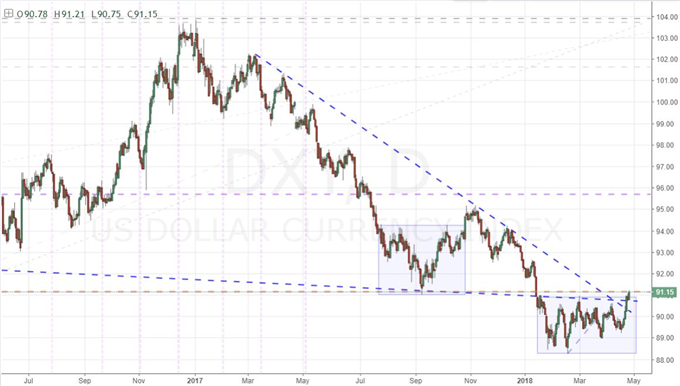 Dollar's True Driver: the ECB?
The Dollar continued to coast into serious technical resistance on benchmark measures through the trade-weighted DXY Dollar Index and EUR/USD. Yet, these moves don't yet qualify as true breaks with follow through intent in my book. The stage has been set and the notably technical progress registered by USD/JPY, GBP/USD, AUD/USD and others is the perfect setting for a more substantial trend to arise. That said, the fundamental backdrop for the Greenback is not particularly deep. Relative growth and political uncertainties are burdens, further even the favorable interest rate forecast is to a large extent already priced in more likely to act as a liability going forward. Yet, there is one previously productive lever that can return to support the Greenback: the collective weakening of its major counterparts. We have already seen many of its crosses start to falter, but one critical roadblock stands in the way: the Euro. EUR/USD technicals are important, but the fundamental wend holding it up is critical. The ECB may exploit this potentially volatile scenario if it indeed laments the level of its currency after this past year's gains. Watch Thursday's monetary policy decision closely.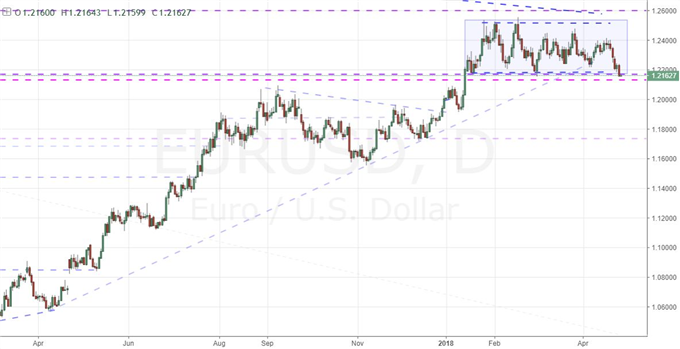 Away from the Shock and Awe Fundamentals
There is a lot going on through the fundamental landscape; and with so much potential, we can quickly transition from bullish to bearish trends or anticipation to action. It is valuable to seek refuge or just diversification in areas of the market that can find distance from the dramatic events and market movers. One of those areas is the British Pound. The Sterling is still riding on a considerable optimism even though its dual pillars of support in BoE rate forecasts and Brexit confidence have started to crumble. There are few distinct triggers for this currency, but we shouldn't miss the general opportunities that can arise. I am also interested in the deflated Australian and New Zealand Dollars. In my book, the former is more deflated relative to fundamentals, but the Kiwi has suffered a remarkably dramatic slide in just the past weeks. In fact, pairs like NZD/USD and EUR/NZD have registered consecutive losses for the NZD totaling 7 and 9 days respectively - the longest stretch in about five years. Short-term imbalances are always interesting especially if not well supported by obvious and persistent fundamentals. We discuss all of this and more in today's Trading Video.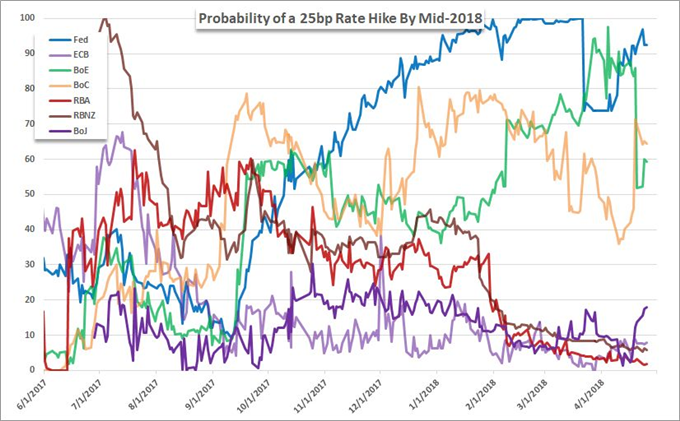 To receive John's analysis directly via email, please SIGN UP HERE
DailyFX provides forex news and technical analysis on the trends that influence the global currency markets.