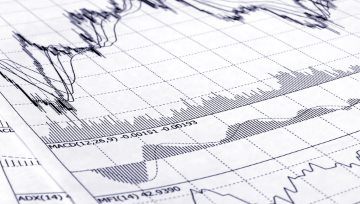 Do Any of the Indices, Dollar, Pound Reversals Have Legs?
Talking Points:
The US indices stalled breakout turns in the first bearish opening gap in 6 trading days, SPX faces former resistance as support

Dollar recovery across GBP/USD, USD/JPY and AUD/USD doesn't signal true strength, so don't bank on key breakouts
Sterling, Swiss franc, Aussie and Kiwi Dollars all post remarkable moves with questionable intentions
See how retail traders are positioning in the S&P 500, Dow and other global indices CFDs on an intraday basis using the DailyFX speculative positioning data on the sentiment page.
A Technical Undercut for Indices and IMF Warning
We have tracked the failed effort at launching a risk-based trend since Tuesday's technical breakout. That troubled move fully fell apart this past session, alleviating investors of any unreasonable hope that a big sentiment-based ground swell would sweep in and compensate bulls for the trouble that 2018 has so far caused them. From my favorite, flawed measures of sentiment, US equity indices eased back across the board this past session. From the S&P 500, we had the first bearish gap on the open in six trading days and a moderate day-over-day loss. This was a common pattern across US benchmarks and other risk-sensitive assets. However, another familiar pattern to pop up across the indices is the former support that was breached Tuesday seems to be standing in as immediate support. Technically, this doesn't carry a lot of weight, but there isn't much capacity between inactive themes and less than 24 hours of full liquidity left this week to build up enough steam to force these new floors. On the fundamental side, few systemic items are actively threatening stability. However, IMF Director Lagarde reminded us of those concerns that should be at the top of mind for all investors: global debt levels, the risk of sudden financial market jolts and the degradation of international relationships. These are 'trend' worries rather than catalysts for the next hour, day or even week.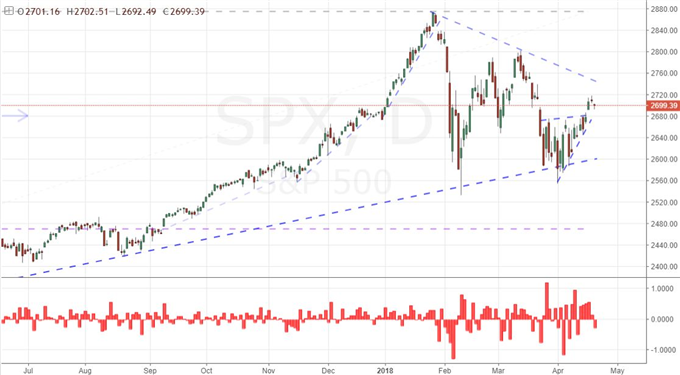 Dollar Move Higher Not a Reliable Run
For those keeping an eye on the Dollar - even though it seems to be tracking remarkably slow progress - the Greenback did mark notably gains this past session. On a trade weighted basis, the restraint for the EUR/USD didn't translate into a hefty move for the DXY. However, there was some meaningful technical positioning for pairs like GBP/USD, USD/JPY, AUD/USD and USD/CHF. If we were looking for what was moving the USD's needle this past session, we would have to look to the deep cuts. The Philly Fed regional activity survey offered up a report that was rife with inflation pressure signals. Pockets of price pressures like this one are showing up in various areas of the US economy, which means we could very readily see it grow into a national force. That said, this was not a driver for the Dollar Thursday. Nor would it likely be a dominant force for the currency if the pressure continued to build. We have tracked the deviation between implied US benchmark rates (Fed policy) and the Dollar for some months now. This is a relationship unlikely to return to the driver seat when issues like trade wars and political instability are still churning in the background. If you are holding your breath for a USD/JPY or GBP/USD reversal, it is probably worth exhaling and recalibrating.
Short-Term Pound, Franc, Aussie and Kiwi Developments
Arguably the most productive driver for the Dollar this past session was the collective movement from some of its major counterparts. The British Pound for example suffered its three daily decline Thursday. A correction from post-Brexit highs began after the tepid employment statistics on Tuesday, continued the following day with weak inflation statistics and the Upper House's vote against Prime Minister May's call for an exit from the EU Customs Union, and then spilled into Thursday with a refocus on monetary policy. BoE Governor Carney speaking in an interview threw - perhaps unintentionally - cold water on rate forecasts when he suggested only a 'few' rate hikes over the next few years would be feasible. The question is whether this is enough collectively to pull the Pound further off its overly optimistic perch or if GBP/USD trendline support will hold. In contrast, the franc's slide continues without an easy to discern set of milestones. EUR/CHF has returned to 1.2000 finally closing the massive triggered by the SNB's removal of its key monetary policy objective (the floor at that same level). Is this a natural market move or is it more the SNB's doing? The answer to that question will determine our next moves. Meanwhile, short-term corrections for the Australian and New Zealand Dollars may open up greater technical opportunities but they may need to reach further than just the data that triggered the initial moves. Aussie jobs fell well short of the market and New Zealand 1Q CPI is far from territory to normalize policy. Keep an eye on AUD/USD, NZD/JPY and AUD/NZD.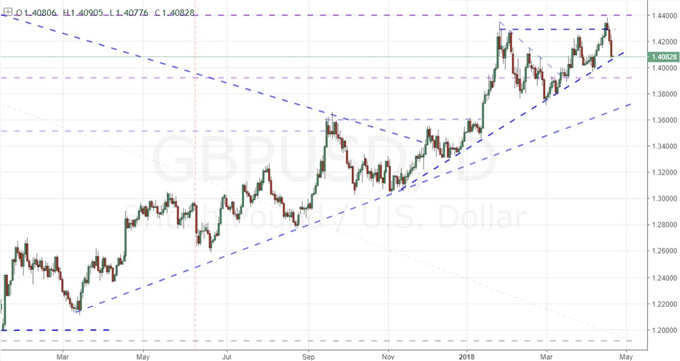 Keep Tabs on China and Oil
Amid large headline-worthy themes and abrupt, short-term moves it is important to keep tabs on the underlying pressure that can lead to significant developments in the future with the proper prodding (much like the EUR/USD as discussed yesterday). I remain concerned over the signals - or lack thereof - from China. We still see remarkably little movement from USD/CNH despite the pressure of trade wars, but we are getting significant domestic pressure on the likes of the Shanghai Composite and spillover capital outflows registered in USD/HKD. If a financial crisis arises in China, it will not stop at its financial borders and it will be extremely difficult to assess for scale given the lack of transparency. From financial pressure to economic reading, oil is presenting its own interesting measure. The commodity attempted to make another push higher on its thrust to fresh three-year highs Wednesday, but faltered in the process. This is not your traditional supply-demand measure, but the implications for global economic activity will nevertheless trickle done. Watch 70.50 as the mid-point to the 2011 to 2016 range. We discuss all of this and more in today's Trading Video.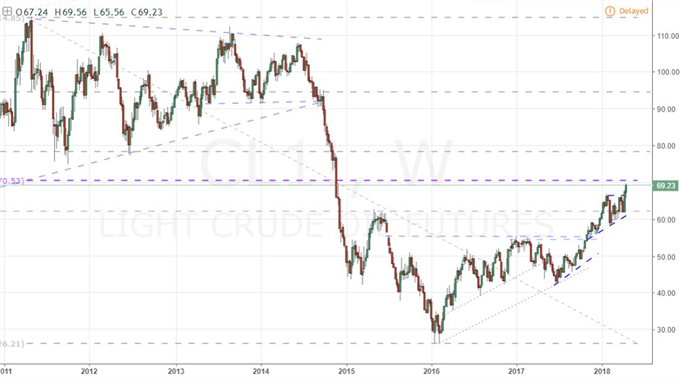 To receive John's analysis directly via email, please SIGN UP HERE
DailyFX provides forex news and technical analysis on the trends that influence the global currency markets.