Fundamentals and Positioning Show Extreme EUR/USD Pressure Behind Range
Talking Points:
Three months of range from EUR/USD has encouraged many FX traders to look elsewhere for opportunity

Technically, the consolidation the pair has put in for falls within critical levels on large scale patterns

A look at basic fundamentals (quantified) and positioning signal greater pressure than price alone suggests
See how retail traders are positioning in EUR/USD - as well as all the other majors and liquid crosses - on an intraday basis using the DailyFX speculative positioning data on the sentiment page.
Ranges Draw Out Relatively Little Enthusiasm
Ranges do not excite. There is not just profit to be found in trading. For many, there is a sense of glory whereby we can show the spoils of a 'great trade' to earn the adulation of our colleagues. Rarely will a consistent return fromQuic swings in an established range meet the high water market necessary to draw the attention such peer-oriented trading necessitates. And yet, if we are genuinely driven by our interests to produce regular returns rather than to cater to our ego, congestion-based opportunities are a far more productive environment to seek out trades. That is the dichotomy we find EUR/USD falling into. With more than three months of congestion following a full year of bullish trend, market participants are dropping off the pair quickly.
The Big Picture Technicals for EUR/USD
Three months of range seems like an eternity for many traders who pursue positions that take less than a week - many with a duration under a day - to play out. However, the period of balance the market has found suits the scale of the larger technical picture well. When we scale up to a weekly chart, we start to appreciate how exceptional the patterns and levels with which we are dealing. The past 10 years has seen a wide descending trend channel whose resistance currently forms critical resistance on the pair around 1.2600. This is further reinforced as a ceiling with a series of overlapping Fibonacci retracement levels - most immediate of which is the 61.8% Fib of the 2014-2017 bear trend. Lower, we have a collection of equally-impressive support that is made material around 1.2150-2200. This is not only the past three-month range's general low, but it is also the mid-point of the aforementioned range and the mid-point of the EUR/USD's historical range. These are critical levels shaped by patterns that have taken months and years to form. Taking three months to level out merely fits the scenario.
Fundamentals Show a Strong Swing Against the Euro
As we track price action working towards an eventual unbalance, it is important to keep tabs on the fundamental picture behind the chart in order to get a sense of the pressures that may ultimately decide the direction the market breaks. There are a few points of uncertainty that no doubt work against the increasingly anxiety-inducing resolution. Most prominent among these unknowns is political stability risk. The pressure behind trade wars threatens to cool global growth, but the risk aversion this could imply does little to support the safe haven Dollar given the pressure originates from US sources. In more traditional outlets, there is a particular lean that arises. We know monetary policy disparity clearly favors the Dollar, but we get the market recognition of that fact in a picture of the yield differential between 10-year German Bunds and the equivalent maturity US Treasury. On an economic perspective, performance seems loosely comparable, but reference to Citi's economic surprise indices offers up a severe disparity in favor of the US. How long and far can these imbalances build before the market follows the course?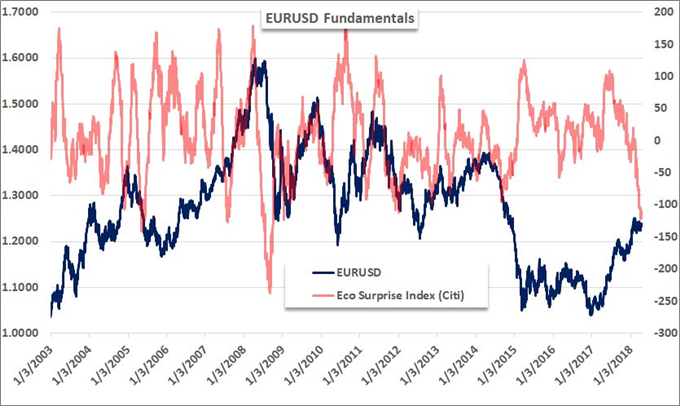 Positioning as a Contrarian Indicator
In my book, there is a third analysis technique that compliments technicals and fundamentals. I call it 'conditional analysis', but in general, it is a means of looking to structural considerations behind the market. In the broader financial markets, trends are few while congestion - both in clean ranges and rife with false starts and stops - is prevalent. Market participation is key behind this trouble and theme. We can find readings of such in volume, open interest, capital flows and other metrics. One area of the market that reflects a particularly remarkable signal for EUR/USD is the net speculative futures positioning behind this pair and the Dollar. For the Greenback, there is a net short exposure not seen in nearly five years. In contrast, the net long EUR/USD futures position is holding at a record long. If taken at face value, we would consider it support for further movement in the prevailing direction. Yet, at extremes, these exposure figures are often contrarian readings. These are definitely extremes. We take an in-depth look at EUR/USD as traders patience wear thin to remind us of the potential at stake in today's Quick Take Video.
To receive John's analysis directly via email, please SIGN UP HERE.
DailyFX provides forex news and technical analysis on the trends that influence the global currency markets.