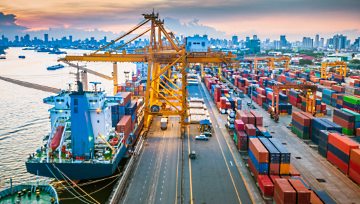 S&P 500 Tumbles as Trade War Headlines Revived, Dollar Range Resists NFPs
Talking Points:
Risk aversion picked up serious weight into Friday's New York session as escalated trade wars rhetoric started to stoke fear

NFPs would fall short of the forecast, but the labor data was generally robust - but that wasn't enough to force a Dollar break
A Canadian Dollar reversal sees a pause, the ECB will weigh in on the Euro and a round of trade data will span the globe next week
What do the DailyFX Analysts expect from the Dollar, Euro, Equities, Oil and more through the 2Q 2018? Download forecasts for these assets and more with technical and fundamental insight from the DailyFX Trading Guides page.
The Trump Administration Revives Trade War Pressure
Friday started with a mild bout of risk aversion; but by its close, the market was full enveloped. We could tell when sentiment started to turn septic from the evolution of correlation across risk assets through the day, which helps to better identify what the catalyst for the fear was - if there were any doubts. In the early hours of the Asia trading session Friday, US President Donald Trump looked to escalate trade wars right as the markets were looking to fall back into comfortable complacency despite the fluid backdrop. With ever grander threats, the President followed up with the $50 billion tariff announced last month against China in response to alleged intellectual property theft with a call to the USTR (US Trade Representative) to consider an additional $100 billion duty. Where this figure comes from and whether it would every pass the WTO without loud protestations remains unclear; but the threat was made and taken seriously by the market. All of the major US equity indices tumbled in the afternoon with the S&P 500 again testing its own 200-day moving average and again holding the line.
S&P 500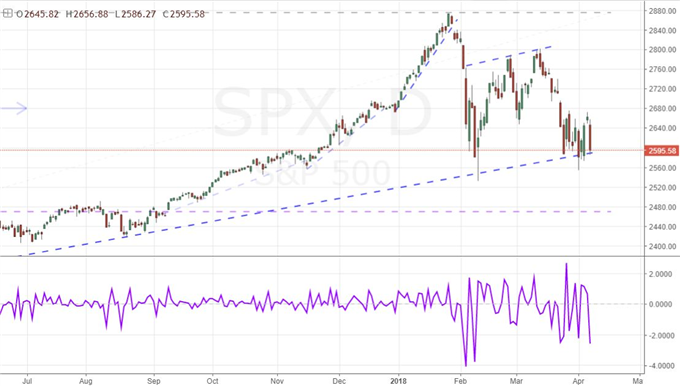 NFPs Couldn't Compete With the Dollar's Technicals
The complex and net negative implications of a future engaged in trade wars no doubt carries weight with the US Dollar, but it is not yet clear whether the currency will falter as the center of these protectionist moves or rally as risk aversion starts to drive investors to the deeper end of the liquidity pool. In the meantime, traders had a more reliable catalyst upon which to set scenarios for trading: the US labor report for March. The data was broadly good. While the 103,000 net jobs added to the economy was smaller than the roughly 185,000 forecasted; the jobless rate held at a long-term low and wage growth ticked up to a pace of 2.7 percent growth. This is an economic facet that is driving remarkably consistent growth. Yet, as discussed yesterday, that wouldn't carry much weight with the Greenback. Even if the data significantly bested forecasts across the board, it is unlikely that the DXY Index or EUR/USD would have been able to cross their significant range-based thresholds (91 and 1.2200 respectively). Three months of range and a year of clear divergence from implied Fed Funds rate trends equates to a difficult trading path.
US Dollar Index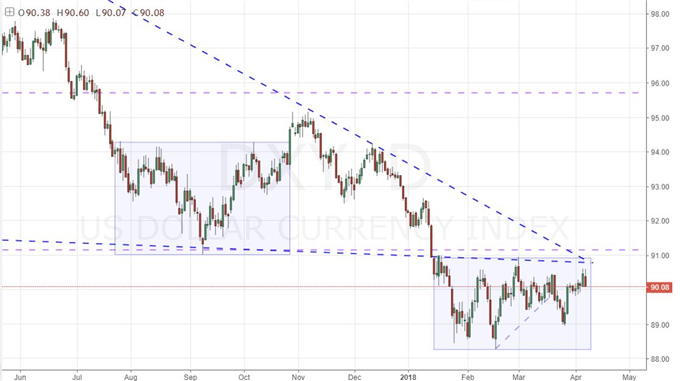 Canadian Dollar Pauses Despite Favorable Jobs Data
Though less media-friendly than the US statistics, Canada produced jobs figures as well Friday. And, like their neighbor's run, general health of the Canadian statistics were strong and encouraging; yet the currency seemed to respond with the opposite expected reaction. The net change in employment rose by 32,300 Canadians, the jobless rate held at 5.8 percent and wage growth held at an impressive 3.1 percent pace of growth. Despite all of that, the currency dropped virtually across the board. An equally-weighted CAD index shows a robust reversal and rebound finding pause with more significant moves from CAD/CHF and USD/CAD easing up while tentative moves by GBP/CAD and NZD/CAD were stymied before gaining real traction. There is still great potential on a fundamental, technical and conditional basis for this currency; but making judgements on the market's indentations should be done with evidence. We will find it in price action next week.
Canadian Dollar Index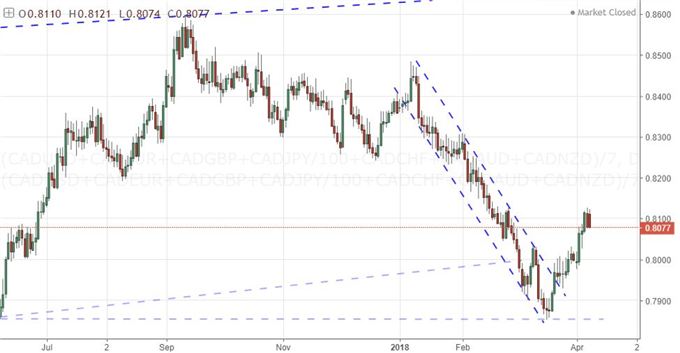 Themes and Data Next Week From Trade Wars to Trade to Currency Views
Looking ahead to what will move our markets next week, there will clearly be a concern over trade wars to contend with. If no other grandstanding remarks are made by US or Chinese officials, it is possible that the market will again grow temporarily numb and find an ill-suited stability. However, the frequency of headlines and the scale of volatility across the markets of late suggest we should be exceptionally cautious - and ready with trade rules for exiting risk and taking advantage of risk aversion options should the winds clearly change. Actual trade itself will be another consideration on the calendar ahead with China, the Eurozone, UK and Japan all set to report their figures (China's will be for March). There is plenty of scheduled data for the Pound, Aussie Dollar and Euro among others; but a scheduled speech by the ECB's Weidmann will stick out on my calendar as he is set to talk about the strengthening Euro. We discuss all of this and more in this weekend Trading Video.
To receive John's analysis directly via email, please SIGN UP HERE.
DailyFX provides forex news and technical analysis on the trends that influence the global currency markets.