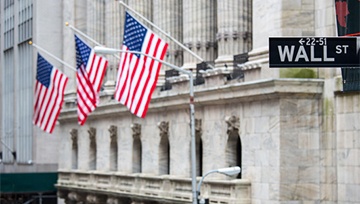 G20 Doesn't Ease Trade War Fears, Now on to the Fed
What's on this page
Talking Points:
G20 closed with a notable lack of universal commitment to avoid protectionism and Mnuchin's remark 'we aren't afraid of a trade war'

Fed

rate decision

is expected to end with a hike, vows for more in 2018 and insight on new Chair...and limited Dollar reaction
See how the DailyFX Analysts' top trade ideas for 2018 are faring now that we are nearing the end of the first quarter. Download the top trades guide on the DailyFX Guides page.
Risk Trends Steady but G20 Offers Little Confidence
Following Monday's nasty spill for global equity indices and other risk-oriented assets, it looked like there was a tangible risk of a significant unwind before the major events even played out. While it is more likely that risk aversion picks up a head of steam in advance of major event risk given the one-sided bearing for the markets for much of the past decade, these markets are too complacent to throw in the towel without motivation. And so, with a series of meaningful events still ahead of us, we would see an immediate stall in the threatening pitch lower the markets put in for to start the week. It is impressive to see meaningful technical breaks from the S&P 500, Nasdaq and FTSE 100 among others just stop in their tracks. it would seem that something tangible stepped in to shore up confidence and the close of the G20 seems approximately timed for just such a booster. The problem with that logic however is the communique and side-line conversation offered more concern than reassurance. Sure, the language was carefully worded to avoid the perception of threats; but it was difficult to miss the loopholes left for engaging in trade wars. It is also antithetical to such interpretations that US Treasury Secretary Steven Mnuchin remarked that the United States was 'not afraid of trade wars'.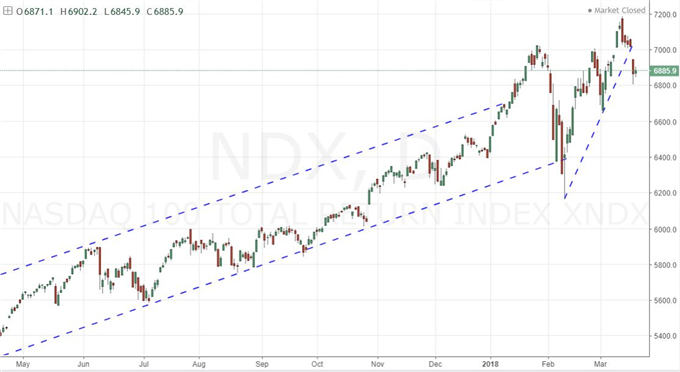 Fed Decision Next High Profile Event in This Packed Week
On to the next one, as they say. And, the next major milestone on our docket will be the Federal Reserve's (FOMC) rate decision. This is going to be a particularly remarkable event - yet that doesn't mean it is sure to be particularly productive one for traders. Whether you look at swaps or Fed Funds futures, the markets are pricing in a near certainty that the central bank will hike rates by 25 basis points. If it is priced in, its market moving potential will naturally be distorted - meaning the rate component won't move markets unless they hold. That said, this is one of the 'quarterly' events whereby we will also have an updated to the forecasts for economic activity, inflation, employment and interest rates as well as the Fed Chairman's press conference. Markets will look specifically at the expected rate tempo as there is a growing speculation that it could hike four times this year (above 30 percent chance according to swaps). That too will be significantly discounted given anticipation. The most open ended element to this event is the new Chair's remarks and answers as he could bring a new personality to the helm - though he seems to be cut from the same cloth as Yellen and Bernanke before him.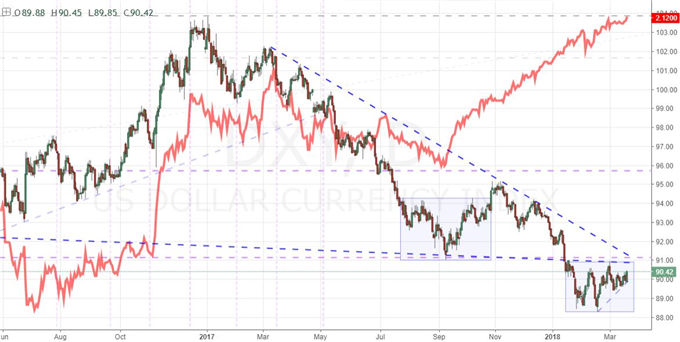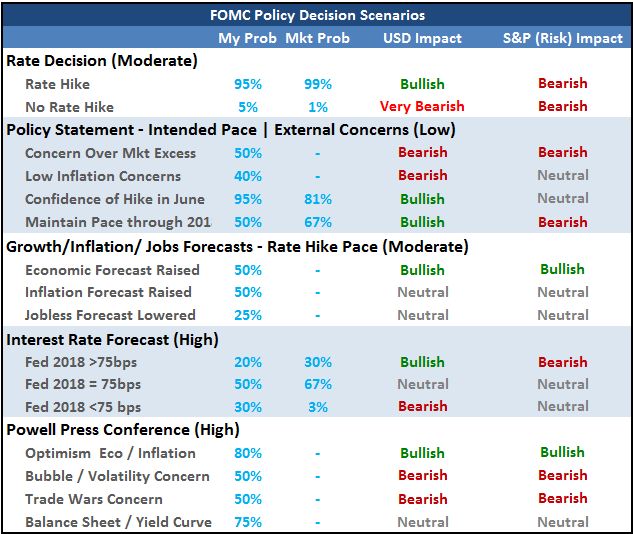 Keeping the Focus on the Top Themes
While the Fed rate decision will carry a number of important moving parts, the market is heavily speculating on the outcome while the group has committed to curbing volatility by committing fully to forward guidance. That isn't the most oppressive element to keeping the Dollar from marking critical moves on the likes of EUR/USD, USD/JPY or NZD/USD though. It is the anticipation of more influential and uncertain events further ahead. Traders should remember there is something far more ominous just over the horizon when evaluating trades for the Fed BoE, RBNZ rate decisions; EU summit; or any number of important indicators on the docket. The drive towards trade wars seem indefatigable. And, the US is set to announce who does and does not fall under its onerous steel and aluminum tariffs Friday. There is also a believable rumor that an aggressive $60 billion/year tariff on China will be announced this week. Taking a significant position on the Dollar, anything dependent on global trade or attached to risk trends is a risky bet against this backdrop.
Meanwhile, Event Risk and Volatility for Pound, Euro and Crude
In other corners of the market, there is volatility playing out or being staged. None of it will likely escape the gravity of what full, unfettered trade wars would impose on the market; but there is nevertheless potential that can play out in short-term volatility or that will wrap into the trade theme. For the Pound, Monday's rally on the back of the UK's and EU's compromise to agree on an additional transitional period post-Brexit is already coming under pressure again. The Sterling is looking particularly stretched on pairs like GBP/USD and GBP/AUD, but none so much as GBP/CHF. The Euro has weathered a significant drop in investor sentiment, but the EU summit will touch upon increasingly important themes Thursday and Friday. Moves from the Australian and Canadian Dollars are impressive, and speculative relief could offer up a strong springboard should the cue be given to turn sentiment. Then there is crude oil which has produced a significant technical break above $62.50 as the Crowned Prince of Saudi Arabia visits the US to discuss the Iran deal and US output. All of these are impressive moves and staging, but remember the hierarchy of importance. We discuss exactly that amid all this event risk in today's Trading Video.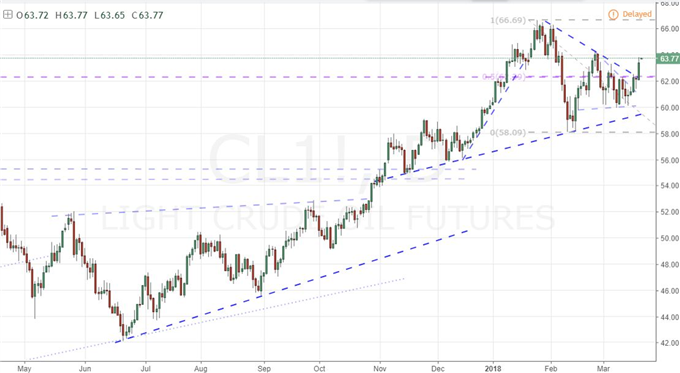 To receive John's analysis directly via email, please SIGN UP HERE
DailyFX provides forex news and technical analysis on the trends that influence the global currency markets.