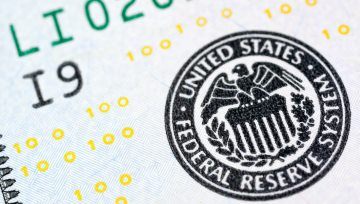 S&P 500 Slides to Support, Dollar Rises to Resistance After Powell Testimony
Talking Points:
US equity indices suffered a setback in their February recovery effort, but is it a genuine change in risk trends?

A jump for the US Dollar this past session leaves EUR/USD, GBP/USD and other Dollar majors on the cusp of technical breaks

The juxtaposition of currency and indices suggests Powell was the source of the drive, but was a 'flash' or start of a trend?
What makes for a 'great' trader? Strategy is important but there are many ways we can analyze to good trades. The most important limitations and advances are found in our own psychology. Download the DailyFX Building Confidence in Trading and Traits of Successful Traders guides to learn how to set your course from the beginning.
Jerome Powell Speaks, Equities Sink
The new Federal Reserve Chairman, Jerome Powell, conducted his first congressional testimony in Washington as the head of the central bank Tuesday; and the markets seemed to be unsettled by what was said. The topics were wide ranging between his prepared statement and the questions posed by the Congressmen and women, but certain discussion points generated more interest than others. On economic growth and financial stability, his outlook was the boilerplate optimism that the Fed has served for some time. Personally, I find their confidence either misplaced or dishonest given the leverage in risk and dependency on financial assets build into cycle, but complacent markets are unlikely to bother themselves too much with this particular concern. Monetary policy on the other hand maintained the hawkish lean, which perhaps is starting to force investors to recognize the connections between speculative positioning and central bank support. Interestingly, there was a range of disappointing US data before Powell spoke, but the slide didn't truly take until after he was behind the mic. The question now is whether this discreet event has enough sway to jump start self-sustaining risk aversion in other markets and sessions.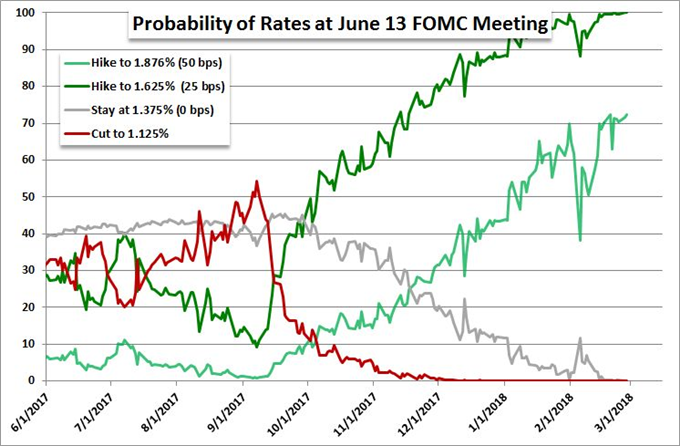 Do Rate Forecasts Matter Again for the Dollar?
As the S&P 500 and Dow dropped back to short-term support, the Dollar jumped ot its own proximate resistance. Here too, the presumption is that this is in response to interest rate expectations. The probability of a hike by March according to swaps is at 100 percent, the chance of two moves by June is north of 70 percent and now speculation of four hikes by year's end is starting to gain discernable traction. This is substantial, but it is truly market moving for the Greenback? These hawkish forecasts are not at all new. In fact, we have seen the implied rate for the Fed Funds rate through futures charge remarkably higher these past six months as the Dollar Index slid to three year lows. Why now? Or, perhaps there is a greater sensitivity to risk trends, whereby the currency is reflecting a more sensitive response to the risk aversion that followed on the day. The source matters, because pairs like EUR/USD, GBP/USD, USD/JPY and others are staged at near-term Dollar resistance. To break and follow through on the move, we need genuine motivation, and simple rate speculation may not hold enough clout.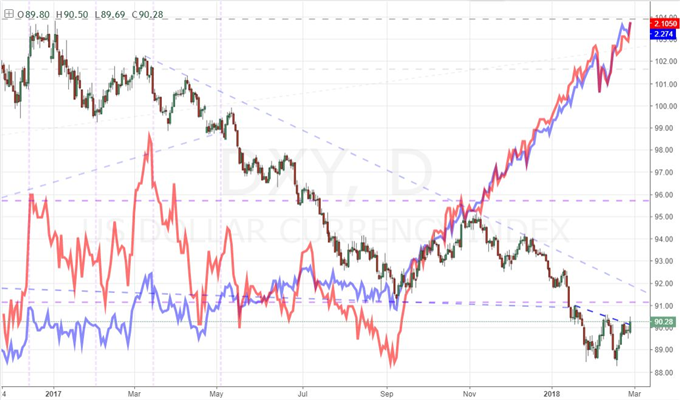 Euro Listing Heavily Towards a Bearish Break
Another factor that we should keep in mind for the Dollar is that much of its losses come on the behalf of its major counterparts' strength. The Euro and Pound in particular have bestowed significant losses on their larger counterpart. Looking to the Euro, we have seen the three primary boosters to the currency - favorable growth forecasts, relative political stability, strong rate speculaiton - struggle recently. we are still awaiting the Italian election this coming weekend, so now the focus is the (over)extended speculation fro ECB normalization. Adding to the group's efforts to squash speculation of near-term hikes and indirect attempts to talk their currency down by claiming manipulative policies by the US, the German inflation statistics this past session came in soft. If the Eurozone figures ahead add to that, it may capsize speculation of impending hikes. If it picks up economy wide though, it could also furhter fuel it. With pairs like EUR/USD, EUR/GBP, EUR/JPY and more at nearby support, we are at a critical point for a fundamental push one way or the other.
EU Readies Its Brexit Draft
Looking to another major currency that finds itself at the threshold of a wide break among its crosses, the Sterling is conspiculously held aloft by overly enthusiastic views of a crucial fundamental theme: an orderly transition in the Brexit. We have seen the rhetoric around the divorce deteriorate progressively over the past month and a half, yet the Pound has held back the tide. Ignoring the headlines to suggest in-fighting with the UK government on its approach to the negotiations has proven remarkably consistent, but bulls may not be able to depend on that much longer if reports that the European Union is ready to release its draft bill on its terms for the proceedings with rejection of some key requests from the UK are true. Supposedly this report will be released Wednesday, so keep an eye on this quickly closing wedge for GBP/USD. We discuss these events and markets and more in today's Trading Video.
To receive John's analysis directly via email, please SIGN UP HERE
DailyFX provides forex news and technical analysis on the trends that influence the global currency markets.