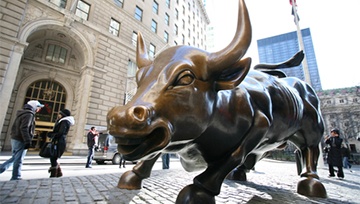 S&P 500 Gaps Higher a Fourth Day, Powell Readies to Disrupt Dollar
What's on this page
Talking Points:
Major US equity indices gapped higher for a fourth consecutive trading session Monday, furthering the recovery of February's tumble

EUR/USD

and the Dollar majors face an evaluation of consumer confidence and new Fed Chair Powell's answers on the future

Complaints of unfair FX manipulation and currency wars will only draw greater scrutiny from Dollar to

Euro

to Yuan
What makes for a 'great' trader? Strategy is important but there are many ways we can analyze to good trades. The most important limitations and advances are found in our own psychology. Download the DailyFX Building Confidence in Trading and Traits of Successful Traders guides to learn how to set your course from the beginning.
The Recovery Continues but At What Point Is it Return to Bull Form?
The recovery from losses suffered in risk-sensitive capital markets earlier this month continued to start the new trading week. Yet, as has been the case for some time, US equity markets continued to run at a pace few other assets could hope to replicate. The debate as to whether the US shares market is a leading indicator for the world's appetite for risk or simply the most blindly exuberant and over-exposed will continue until benchmarks like the S&P 500 or Dow either move to fresh record highs or start to finally collapse under their own weight. In the meantime, both indices advaned to three week highs to retrace more of their peak-to-trough approximately 12 percent losses with four consecutive daily gaps higher. We've surpassed levels like 2,750 and 61.8 percent Fibonacci levels. At what point is this confirmed as a return to form - even if that form is complacency? In the meantime, the global equity indices, junk bonds, carry and other risk-oriented assets are drafting far behind.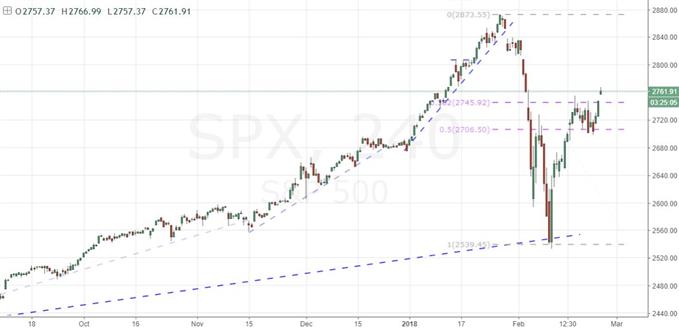 Powell and Consumer Confidence Will Have its Go at Dollar Range
For the Dollar - the fastest rising yield amongst the major currencies - the contrast is both in bearing and momentum. The ICE Dollar Index is still tracking out a tight range at the bottom of a 14-month bear trend. Event risk to start the week didn't have much sway over the Greenback, but the themes of the previous weeks are still hanging over the currency like a fog. Protectionism in particular and accusations of passive currency manipulation more vaguely carry more ominous tone than the traditional considerations we have dealt with on the fundamental side. Yet, we may return to those themes in the forthcoming session. The Conference Board's consumer confidence survey will touch upon employment and wage expectations, spending plans, net wealth assessment and even confidence in government policy (like the adopted tax plan and floated infrastructure spending). For true punch though, Fed Chair Powell's testimony before the House Financial Services Committee will register the greatest range of critical outcomes. Will he keep the course setting for a Fed that aims to deflate volatility wherever and however they can, or will he revert to a more Greenspan-like influence?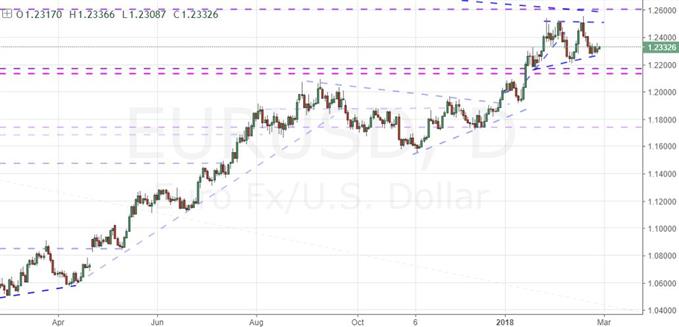 Euro and Pound Dealing with Dominant Fundamental Themes
At the end of the Day, the US currency's bearings and intensity may very well prove the result of more motivated counterparts. Of course, the New Zealand can produce an extraordinary trend like the FX market hasn't seen through NZD/USD, and the Dollar could generally find itself little moved elsewhere. For the current reverse course, the Greenback's most liquid counterparts have to strong arm the market. For the Euro, ECB President Draghi attempted to cover the group's minute's accusation last week that the US was pursuing a 'weak Dollar' policy in a bid to deflate the unit to economic advantage. He suggested there were no currency wars - which is a soft walk back. Meanwhile he remarked that thh central bank is not considering any further QE. Persistence may force this group's hand from sidelines jawboning. Meanwhile, the Pound is working into a terminal wedge with GBP/USD. Yet, whether or not the Cable or other Pound crosses make anything of short-term technical resolution depends on how the Brexit outlook shapes up. As it stands, the EU-UK technical negotiations are occurring, and stories that PM May's mandate is as murky as can be insures the Pound will not recover traction readily.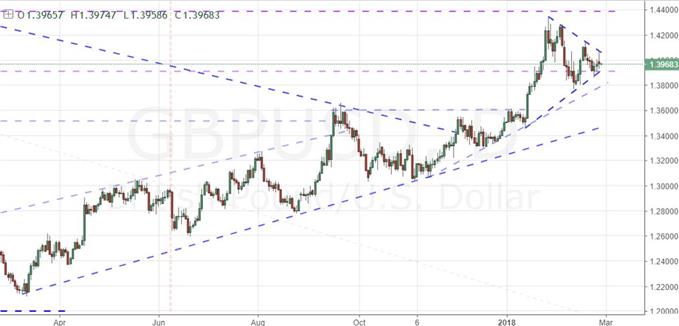 Don't Forget About China's Influence
The Yuan firmed to start the new trading week and Chinese shares seemed to simply keep pace with global counterparts. Inconspicuous if not for being so conspicuous about its pacing. News over the weekend that efforts were underway to lift the cap on the Chinese presidency further signals to global investors that the world's second largest economy is moving away from the free-trade democracy the country seemed so motivated to push towards. They would only move away from this course meant to secure their position in the global financial system and economy if they thought there would be no serious repercussions. With the US and Europe moving towards isolation and cold trade wars, the attention is moved away from China's efforts to control its economic trajectory and bloated debt levels. China is certainly strategic, but its more dramatic changes can lead to events like the sharp market tumbles in August 2015 and January 2016. Beware this large player. We discuss all of this and more in today's Trading Video.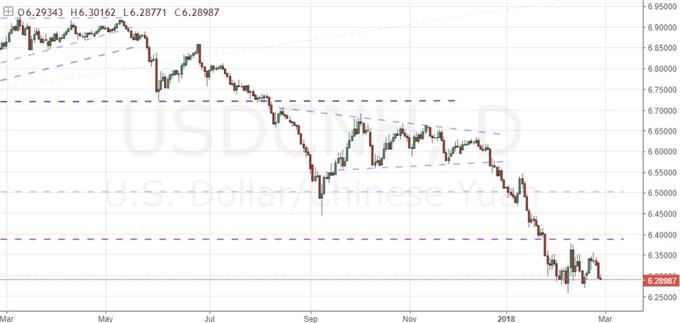 To receive John's analysis directly via email, please SIGN UP HERE
DailyFX provides forex news and technical analysis on the trends that influence the global currency markets.