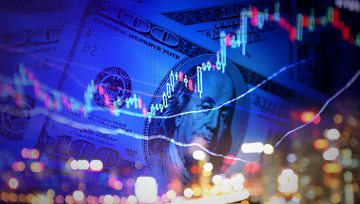 From US to Global Equities, High Yield to Yen Crosses; Markets are Struggling
One of the last holds outs in speculative complacency-as-conviction has made troubling moves towards reversal. The S&P 500 has put pressure on a distinct head-and-shoulders pattern, and the implications for the broader markets can prove frightful for some and unprecedented opportunity for others.
Talking Points:
Other risk benchmarks (junk bonds, global indexes) were already sliding; but the holdouts in the S&P 500 and VIX joined in Wednesday

Full scale risk aversion carries deep implications for the markets so conviction on intent should not be set easily
We are half way through the fourth quarter. See what the DailyFX analysts' forecasted for the Dollar, Euro, equity indexes and more through the end of the year? Download the 4Q forecasts on DailyFX.
It is certainly too early to call a full scale turn in risk trends, but evidence is building that investors' anxiety is starting to overwhelm their commitment to complacency. We have been monitoring conviction in passive speculative reach for some time as the underlying value to throw-in with the crowd was widely divergent from the risk such exposure would represent. However, concerns over the proper valuation metrics are rarely useful for traders who are attempting to navigate often irrational markets. Yet, vigilance means preparation and an ability to react when tides do change and assumptions of value see potential seismic course corrections that trigger systemic market movements. Taking one additional step towards swing to the pendulum in the opposite direction is the intensified correlation across risk-influenced assets in their retreat.
There have been early signs for a possible slide in market conviction in certain assets for a week or more. The junk bond (high yield corporate debt) market has been the most prominent and aggressive in its correction for weeks, but deflating some of its excess alone would not necessarily catalyze a market-wide rebalance. When global equities like the German DAX, UK's FTSE 100 and Japanese Nikkei 225 dropped; concern started to spill into the more traditional and complacent markets. Now, the pressure is getting to the point that it is even spreading to the most prominent hold outs. US equities have staged reversal patterns and have made tentative threats to mark breaks. The S&P 500 had confirmed its head-and-shoulders pattern earlier this week, and this past session saw a distinct test of the support ('neckline') to that pattern. It has yet to develop into a clean and momentous break, but the dive caters to deep skepticism throughout the market and adds to the a subtle but tangible six consecutive days of gaps with lower opens. The US stock market's fear gauge - the VIX - has also seen a quick rise and finds itself on the cusp of a large technical pattern itself. Normally I wouldn't apply chart evaluation to an indicator, but the securitization of volatility products makes it more relevant.
Another signal that global speculation is souring is the realignment of Yen crosses. Carry trade has been the largest and earliest departure from the risk-oriented pack. It has refused the light swings in sentiment that have been founded on complacency rather than genuine fear or greed - perhaps because the income component is so overt for this investment vehicle. This past session, USD/JPY and other Yen crosses offered a move that aligned to the more conformist assets. USD/JPY in particular cleared a head-and-shoulders pattern of its own - and with a little more definitiveness. It carries more points of support for follow through, but conviction in risk aversion is the most effective and influential theme to carry necessary follow through. So, I will look for conviction. In the meantime, neither the Dollar nor gold are reverting to their roles as absolute havens which is a gauge of how shallow fear still is. EUR/USD will not be set back on its reversal course easily. Ahead, the Fed speak and import inflation figures will not likely tip the scales for the Greenback. Similarly, the Pound has a round of key BoE speakers (including Governor Carney), but the competition between monetary policy and Brexit is staunch. Another fundamental theme pull exists for Bitcoin. A possible Zimbabwe coup makes for a dramatic headline for the cryptocurrency, but the real interest is in the speculative appetite like that suggested by Man Group versus the legitimacy debate which was forwarded by news of Square testing payments in Bitcoin. We discuss tipping critical balances and throwing off uncertainty for clear breaks and trend in today's Trading Video.
To receive John's analysis directly via email, please SIGN UP HERE.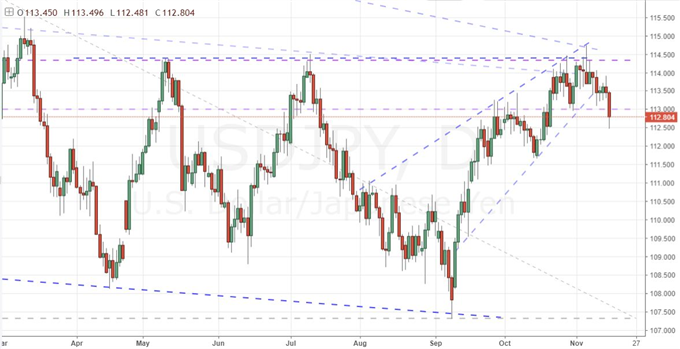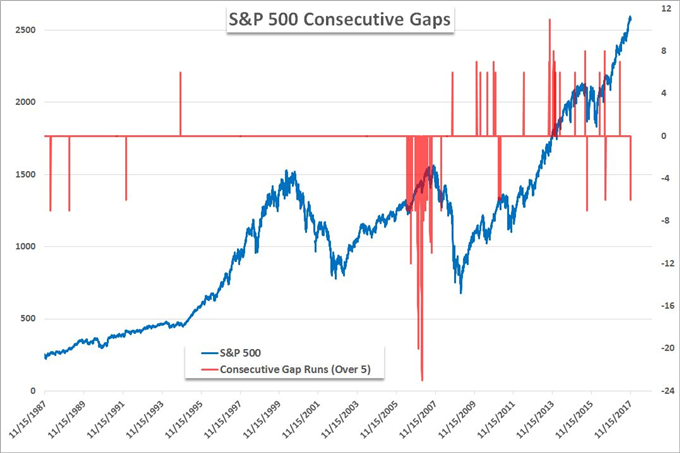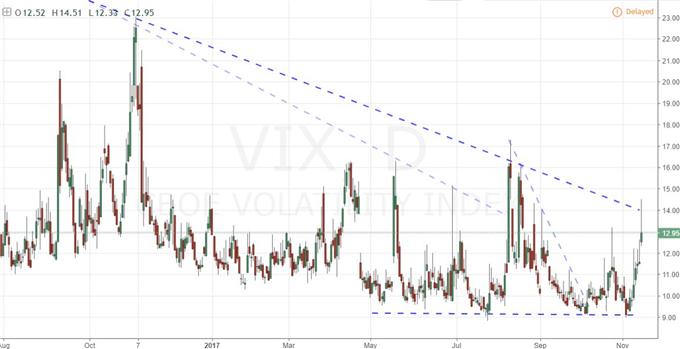 DailyFX provides forex news and technical analysis on the trends that influence the global currency markets.