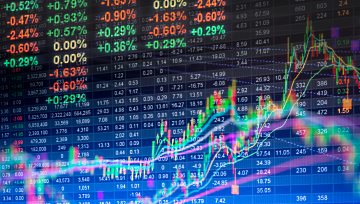 Dollar and VIX Run Remains Elusive, USD/JPY and RBA Charged
Talking Points:
Both the closely watched Dollar and VIX volatility index made weak efforts to launch a rebound but both fell short of trend

USD/JPY produced a false breakout among the Yen crosses, while Aussie crosses like EUR/AUD look to the RBA for more permanence
Monday's biggest move was easily the US oil surge which has achieved a clear technical break, but what do traders expect?
What are the DailyFX analysts' fundamental and technical forecasts for the Dollar, Euro, equity indexes and more through the fourth and final quarter of the year? Download the recently-released 4Q forecasts on DailyFX.
Last week ended with record high US equity highs and an equivalent low in the VIX volatility index. This consistency strains the credulity of even longer-term investors, but outright skepticism is the baseline for short-term traders. A slow climb to fresh highs without a pullback or meaningful volume presents a one-speed environment that risks capsizing a crowded trade. Yet, conviction and opportunity are in the eye of the beholder. Through Monday's session, global equities further inched to new highs to the point of being unchanged. A gap higher in the VIX barely registered given its extremely low starting point, and a retreat through the day negated speculation regardless. The Dollar through the first half of the US session looked as if it would offer more opportunity. A slow advance through the session to revive the lift that forged the DXY's break above a 94 'neckline' on a three-month reversal pattern faltered however with little fundamental traction to inspire speculative reach.
Looking at the Dollar's backdrop, there was little to work with. The combination of the Fed's rate decision, President Trump Chairman appointee (Jerome Powell) and NFPs last week finds little follow through into the new trading period. That comes as little surprise given the lack of clarity it left us with in terms of changing the central bank's pace relative to its major counterparts. However, monetary policy remains one of critical determinants of the Greenback's course and pace; and with that backdrop, the news over the weekend (confirmed Monday) that New York Fed President William Dudley was retiring creates greater uncertainty as to how monetary policy will unfold in the US. The New York Fed position is one with a permanent vote and the charge of the financial markets. With Dudley's planned exit, we now have five board seats that are unfilled. If the President appoints all doves or hawks, it could dramatically change the makeup of this institution. Meanwhile, EUR/USD is still struggling to make something out of its key technical break as a reversal effort and even GBP/USD's slow retracement is out-muscling the Greenback.
Another false-signal move this past session that should be watched with more immediate scrutiny comes from the Japanese Yen. USD/JPY made a dramatic but ultimately lacking effort to clear a dense resistance in the 114.50/115.00 vicinity. The move ultimately played as a false break, but I am not so cavalier as to assume it is a reversal. BoJ Governor Kuroda was on the wires early Tokyo Monday to weigh in on monetary policy and he confirmed he would maintains the group's extreme efforts and not ratchet back on assets like ETFs. In past years, that may have earned a 200-500 Yen cross run, but not nowadays. Nevertheless, there are some remarkable technicals behind pairs like USD/JPY, EUR/JPY and NZD/JPY. Whether through risk trends or monetary policy views, we should watch these crosses closely. Two other currencies to watch closely are the Aussie and Kiwi Dollars. Both are due rate decisions (RBA and RBNZ) in the upcoming 48 hours. First up is the RBA and pairs like EUR/AUD are dealing with a remarkable set of technicals. What matters in these events is not whether they hike this week - they almost certainly won't - but whether they signal an interest in tightening in the medium-term future. That is fully undervalued in the markets. For those looking for volatility, US oil would provide. The commodity capitalized on Friday's $55 break with a robust Monday follow through. How much follow through is there in this drive to two-and-a-half year highs? I asked traders. We talk about this and much more in today's Trading Video.
To receive John's analysis directly via email, please SIGN UP HERE.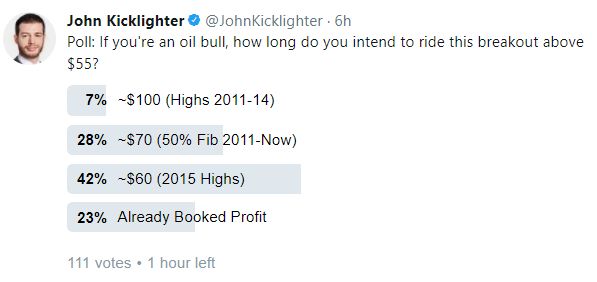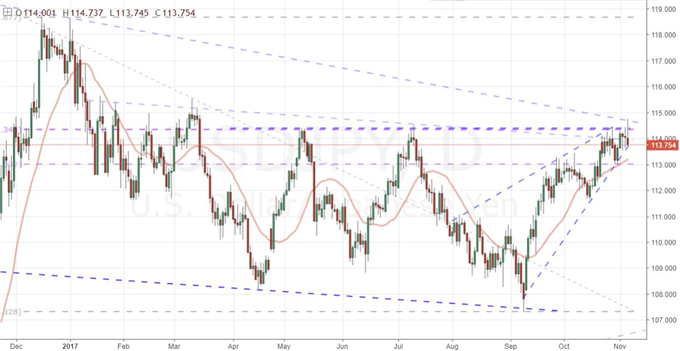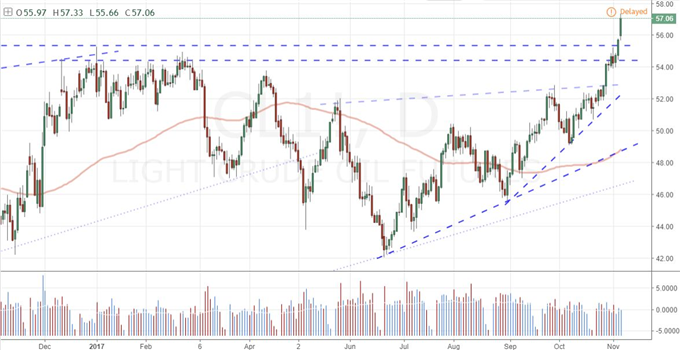 DailyFX provides forex news and technical analysis on the trends that influence the global currency markets.