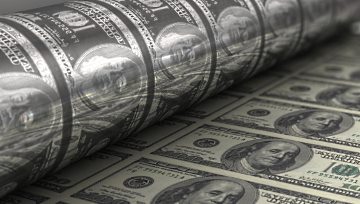 Dollar and US Equities Start Out Quarter Strong while Pound, Euro and Oil Drop
Talking Points:
In an increasingly uneven reach for risk trends, US benchmark equity indexes hit record highs while even FAANGs struggled

The biggest bullish gap for the Dollar on the open to the week and month in 11 months find uneven sources of strength
What are the forecasts for the majors and equities through the fourth quarter? How do you build confidence in your trading? How do you get started in FX? See the trading guides on DailyFX to take your training further.
The new week, month and quarter started off with a bang for risk trends...well, at least for sentiment's constant outperformer, US equities. A range of fresh record highs were set by the S&P 500, Dow Jones Industrial Average and Nasdaq Composite among others. Looking a little further afield in the risk-sensitive market though presented a far more unevent picture of enthusiasm for unquestioned speculative exposure. The bedfellow of deep US index complacency, VIX persisted in its slower slide below 10. In global shares, there was a strong rally from the UK-based FTSE 100 though it was well short of new highs, DAX had an outright rally to target June's swing high, while the Nikkei 225 and Hang Seng Index showed little lift at all. Meanwhile, junk bonds, emerging markets and carry trade show outright struggle. As we start the final three-month period of the trading year, it is important to register the disparity in traditional value measures and the exceptional levels of many speculative benchmarks. Markets don't have to deflate to rebalance; but the longer and wider the disparity, the more probable it become - and the more violent its ultimate resolution.
Another stand out performance to start the new week was the Dollar's jump Monday. The benchmark DXY Dollar index recorded its largest bullish gap in nearly 12 months. That offers another modest boost to speculation that a nascent trend of recovery is gaining traction. However we are still a long way from deep conviction whether we register that evaluation from a technical or fundamental perspective. The headlines opening the period were certainly of mixed quality. On the docket, the ISM's manufacturing sector activity index hit a 13-year high. Yet, the components supporting the aggregate were not those that would support a fresh phase of economic outperformance. Furthermore, factory activity counts for approximately a quarter of US output. Another positive update with some caveat is reports that Fed Chair favorite Kevin Warsh believes the central bank has been beholden to the market - suggesting he may not be so restrained with normalization if in charge. In contrast, seeding a deeper concern that is not front of mind for the market was Moody's warning ahead of Friday's credit update that the Trump administration proposed tax plan was likely credit negative. Systemic carry appeal loss can cause serious problem for the Greenback. This questionable position for the Dollar rendered uneven performance. EURUSD and GBPUSD showed remarkable gains for the base; while the likes of USDJPY, AUDUSD and USDCAD managed only fractional progress.
Helping to charge the EURUSD and Cable to start this week was unfavorable fundamental developments from the lesser liquid currencies in the respective pairs. From the Euro-area news of a 90 percent vote (among those able and willing to participate) in the Catalonia region for independence from Spain were quoted alongside outright classes. This may not be deemed a constitutional vote, but the upheaval revives the frequent concern surrounding Eurozone stability. In the UK, a familiar theme fanned global investors concerns - Brexit. An interview by outspoken Foreign Minister Boris Johnson once again added to worry that the UK government is divided in its already troubled negotiations with the EU during its divorce. GBPUSD made a move that seems to solidify its otherwise tentative reversal; while pairs like GBPJPY, EURGBP, GBPAUD offer up the first stage of technical turns. Outside the liquid FX set, oil suffered a sharp decline to break its consistent but measured bull channel from the past weeks. While this had little in the way of tangible fundamental motivation and follow through draws skepticism, we find volume was three month low while open interest a record high. Finally in the ongoing debate of Bitcoin's and other digital currencies' permanence, Goldman Sachs is reportedly weighing direct trading in the market, offering some degree of speculative legitimacy after JPMorgan's CEO labeled the market a 'fad' and 'fraud'. We discuss these markets and more in today's Trading Video.
To receive John's analysis directly via email, please SIGN UP HERE.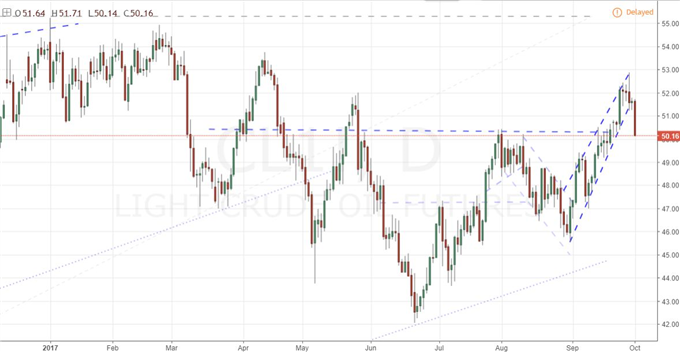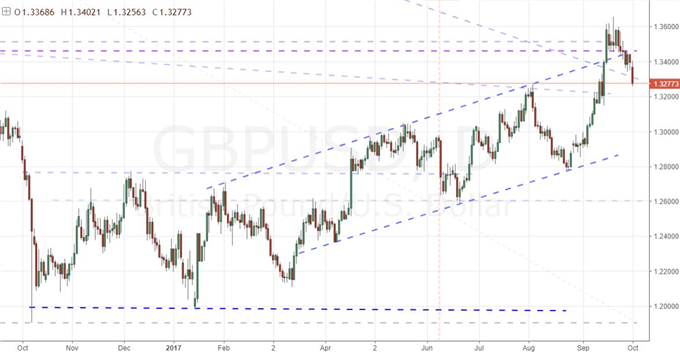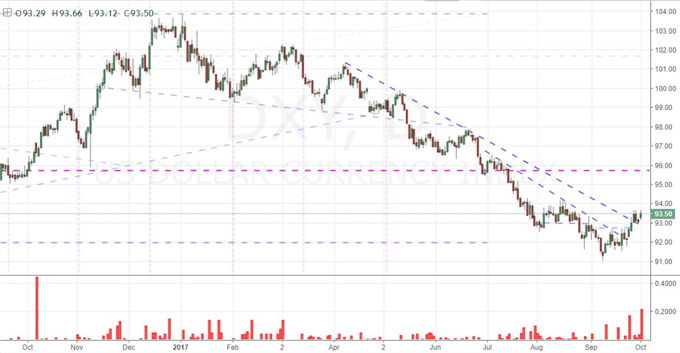 DailyFX provides forex news and technical analysis on the trends that influence the global currency markets.