North Korea, Elections nor Mon Pol Yet to Trigger EURUSD, VIX
Talking Points:
Rhetoric by North Korea's Foreign Minister accusing the US of declaring war manages to escalate a global threat to markets

Both Merkel's win in the German election and inconclusive outcome for New Zealand result in uncertainty for

Euro

,

Kiwi

Monetary policy

is still a key theme this week with Fed, ECB and BoJ officials already weighing in policy limitations
How have retail traders changed their positioning in EURUSD, the Dollar-based majors and US equity indexes following the Fed rate decision? Visit our DailyFX Sentiment page to find out.
Traders should be extra cautious about their navigations in the market. Taking care with exposure and unexpected pockets of volatility was already advisable given the erosion of fundamental stability behind the financial system and excessive risk taking to this point. The value of keeping tabs on our trades - not to mention the correlations that can re-emerge - as well as maintaining sound plans in the event that we need to beat hasty exits amid liquidity trouble is greater than it has ever been. The chief source of concern to start this new trading week is North Korea. The country's standoff with the United States managed to intensify over the weekend and into the first trading session of this new week. US President Trump made off handed remarks aimed at the Korean leader to which the latter's foreign minister alleged were tantamount to declaring war. Despite the remarkable complacency infecting the global financial system, it would be difficult to ignore a war that has threatened the US of nuclear weapons as a catalyst for broad fear.
Looking to the standard bulwarks to financial stability, we saw a sharp and wide response of risk aversion to the remarks. The S&P 500 emini futures dropped in the minutes that followed but did not make a serious run on 2,480 support. Yen crosses dropped across the board and the losses proved 'stickier' perhaps due to the heavier skew this pairing represents for deleveraging excessive risk rather than the dubious position it holds as an absolute haven. Bitcoin led its cryptocurrency peers higher, but market participants should keep in mind the distinction between a speculative asset that masquerades as a haven and a genuine haven for capital - the latter of which this market is not. With a different style of trouble at hand, an overlooked brand of haven over the past months has started to regain appeal. Both gold and the Swiss Franc are not go-to protection for those that are fleeing volatility or looking to take advantage of panic. They are havens in the style of avoiding global crises where systemic risks are present and safety backed by governments is called into question. We should keep tabs on how these instruments are performing relative to other market's branded as harbors for capital.
The sudden surprise associated with the escalation of tension surrounding North Korea wasn't the only fundamental motivation to open the week, but it poses the most ominous threat a trigger to otherwise questionable stability in the financial market. Given that it doesn't come with conveniently timed updates nor a clear path to its unfolding, all market participants should stay tuned in. Yet, where this situation doesn't fully explode; we will find other active fundamental developments prodding market movement and potentially trend. Two elections took place over the weekend - the German and New Zealand parliamentary elections - and both left the market feeling uneasy. The Euro gapped lower to start the week despite Chancellor Merkel's party winning the majority. EURUSD dropped back to a head-and-shoulders neckline, but the break yes yet to come. I believe this would be more definitively triggered by risk aversion should it take. New Zealand is unlikely to know its leader until after October 8th when the final vote count is registered, which didn't sit well for the Kiwi as could be seen in pairs like AUDNZD. Moving forward, we should keep watch on the standard bearer for trend determination - monetary policy - as the depth chart of central bank speakers on tap unfolds. We've already had speakers from the ECB, BoJ and Fed speak; and Yellen is on tap for Tuesday. We discuss the competing fundamental developments leading to volatility in today's Trading Video.
To receive John's analysis directly via email, please SIGN UP HERE.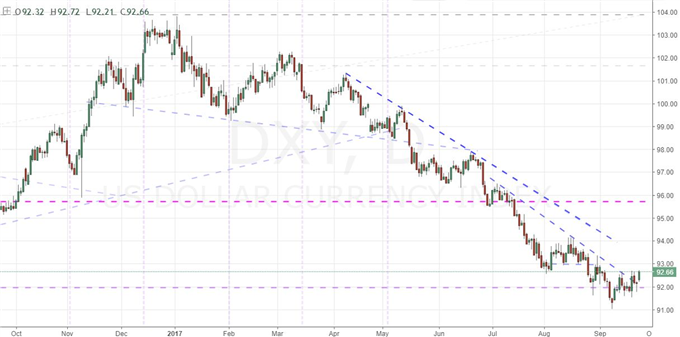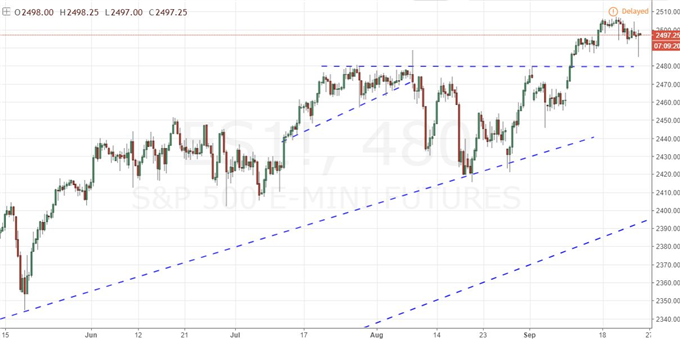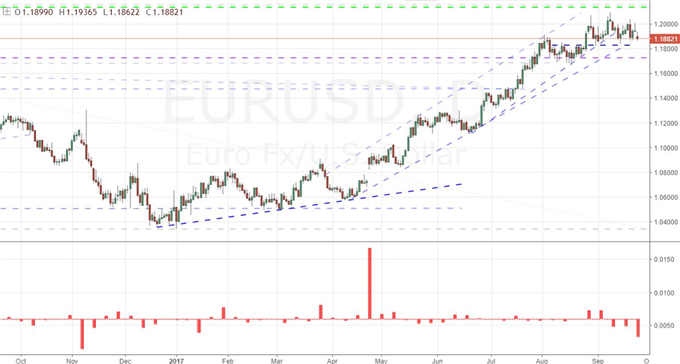 DailyFX provides forex news and technical analysis on the trends that influence the global currency markets.