Will a Buy the Dip S&P 500 Rebound Last and Can Euro Techs Play Out?
Talking Points:
The S&P 500 rallied this past session, reversing what seemed a critical trendline break through the end of last week

A 'buy the dip' mentality suits current conditions as political uncertain remains and Jackson Hole Symposium is still ahead

With risk assets on hold but also still on the hook; traders should monitor volatility, gold and cryptocurrencies
How will risk trends develop moving forward and what measures should we monitor to track its progress? Join the Fundamental Trading webinar Monday to find out. Have trading, market or strategy questions? Ask them at Tuesday's Q&A. Sign up on the DailyFX webinar calendar.
The S&P 500 posted an abrupt rally this past session - its fourth largest this year. That was particularly impressive performance given the lack of motivation on the calendar and in the headlines as well as the lack of tempo for other speculative assets. Should we read this performance to be an indication of renewed speculative appetite for US equities - or even further, can it signal a renewed appetite for 'risk' that can carry the broader markets? Such a forecast would be a considerable stretch as motivation is just as important today as it was yesterday. Returning to record highs is hard enough, extending them is even more difficult. And, we simply don't have a second wind to inspire a market saturated for exposure to scrounge up unutilized capital to buy into a market just off record highs. So, what was the motivation of this benchmark index's performance this past session? Opportunism.
The 'buy the dip' phrase has become a parody in the market for a drive that seemingly cannot be swayed from its bullish course despite growing evidence that it has come unbound from value. However, there is genuine value to be found in this mentality given the proper circumstances. Buying on the dip is a trading approach pursued when heavy by the speculative rank with no deep commitment to the conviction in making deep assessments of value. In the S&P 500's position, we were left with a meaningful technical break from late last week that forced a break of trendline support that stretched back months and survived jolts of volatility surprising event risk and themes like the political risk surrounding the US-North Korea standoff. Yet, despite the implications that most technical traders would read from such a break, there was no follow through to speak before or after the weekend. What opportunity could have been generated from traders looking to take advantage of an early wave of momentum never arose; and attention drawn forward for data like PMIs, the President's next prepared rally and the Jackson Hole Symposium later this week would further throttle opportunity. In such a situation, the speculative exposure pushed behind the nascent bear trend and a market used to seeing pullback return to broader trends would understandable buy on the dip. Yet, just as unique as the rebound is, the follow through would naturally come with equally limiting caveats.
Similar to the path-of-least-resistance move from the S&P 500 and other risk markets, the Dollar would see an easing of its own speculative tension. The rebound the Greenback experienced this past session was very limited. News stories suggesting progress on tax reform among officials such as Treasury Secretary Mnuchin make it more palatable for investors that need a traditional fundamental reason, but there was little to work with and little to motivation to turn more productive opportunities from pairs like EUR/USD, GBP/USD and USD/JPY. If we are looking for more traditional fundamental sources to guide us, there are few better positioned currencies than the Euro. The world's second most liquid currency had ECB President Draghi speaking today (as well as on Friday) along with Euro area PMIs. If we could get a clear signal for the currency, it could cue appealing technical setups for the likes of EUR/USD, EUR/JPY and EUR/GBP. However that may be asking too much. Meanwhile, outside the most liquid circle, there are dynamics that global investors should keep close track of. Gold is keeping the pressure on a 1,300 triple top as the Jackson Hole Symposium looks to draw the focus on global monetary policy. Cryptocurrencies have shown uneven sparks of volatility with a break in general correlation that suggests a deep speculative influence. Then there is the sleeper concern surrounding China as a global catalyst with the Yuan at an 11 month high while USD/HKD is pushing further into intervention territory. We measure market developments for trade opportunity in today's Trading Video.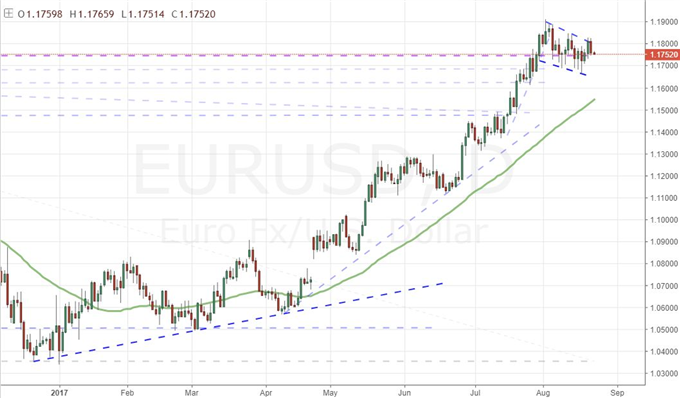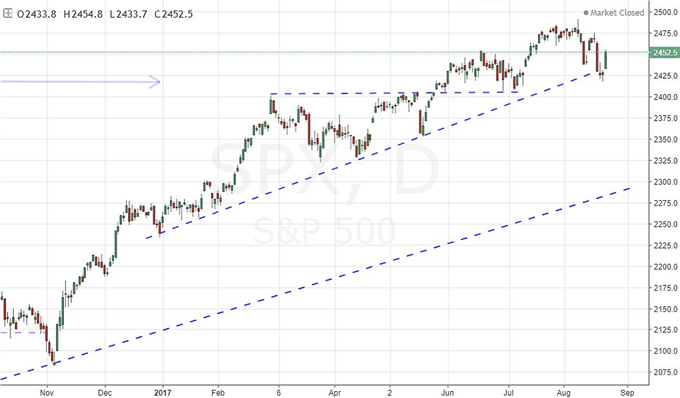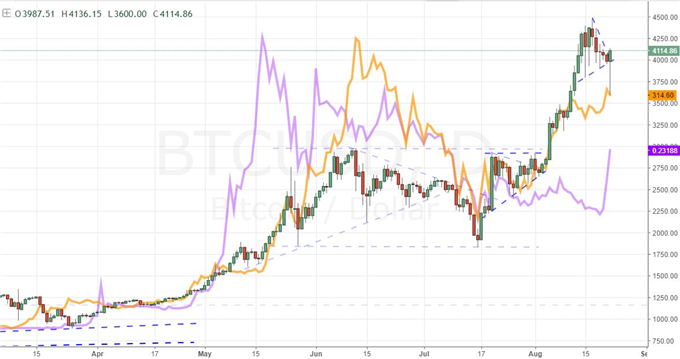 To receive John's analysis directly via email, please SIGN UP HERE
DailyFX provides forex news and technical analysis on the trends that influence the global currency markets.