Elliott Wave Analysis: Crude Oil & Natural Gas Longer Term
Crude Oil and Natural Gas Elliott Wave Talking Points:
Crude oil chart shows price nearing the June 2012 low that may act as resistance
Additional wave relationships are appearing near $80 that may place a lid on crude oil prices
Natural gas Elliott Wave chart is mixed between a sideways complex correction to a bullish wave 3
It appears the current Elliott Wave count for crude oil is wave (c) of circle 'y'. With circle wave 'y' being a zigzag pattern, that means wave (c) is a terminal wave. Therefore, when this current wave finalizes, a large reversal may be at hand. The two day price chart shows some overhead supply and resistance forming near 77.31 and 80.
Back in June 2012, crude oil prices were supported at 77.31. This level has subsequently broken and therefore, 77.31 may act like resistance moving forward.
Many times alternating waves are equal in length or have a Fibonacci relationship with one another. Circle wave 'y' would be 61.8% the length of circle wave 'w' near 80. If crude oil prices do increase further, we will monitor the 80 level as a potential reversal zone.
There is a cluster of support near 65 so this will be the key level for maintaining a bullish bias. If crude oil prices do reverse and break down below 65, then we will strongly consider the top is in for crude oil leading to a multi-week correction.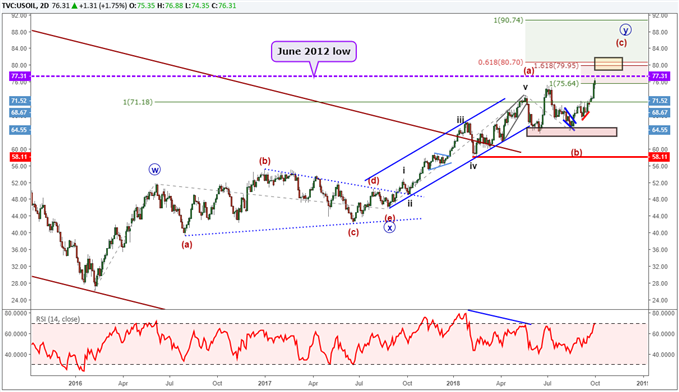 What happens after wave Y in the Elliott Wave principle?
After wave 'Y' prints, a deep retracement typically occurs. It could be another 'X' wave or a deep correction that retraces the entire two-year uptrend. Either way, the odds are high that a deep correction occurs once the final sub waves of 'y' are in place.
natural gas Elliott wave forecast is a mixed bag
Natural Gas prices have increased from previously forecasted longer term pivot levels. At this point in the Elliott Wave chart, we are uncertain how much further Natural Gas can rise as we have competing bearish and bullish patterns at play.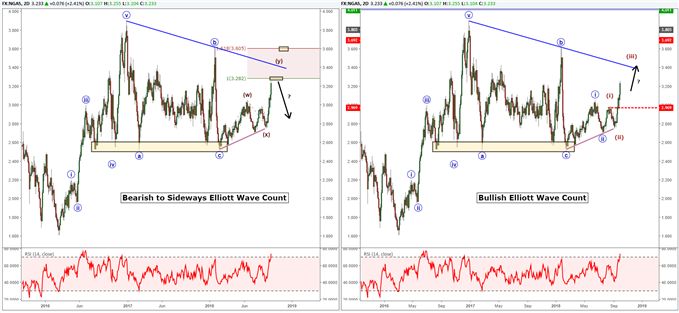 Natural Gas Bearish Pattern
The bearish Elliot wave pattern we are following is that of a large complex correction that began from the 2016 price high (left side of the chart above). As the name states, this pattern is complex and may turn lower from levels just above current prices. At 3.28, wave (y) is equal in length to wave (w) so it may be a near term pivot level. Around 3.40, the blue resistance line crosses so it may provide resistance to natural gas prices too. The challenge with this wave count is the visual structure. The form of the waves are not an ideal shape of a (w)-(x)-(y) pattern.
If this wave pattern were correct, a dip back to 2.80 and possibly 2.53 would be considered normal.
Natural Gas chart pattern -- bullish
We can also identify an unfolding bullish impulse wave that may drive Natural Gas towards higher levels (right side of chart above). Here, the shape of the pattern looks more 'normal', as the current Elliott wave count would be wave (iii) of circle '3'. However, the sub waves of circle '1' are not the cleanest and incorporate doubt into this outlook. In the bullish pattern, dips would prove temporary and would be buying opportunities. So long as Natural gas prices remain above 2.97, bullish outcomes ought to be respected for a retest of the 3.90 high.
Elliott Wave Theory FAQs
How can a trader learn more about Elliott Wave Theory?
We have a beginner and advanced Elliott Wave guide to help traders learn more about the Elliott Wave method of analysis. Additionally, follow DailyFX's Elliott Wave articles and webinars to see the analysis being used in real time.
What markets is Elliott Wave Theory best applied?
Elliott Wave Theory is best applied to the liquid markets. Therefore, you will see me apply my analysis to major and common FX pairs, stock indices, common commodities like gold, silver, copper, and energy like oil or natural gas.
If you are not sure if Elliott Wave is for you, consider reading some materials with some commentary on the habits that make successful traders.
---Written by Jeremy Wagner, CEWA-M
Jeremy Wagner is a Certified Elliott Wave Analyst with a Master's designation. Jeremy provides Elliott Wave analysis on key markets as well as Elliott Wave educational resources. Read more of Jeremy's Elliott Wave reports via his bio page.
Communicate with Jeremy and have your shout below by posting in the comments area. Feel free to include your Elliott Wave count as well.
Discuss these markets with Jeremy in Monday's US Opening Bell webinar.
Follow me on Twitter at @JWagnerFXTrader .
DailyFX provides forex news and technical analysis on the trends that influence the global currency markets.