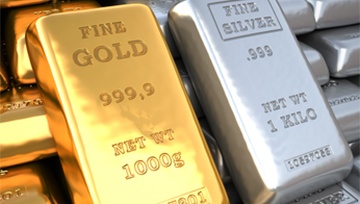 Elliott Wave Forecast for Gold, Silver, and Yen Paint Bullish USD Picture
What's on this page
Gold prices continue to press near four-year highs at $1366 while silver prices are unable to rally. The Elliott Wave analysis along with this divergence in price behavior suggests a bearish reversal may occur near current levels.
Gold's Elliott Wave chart in a large complex 'B' wave
We are switching over to a line chart to help us determine waves according to Elliott Wave Theory. The rally in gold prices from December 2016 appears in corrective form and is therefore likely to be completely retraced at some point into the future.
The near term Elliott Wave analysis shows gold prices are in a complex 'B' wave. These types of waves are difficult to forecast. As a trader, you are better off waiting for the top to print, and then wait for levels of support to break prior to entering into trades.
We can use the January 4 low of $1305.77 as the support level to monitor. A break below $1305 adds to the argument that the complex 'B' wave has topped.
If this Elliott Wave count is correct, then we can forecast a drop in gold prices down towards $1200 in a 'C' wave.
Though lower in probability, if gold prices push above $1465, then we will consider other alternative wave counts in force.
Gold and its correlation to Japanese Yen
One other factor I will keep an eye on is the USD/JPY exchange rate. We previously highlighted this relationship specifically how Gold and USDJPY have been moving inversely to one another. It comes as no surprise that my Elliott Wave analysis for USDJPY has that pair in a complex 'B' wave too and its new extremes may prove temporary. On the chart below, I plotted Gold against the inverse of USDJPY and they have been tracking each other closely.
Notice how the red line has been lagging behind the blue line until recently. This recent push is USDJPY playing 'catch up' and when it is over, may suggest a turn is nearby.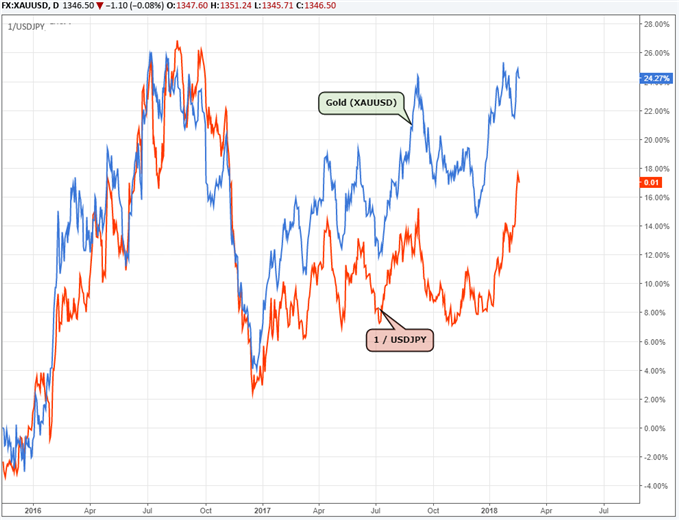 Silver price forecast is towards lower levels
Using the Elliott Wave principle to guide our forecast in silver, we can identify a yearlong Elliott Wave triangle that began in December 2016. It appears as though this triangle has finished in January 2018. If this analysis is correct, then silver prices are forecast to fall to new lows near 14.50. This forecast remains valid so long as silver prices remain below the January 2018 high.
What I find interesting about this silver price chart is how the shiny metal was unable to rally during a period of US Dollar weakness. This is but another symptom to show how weak silver is and suggests new lows on the horizon.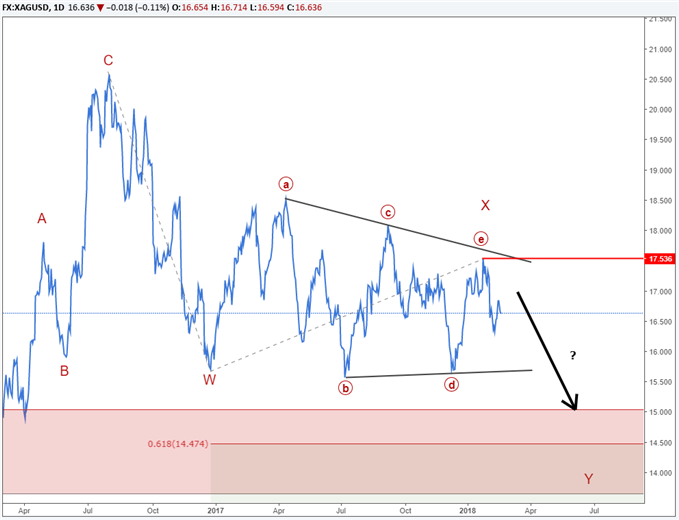 Gold, Silver, and Yen charts taken together signal a bullish US Dollar
Taking Gold, Silver, and USDJPY charts together, it paints the picture of a US Dollar bull run coming. In fact, our analysis for EURUSD and AUDUSD also suggest the largest US Dollar rally since January 2017 is just on the horizon.
Elliott Wave and Gold FAQs
What is Elliott Wave Theory?
Elliott Wave Theory is a forex trading study that identifies the highs and lows of price movements on charts via wave patterns. Traders often analyze the 5-wave impulse sequence and 3-wave corrective sequence to help them trade strategically. We cover these wave sequences in our beginners and advanced Elliott Wave trading guides.
Why wait for $1305 before entering short? Wouldn't you miss the reversal?
Trading is more than entry and exit signals. Account management is as important relative to anything else in your trading. Therefore, as a trader, I am seeking out strategic places on the chart to where I can identify the trend, risk level, and target level that is consistent with the habits of successful traders. Though we are not calling the exact top and reversal point, we are identifying those strategic areas where we have a higher probability to extract a large portion of the trend.
---Written by Jeremy Wagner, CEWA-M
Jeremy is a Certified Elliott Wave Analyst with a Master's designation. These articles are designed to illustrate Elliott Wave applied to the current market environment.
Communicate with Jeremy and have your shout below by posting in the comments area. Feel free to include your Elliott Wave count as well.
Gold was one of the key markets discussed in a special year webinar "What 2 Watch 4 in 2018". Register to view.
Follow on twitter @JWagnerFXTrader .
Join Jeremy's distribution list.
DailyFX provides forex news and technical analysis on the trends that influence the global currency markets.