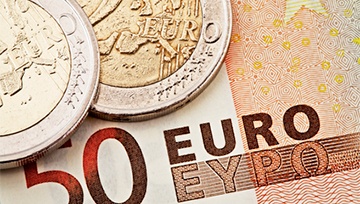 EUR/USD Elliott Wave Analysis: 3 Ending Waves Meet a 10 Year Trend Line
What's on this page
EUR/USD Elliott Wave Analysis Talking Points:
EURUSD is very close to completing a three year Elliott Wave

expanded flat pattern

The final wave is taking shape with some targets near the 10 year trend at 1.26
A bearish reversal has an initial target of 1.15 with a secondary zone 1.09-1.12
EUR/USD Elliott Wave analysis shows a three year expanded flat pattern very close to being completed. New highs above 1.26 may be short lived as a large bearish reversal hovers nearby.
Elliott Wave Flat Pattern Began in 2015
EUR/USD has been correcting sideways since March of 2015 as an A-B-C wave. This three-wave move is shaped as an expanded flat pattern.
According to the Elliott Wave principle, the 'C' wave of the flat would need to carve in five waves and it is the terminal wave of the larger pattern. We can see from the chart below that the pattern is nearly complete as the fifth and final wave is advanced in length.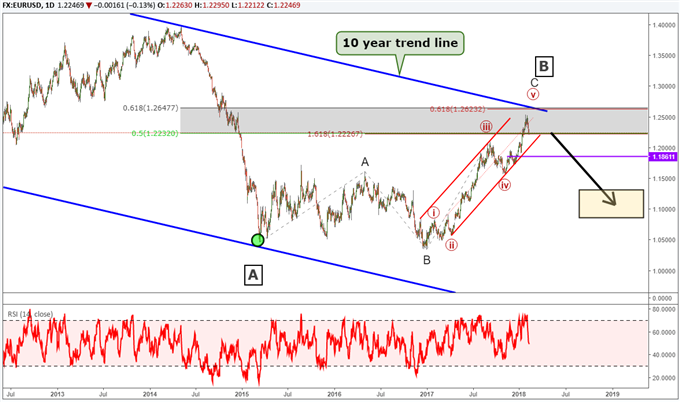 Elliott Wave Theory 5th Wave of a 5th Wave underfoot
One benefit of reading the charts using Elliott Wave Theory is that we can determine the maturity of the trend based on how many waves have formed. As mentioned above, we appear advanced within the fifth and final wave of 'C'. As we inspect the fifth wave that began in November, we can count four waves complete or nearly so (grey waves on the chart). As a result, the fifth wave of a fifth wave represents an aging trend that is ripe for reversal. For those keeping score at home, EURUSD is in wave (v) of ((v)) of C. Each of those three wave are ending waves.
Elliott Wave Forecasted Reversal Zone
According to the Elliott Wave principle, there are guidelines for estimating the distance of fifth waves and multiple wave relationships appear near 1.26. We believe EUR/USD may rise to finish the three-year expanded flat pattern and reverse near 1.26. If EUR/USD overshoots 1.26, that is ok, because the wave relationships are guidelines to help anchor you on the maturity of the current trend.
Within an impulse wave, there are wave relationships we can use to estimate the length of the fifth wave. Many times, the fifth wave is .382 or .618 times the length of waves 1 through 3. Essentially, the fourth wave divides the whole impulse wave with the golden ratio.
Grey wave (v) is .382 times waves (i) through (iii) at 1.2588.
Red circle wave 'v' is .618 times waves 'I' through 'iii' at 1.2623
The 10 year resistance trend line for EUR/USD crosses near 1.2620
The

fibonacci 61.8% retracement

of the 2014 sell off is at 1.2648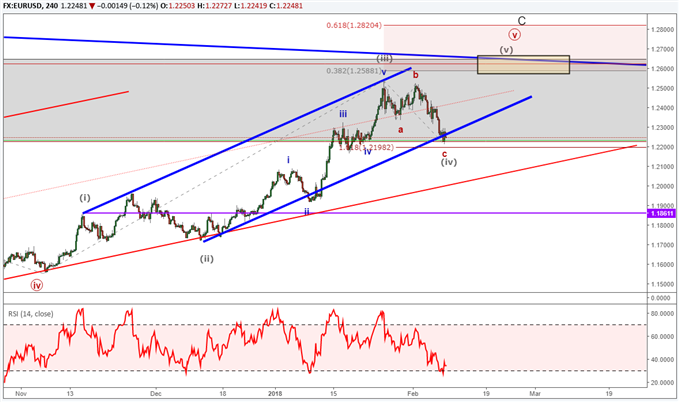 As you can see, several wave relationships appear in a tight price zone near 1.26. As a result, if EUR/USD does extend towards these levels, we believe it is higher probability of a bearish trend reversal than a bullish breakout.
What is the EURUSD Trading Opportunity?
Though EURUSD may advance to 1.26, we are nearing the exit ramp on the freeway. The better opportunities are when we have more reward relative to the risk. Though smaller trades can be considered to the bullish side, the better risk to reward ratios are if EURUSD is successful in reaching the 1.26 zone. At 1.26, good risk to reward ratios are available for short positions strategically placed. We will discuss those strategies (like breakouts) in future writings. Our Traits of Successful Traders research unpacks the importance of risk to reward ratios and how our mind handles winning and losing trades.
If EURUSD does turn lower, our initial target is 1.15 that contains the previous fourth wave low. Secondary targets arrive near 1.09-1.12.
Elliott Wave Theory FAQs
"The Elliott Wave principle seems subjective!"
Well, I would disagree, as the EWP rules are not broken. The challenge is most likely the result of forecasting error. Even I make forecasting mistakes and it happens to everyone as we are assessing a live market environment. One key for budding Elliott Wave technicians is to learn the main patterns, and then minimize those errors by following the larger trend. We discuss this and other expert tips in our beginners and advanced trading guides.
How will I know if EUR/USD has topped using Elliott Wave?
There are certain Elliott Wave patterns that indicate a new trend in the opposite direction is forming. First, I look for a five-wave motive wave to carve to the downside. Secondly, we look for a three wave partial retracement higher. This 5-3 pattern is an early warning indication the near term trend has reversed from up to down. We have a one-hour webinar recording on "How to Start Your Elliott Wave Analysis".
New to trading FX? This guide is just for you.
---Written by Jeremy Wagner, CEWA-M
Jeremy Wagner is a Certified Elliott Wave Analyst with a Master's designation. Jeremy provides Elliott Wave analysis on key markets as well as Elliott Wave educational resources. Read more of Jeremy's Elliott Wave reports via his bio page.
Communicate with Jeremy and have your shout below by posting in the comments area. Feel free to include your Elliott Wave count as well.
Follow on twitter @JWagnerFXTrader .
Join Jeremy's distribution list.
DailyFX provides forex news and technical analysis on the trends that influence the global currency markets.