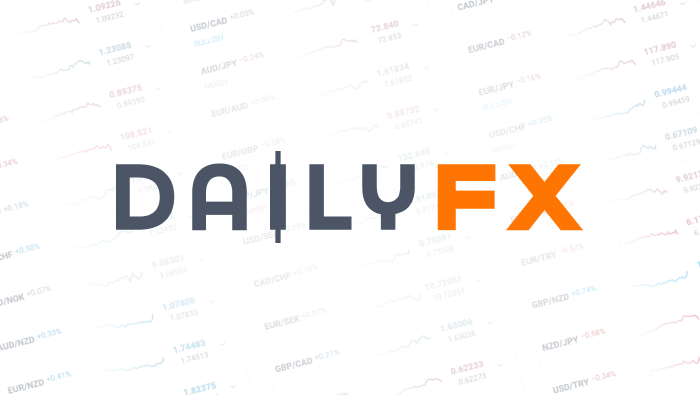 AUDUSD Elliott Wave Forecasts a Bounce Towards 76 to 78 Cents
AUDUSD Elliott Wave Talking Points
AUDUSD appears to be finishing a bearish impulse wave
Anticipate a corrective wave to form on the AUDUSD chart pushing it back towards 76 cents
Continued near term weakness is not out of the question to slightly lower levels in order to finish the bearish impulse sequence
The AUDUSD price chart has lived up to its expectations in 2018 thus far. Using Elliott Wave Theory, we forecasted in December 2017 a smooth start then a rough finish in 2018 for AUDUSD. We were targeting a potential reversal to occur near 82 cents that would lead to a multi-month sell off. AUDUSD did top out at .8136 on January 26.
what Elliott wave are we in now?
The complex correction that began September 2015 has ended at the January 2018 high. This complex correction is labeled w-x-y (Expanded Flat- Triangle- Zigzag).
Beginning January 2018, we can count an impulsive wave leading down towards recent lows, though the structure of it is not pretty. This impulsive wave is mature as we are near its end, if this bearish wave has not terminated already.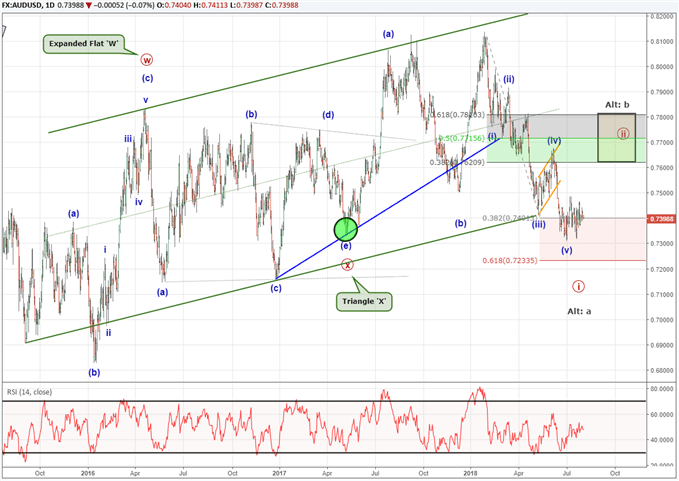 Regardless, once this bearish impulsive wave ends, we will anticipate the largest rally in AUDUSD price since December 2017. The rally would be a corrective wave 2 or b that may carry up 76 to 78 cents.
audusd client positioning hints at further losses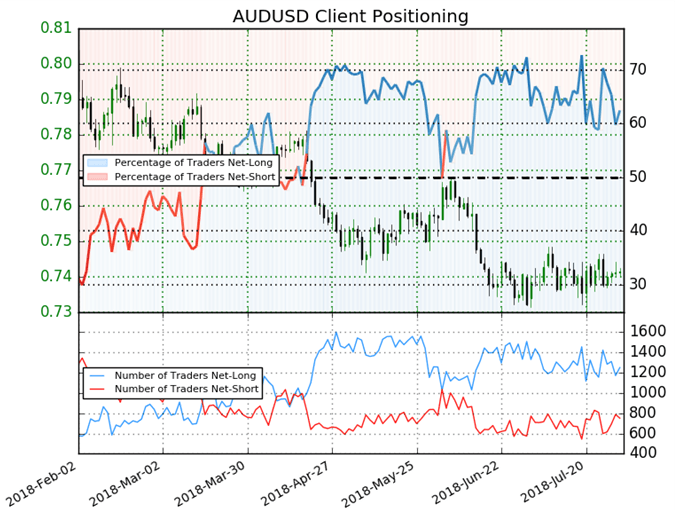 It is possible our bearish impulse count may be off by one wave. Therefore, AUDUSD may pop lower in one final terminal wave to finish the bearish impulsive sequence. The live sentiment reading for IG traders hints the downtrend may not be over yet as approximately 62% of the traders remain net long. Should AUDUSD drop further, a potential target lands in the 72 cent handle.
AUDUSD Elliott Wave Theory FAQs
How accurate is Elliott Wave?
Just like any form of analysis, there is forecasting error that results from the analyst's interpretation of the market. Also, consider that analyzing the market through the lens of Elliott Wave Theory uses deductive reasoning. All patterns are valid until the suggested pattern breaks one of Elliott's rules. Only at that point can that particular wave count be eliminated.
Therefore, we take a probabilistic approach by incorporating wave guidelines into the mix. This helps us determine the higher probability Elliott Wave counts, knowing we will never be 100% correct. Learn more about forecasting error in our Beginners and Advanced Elliott Wave guides.
How to trade with Elliott Wave?
There are certain points in the wave sequence where we can identify clear risk to reward ratios. Beyond that, I look for clear discernable patterns where the alternate wave counts tend to point in the same direction as the higher probability counts. Regardless of your point of entry in the trade, be mindful of the biggest mistakes traders make. We have studied this through millions of live trades and boiled it down into our Traits of Successful Traders research.
Are you new to FX trading? This ebook was created just for you.
---Written by Jeremy Wagner, CEWA-M
Jeremy Wagner is a Certified Elliott Wave Analyst with a Master's designation. Jeremy provides Elliott Wave analysis on key markets as well as Elliott Wave educational resources. Read more of Jeremy's Elliott Wave reports via his bio page.
Communicate with Jeremy and have your shout below by posting in the comments area. Feel free to include your Elliott Wave count as well.
Follow on twitter @JWagnerFXTrader .
See also Elliott Wave analysis for copper prices suggests weakness may be temporary.
DailyFX provides forex news and technical analysis on the trends that influence the global currency markets.