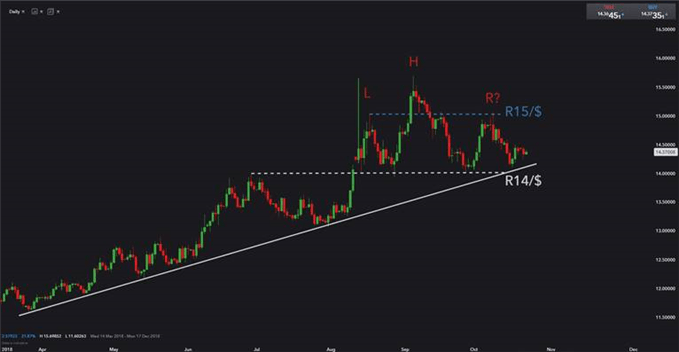 Rand Report : Mid-term budget speech
After only a few weeks as South Africa's Finance Minister, Tito Mboweni will be delivering his first Mid-Term Budget Speech (MBTS) on Wednesday the 24th of October. The Rand, Investors, South Africans and ratings agencies are poised anxiously awaiting the outcomes. In this report we look at key areas of the budget to be addressed as well as how the USD/ZAR currency pair is lining up for traders ahead of the meeting.
Growth outlook deteriorating
A second consecutive quarter of economic contraction see's South Africa in a technical recession, with global risk factors such as the US / China trade war posing further threats to the health of world markets. In turn the Finance Minister will need to revise his forecasts lower for domestic economic growth. Consensus estimates suggest that the Gross Domestic Product (GDP) growth for 2018/19 will be revised to around 0.6% from 1.5% previously expected.
Expenditure ceiling and Stimulus
In late September, President Cyril Ramaphosa announced a new stimulus plan to help revive the South African economy. The plan requires a R50bn reprioritization of expenditure, the details of which Mr Ramaphosa said will be made available at the budget speech (MTBS). A reprioritization of the budget would suggest funding to be shuffled from existing portfolios and should have little to no impact on the actual expenditure ceiling. Which portfolios will be affected remains to be seen.
Infrastructure and the agriculture sector are expected to be primary beneficiaries of government spending in lieu of their potential to create jobs. Healthcare and education are sectors of the economy under duress and will need to be addressed as well.
Public sector wage bill which saw an above inflation increase in June will add pressure to the expenditure ceiling suggested in Februaries budget speech.
State-Owned Enterprises (SOE's) & Government Debt
Eskom, the SABC, the South African Post Office and South African Airways (SAA) remain SOE's under pressure providing a burden to government debt, now around 55% of GDP. Further plans to stabilize these institutions, improve their respective balance sheets are necessary to aid the South African economy and appease ratings agencies.
Ratings Agencies
Major rating's agencies: Standards and Poor's, Fitch and Moody's investors relations will all be keeping a watchful eye on the MTBS. Moody's, the last remaining rating's agency to still have South Africa's local currency debt at an investment grade level, will be the most necessary agency for the Finance Minister to impress. The company recently published a credit opinion report on South Africa, stating that it would look to the MTBS before releasing its next ratings review on the country. In the credit opinion report, Moody's has highlighted that government would need to stimulate growth through policy and investment and that State-Owned Enterprises (SOE's) would need to be stabilized to reduce the "contingent liability" to a debt burdened government.
The Rand (USD/ZAR) – Technical View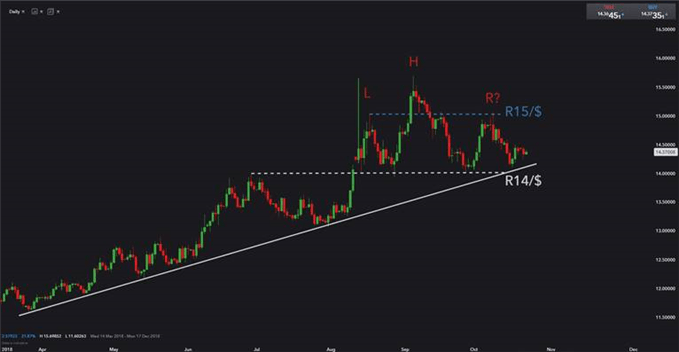 The long-term trend for the USD/ZAR currency pair remains up (as marked by the white trend line on our chart). In the medium term the currency pair remains in a broad trading range between levels R14/$ and R15/$. The L, H and R? on our chart marks a possible head and shoulders reversal pattern, which threatens the long-term uptrend.
Our preference for the currency pair remains further gains (dollar strength / rand weakening), with R15/$ the initial upside resistance target considered. Failure of this assumption would be considered should the price instead move to close convincingly below the R14/$ mark. In this situation it would confirm the head and shoulders pattern looming and suggest further downside to come (dollar weakness / rand strength).
DailyFX provides forex news and technical analysis on the trends that influence the global currency markets.