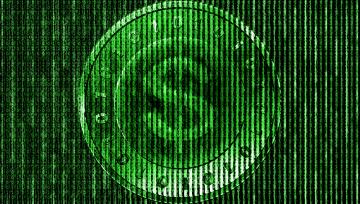 Why Bitcoin Could Decline Another 85% and Still Be the Next Big Thing (or Not)
What's on this page
See how positioning changes in cryptocurrencies and other markets can help as a tool to determine price direction on the IG Client Sentiment page.
Bitcoin still has significant downside risk from here
How is it that Bitcoin could decline another 85% from current levels and still be the next big thing? Because a little company called Amazon once lost 95% of its value in the early-2000s. And look at it today – worth a trillion-dollars. I am by no means making a direct comparison, nor do I think cryptocurrencies are the next big thing. But rather pointing out that even a speculative bubble that eventually panned out in a big way underwent a nasty, nasty set-up before it began a sustainable rise. It's how these things tend to work. Regardless of whether Bitcoin turns out like Amazon or Tulips it isn't likely to escape a similar path in the interim.
Since topping back in December Bitcoin has thus far played out similarly to other historical bubbles once the deflation process began. It's safe to say it isn't different this time. Looking at the history of these unusual market dislocations there are a few examples we can use to estimate potential losses from here and even how much longer it may take before the cycle runs its course.
Comparison to past bubble bursts
Let's start with the most optimistic outcome based on the past, the NASDAQ Composite index. It topped in 2000 after the late-90s run, and from peak to trough the index fell 77% over the next couple of years. For Bitcoin, that would mean trading down to $4520 before bottoming sometime in the next 12-18 months.
However, we should break the NASDAQ bubble down even further, as internet stocks represented a revolutionary breakthrough and the most feverish of stock sectors of that run. Looking closer at the first comparison, Amazon (AMZN), it ended up trading from a high of over $108 in 1999 to under $6 in 2001, or -95%. Coming from $19,666, that would put Bitcoin at $980 from current levels, another -85% from current prices.
Some other examples we looked at included the Nikkei in 1989, which declined 82% over the course of a 20-year bear market. The end of the roaring '20s in the United States ended with the Dow Jones Industrial Average declining 89% from 1929-1932. The very first recorded bubble, the Tulip mania, ended with a bust in 1637 that led to prices going back to virtually 0. The comparison here to Bitcoin is the similar meteoric rise in price (similar bust?). Another famous bubble from way back in the day was the South Sea Company that ended its run in 1720 and lost 81% over the course of seven months.
There are more examples of course, the 1980 silver spike and decline of nearly 90%, and so on, but getting to the point: It seems unlikely Bitcoin will escape the same fate as these Titanics. Comparing the most similar and recent example, internet stocks (Amazon); are cryptocurrencies bigger than the internet? No. But even if down the road they are indeed revolutionary and Bitcoin is the real deal, then the massive shake-out will likely continue until a large swath of the late-coming cryptos will be shown the exit before the real (and sustainable) growth phase begins. One of those to "go away' could even be Bitcoin.
Amazon not only managed to survive the shake-out, but is now at the top of the food chain. Perhaps this will be the fate of Bitcoin (as improbable as it looks), but it's not likely to get really rolling until it suffers a similarly deep set-back. The sample we looked at suggests a range of $4520 down to under $1000, but given the magnitude of the rise (maybe the biggest bubble ever) it seems there is a good chance the decline will end somewhere in the middle to low-end of that range before the dust settles. Doesn't seem like a bold call considering Ripple, Ethereum, and Litecoin have already undergone declines on average of 89%.
Bitcoin chart suggests another move coming soon
Bitcoin's price swings have become much milder over the months as interest has died out, a common occurrence during the deflating cycle of a bubble. There have been lower highs developing over the months which suggests the floor just under 6k won't last.
The recent development of a symmetrical triangle is nearing completion and should lead to a strong move soon, a sentiment shared yesterday by my colleague, Nick Cawley. It could resolve higher, in which case a bullish bias may be warranted for a little while, but not likely to last. A firm breakdown below 5780 is seen as the catalyst to ignite the next leg lower. Looking a little ways out, It is reasonable to conclude that a major cycle low probably won't come for at least another 1-2 years, if not longer.
Check out this guide to learn more about how to trade Bitcoin and other cryptocurrencies.
Bitcoin (BTC/USD) Daily Chart (Symmetrical triangle)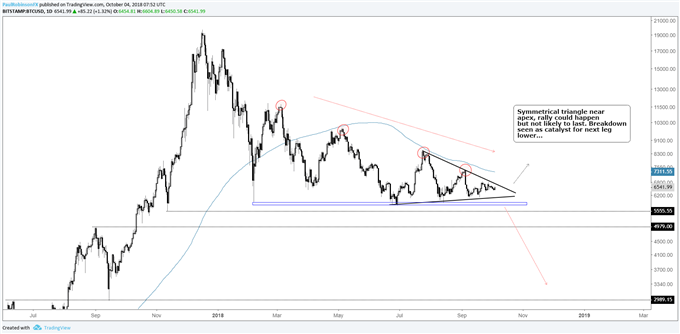 Helpful Resources for Cryptocurrency Traders
Whether you're a new or experienced cryptocurrency trader, we have several resources to help you;Introduction to bitcoin trading guide, indicator for tracking trader sentiment, and a weekly webinar discussing the latest developments.
---Written by Paul Robinson, Market Analyst
You can follow Paul on Twitter at @PaulRobinsonFX
DailyFX provides forex news and technical analysis on the trends that influence the global currency markets.