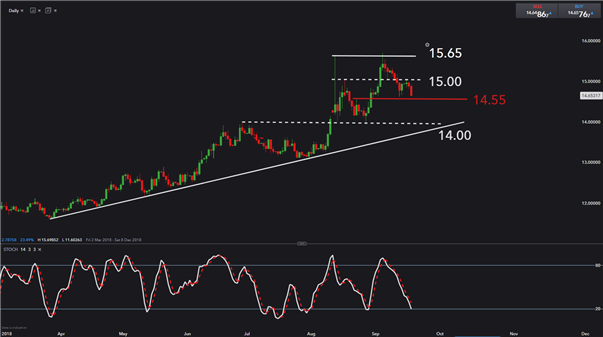 Rand Report: What Will The South African Reserve Bank Do?
Rand Report – What will the South African Reserve Bank Do?
Emerging Markets Hiking Interest Rates
In the wake of recent monetary policy tightening from emerging markets Turkey, Argentina and Russia, there has been some speculation that the South African Reserve Bank (SARB), may follow suit and hike interest rates, at the conclusion of the Monetary Policy Committee (MPC) meeting, on Thursday 20 September. The short term recovery in the rand has perhaps provided some further speculation of this outcome. A Bloomberg poll of analysts does however continue to forecast that lending rates in South Africa will remain unchanged at the meeting, although there does remain an outside chance of a 0.25% rate hike.
Inflation
The rand's sharp weakening over the last three months, largely in sympathy with emerging market currencies, has provided some inflationary concerns, as has the rise in crude oil prices. However, Consumer Price Index (CPI) data in South Africa has seen inflation moving from 4.6% (year on year) in June to 5.1% in July, before falling back to 4.9% in August, well within the Reserve Bank's 3% to 6% targeted range. Core inflation has remained comfortably within the targeted range coming in at just over 4%.
Growth
While the Reserve Bank's mandate is towards targeting inflation, the SARB will also be conscious of economic growth within the country when making its decision. First and second quarter Gross Domestic Product (GDP) data this year has confirmed that South Africa is now in a recessionary environment. Tighter monetary policy could provide further headwinds to economic growth, although an incremental rate hike would likely have little to no effect.
Base Case
We expect lending rates to stay unchanged, in lieu of negative economic growth and contained inflation (for now). There does however remain an outside possibility of an incremental rate hike at today's meeting.
The Rand – Technical View (Daily Chart)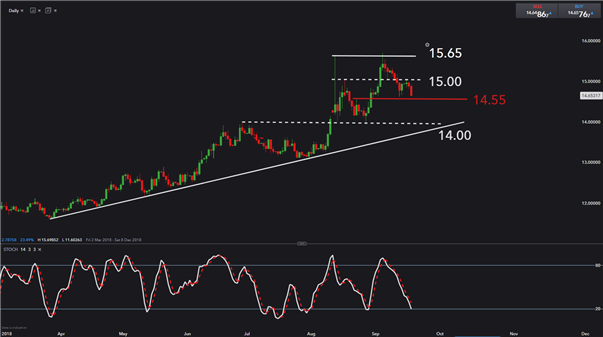 Since retesting the high at R15.65/$ the USD/ZAR has pulled back well below the R15/$ mark. A break (close) below R14.55/$ could suggest further short term declines to come with R14/$ the support target (perhaps a surprise rate hike could catalyse a move of this sort?). The long term trend for the currency pair does however remain up.
In the event of a short term decline, trend followers might consider the R14/$ mark an entry point for buying the USD/ZAR currency pair.
DailyFX provides forex news and technical analysis on the trends that influence the global currency markets.