While the rand has been dealing with negative emerging market sentiment in sympathy with economic woes in Argentina and Turkey, as well as trade war tensions between the US and China, the currency has been dealt another blow this week as Gross Domestic Product data has disappointed to suggest a technical recession within South Africa.
GDP (quarter on quarter)
Real GDP in South Africa contracted by 0.7% in the second quarter of the year, which follows a 2.6% contraction in the first quarter of the year. Consensus estimates had predicted a marginal economic expansion of 0.6%. The two consecutive quarters of negative growth implies a recession within the country.
Within the primary sector, the agriculture, forestry and fishing industry contracted by 29.2%, while the mining and quarry industry managed to grow by 4.9%. Within the secondary sector, the manufacturing industry contracted by 0.3%, led by declines in the motor vehicles, parts and accessories divisions.
Within the tertiary sector, the trade catering and accommodation industry contracted by 1.9%, while the transport, storage and communication industry decreased by 4.9%. The finance, real estate and business services industries increased by a marginal 1.9%.
Technical View
While emerging market currencies have been on the back foot as of late, the poor GDP print has seen the rand further underperforming its peers.
The USD/ZAR currency pair uptrend remains firmly intact, trading through the initial upside target guided in our previous note (R15/$). The dotted red line shows how the uptrend has accelerated over the short term.
The short term uptrend is remains valid until such time as we see the USD/ZAR price closes below this level. In the meantime, a move to the next level of resistance at R15.65/$ is favoured. Should the price manage to trade (close) above this level, the next level of historical resistance (not drawn on chart) is considered at R16/$.
Technical View Previous
USD/ZAR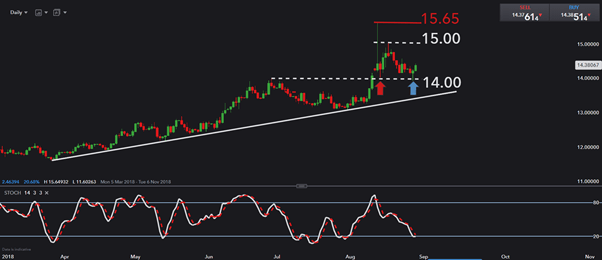 The uptrend for the USD/ZAR remains (dollar strength/ rand weakness). In the near term we have seen the R14/$ mark as an area of accumulation, as the price has twice found support here (marked with arrows on chart) before resuming its uptrend. The recent retest of this level (marked with the blue arrow) has seen the USD/ZAR moving into oversold territory. The oversold signal supports the price reversal at this support level, and is considered technically bullish. With this in mind continued gains for the USD/ZAR are expected with R15/$ the initial upside target, a break of which further favours a move to the next level of resistance at R15.65/$. Should the price instead move to close below horizontal support (R14/$), then the upward trend line becomes the next level of support considered and possibly another point of consideration for a long entry into the USD/ZAR currency pair.