South Africa: Withdrawal of "a" Land Expropriation Bill
South Africa Withdrawal of "a" Land Expropriation Bill The rand has highlighted its potential for volatility from several catalysts as of late, both international and domestic.
Recent international catalysts for Rand weakness have been related to sympathy with emerging market peers (such as Turkey's and its current economic crisis), the US China trade war rhetoric, as well as a Tweet or two from US President Donald Trump (relating to land expropriation in South Africa).
Withdrawal of "a" Land Expropriation Bill
Land expropriation has become a dominant domestic theme reflected in the movement of the rand as of late. Recent news that parliament was withdrawing a land expropriation bill, saw a knee jerk response from the currency, as it strengthened briefly before resuming its weakening trend. Short term strength in the rand was perhaps from the perception that the ANC was recanting its decision to amend the constitution for land expropriation "without compensation". However, this is not the case, as the withdrawal is rather for a bill passed in 2016, where the state was allowed to expropriate land with a "forced compensation". The investigation into the amendment of section 25 of the constitution remains on the cards.
USD/ZAR Technical View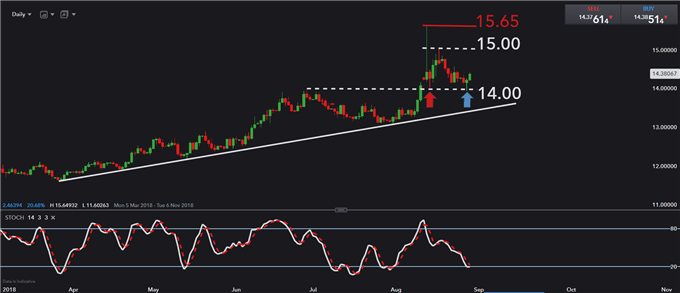 The uptrend for the USD/ZAR remains (dollar strength/ rand weakness). In the near term we have seen the R14/$ mark as an area of accumulation, as the price has twice found support here (marked with arrows on chart) before resuming its uptrend. The recent retest of this level (marked with the blue arrow) has seen the USD/ZAR moving into oversold territory. The oversold signal supports the price reversal at this support level, and is considered technically bullish. With this in mind continued gains for the USD/ZAR are expected with R15/$ the initial upside target, a break of which further favours a move to the next level of resistance at R15.65/$. Should the price instead move to close below horizontal support (R14/$), then the upward trend line becomes the next level of support considered and possibly another point of consideration for a long entry into the USD/ZAR currency pair.
DailyFX provides forex news and technical analysis on the trends that influence the global currency markets.