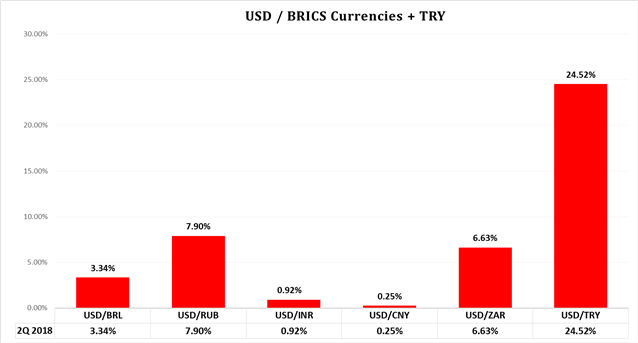 Rand Capitulating with Turkey Induced Sympathy
Rand weakness capitulating?
The major factors affecting Turkey and its currency (the Lira) are the economic sanctioning war it has entered into with the US as well as questionable economic policy which is said to not address the rampant inflation within the region. The Lira has declined in excess of 36% this year (against the USD) and inflation within the region is now being realised at 16%. Markets are concerned around possible contagion spreading from the region. BNP Paribas, BBVA and Unicredit are the three European banks which are said to have the most exposure to Turkey.
The below graph shows the BRICS (Brazil, Russia, India, China, South Africa) currencies and the Turkish Lira performances against the US Dollar over the last week.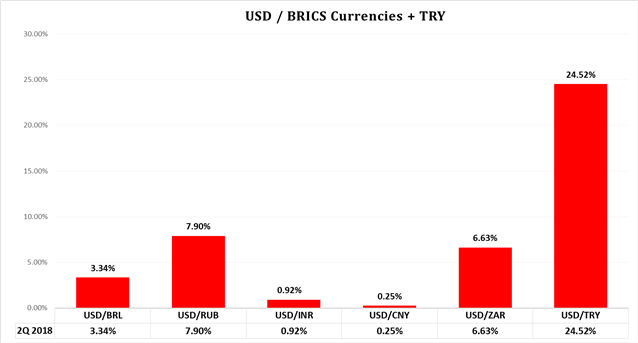 Technical Trade Update (ZAR)
The USD/ZAR has traded aggressively through the upside targets set in our previous note (below). The move up, while extending the uptrend seems to be a near term capitulation, and we question the sustainability of the move. The USD/ZAR currency pair is now moving out of overbought territory which supports the notion of capitulation. While this is still not seen as an opportunity to short the pair, we do believe that the rand could correct back to at least the R14.15/$ to R14.00/$ levels. Between R13.60/$ and R14.00/$ we would reconsider looking for long entries into the USD/ZAR once again.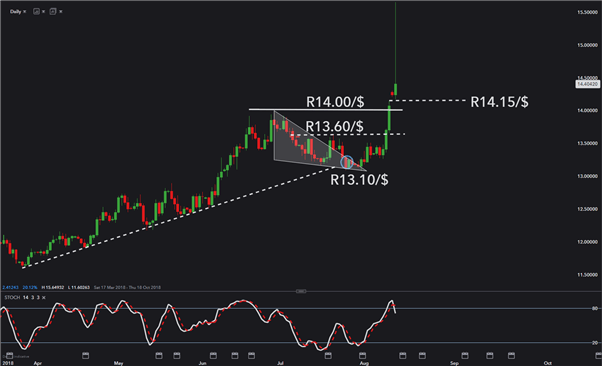 Technical Trade View (Previous call)
The long term trend for the USD/ZAR currency pair remains up. After breaking out of a short term wedge price consolidation (blue arrow), the USD/ZAR currency pair pulled back to trend line support (circled blue) and now looks to be resuming this long term uptrend.
From a trading perspective, R13.60/$ is the favoured target from the move, a break of which further favours R14/$ as the next upside resistance target. Should the USD/ZAR instead move to close below R13.10/$ the bullish assumptions would be deemed to have failed.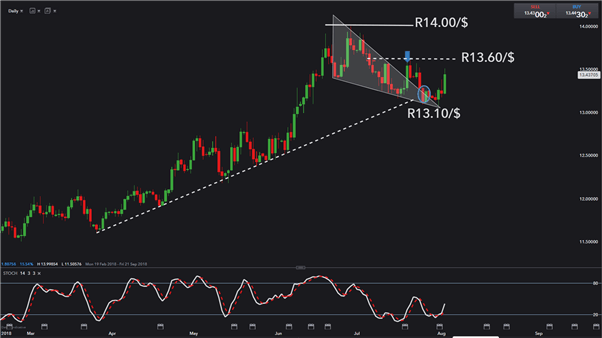 DailyFX provides forex news and technical analysis on the trends that influence the global currency markets.