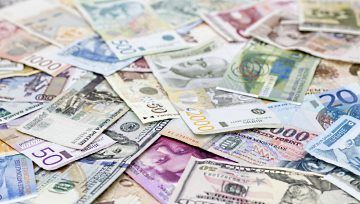 South African Rand Resumes Weakening Trend
Rand resumes weakening trend
While short term risk aversion relating to the trade war narrative resumes, so has the short term weakening of emerging market currencies. The rand has however found a further domestic catalyst to underperform its peers from domestic political developmentsthis week. The African National Congress (ANC), South Africa's governing political party has resolved that it will look to change the Constitution in lieu of pursuing land expropriation without compensation. Whether the move is political pondering ahead of 2019 elections or not, the Rand's reaction to the news has been one of investor concern.
The below graph shows the BRICS (Brazil, Russia, India, China, South Africa) currencies performance this week, to highlight the underperformance of the Rand.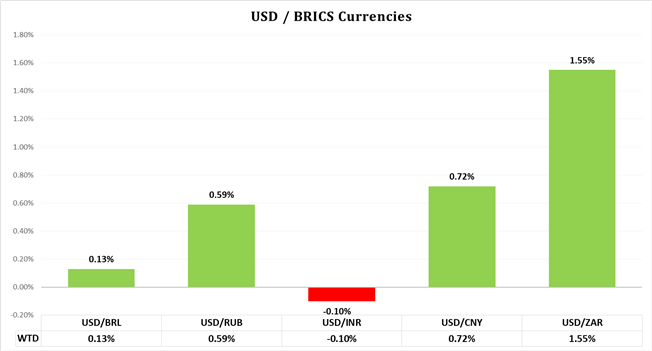 Technical Trade View
The long term trend for the USD/ZAR currency pair remains up. After breaking out of a short term wedge price consolidation (blue arrow), the USD/ZAR currency pair pulled back to trend line support (circled blue) and now looks to be resuming this long term uptrend.
From a trading perspective, R13.60/$ is the favoured target from the move, a break of which further favours R14/$ as the next upside resistance target. Should the USD/ZAR instead move to close below R13.10/$ the bullish assumptions would be deemed to have failed.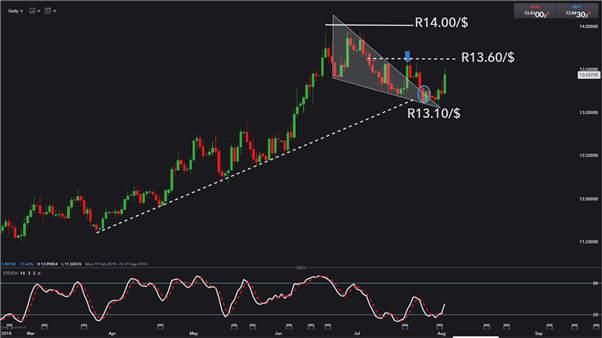 DailyFX provides forex news and technical analysis on the trends that influence the global currency markets.