South African rand rally continues as Zuma resigns
Jacob Zuma stands down
Valentine's Day 2018 will go down in the South African history books as one to remember, after President Jacob Zuma finally tendered his resignation, averting a vote of no confidence in the National Assembly. The official resignation letter was received by the National Assembly on the morning of Thursday 15 February and new president, Cyril Ramaphosa, will be officially elected in parliament by the afternoon of the same day.
Will South Africa escape a ratings downgrade?
South Africans will be hoping the leadership change inspires better business confidence and helps South Africa miss a ratings downgrade (likely narrowly) from ratings agency Moody's Investors Service. Moody's currently has South Africa's sovereign credit rating (rand denominated) at one notch above sub investment grade, also known as junk, and should the ratings agency decide to downgrade, it would be the third ratings agency to do so, joining Standard & Poor's (S&P) and Fitch Ratings. The consequence of this would be South Africa's removal from major global bond indices. This would necessitate large scale selling of rand denominated bonds, from which the country derives around 90% of its debt funding.
A budget speech will be Moody's last consideration before it releases its review on the country. The finance minister will need to contain expenditure, but also find ways of supporting struggling State Owned Enterprises (SOEs), particularly, but not exclusively, South African Airways (SAA), the South African Postal Service, and power utility Eskom.
Struggling with your trading? This could be why.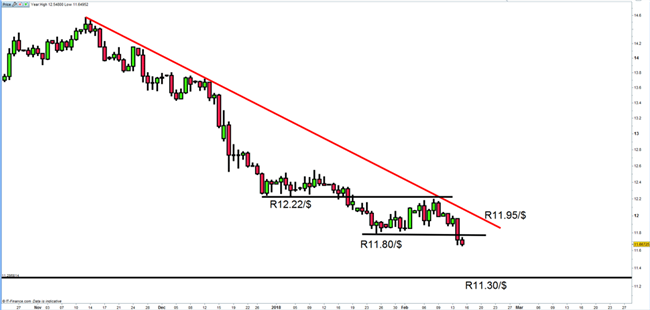 Technical analysis: USD/ZAR trend continuation
The reshuffle of the presidency has proved positive for the rand (ZAR), as has the US political situation and Federal Reserve (Fed) decisions. The R11.80/$ mark has now been broken to the downside, which suggests the short-term continuation of the longer-term downtrend. The favoured historical support target remains at R11.30/$. Traders following this trend might consider using a close above trendline resistance (currently R11.95/$) as a failure or stop loss level for the trade.