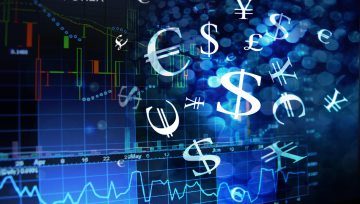 Australian Dollar: Is This a True Bullish Reversal?
What's on this page
AUDUSD Talking Points:
AUDUSD's inverse head-and-shoulders 'neckline' broke with a channel top, but not the 200 DMA
A broad look at the Aussie Dollar doesn't offer the same potential as AUDUSD, nor does USD
Technical Forecast for Australian Dollar: Bearish
Assessments are made on markets often through an individual point of reference: S&P 500 for risk; crude oil for commodities; EURUSD for the Dollar. When it comes to the picture forming around the Australian Dollar, there is hardly more prominent a baseline than AUDUSD. And, if we were to take that particular pair's technical progress as an indication of the Australian currency's general performance, it would seem that we are currently in the riptide of a significant shift in both activity and direction. Yet, we wouldn't use this pair to make general judgement call on the US Dollar's performance moving forward, so why should it qualify more aptly for the Aussie Dollar? Beyond the tempting technical staging of this key major – on the short, medium and long-term perspective – we look at the standing of the Aussie Dollar and Greenback individually to show that the recent break requires significantly more conviction for the bullish trend to catch fire.
Before looking at the undercurrent of the market, first we should appreciate the surface level technical churn that is drawing so much attention for the Australian Dollar. A daily chart of AUDUSD (below) shows the significant confluence of technical measures that we have recently seen come under significant stress – with some of the favorite quantitative elements of the pattern actually breaking. There are a few key technical structures on this chart that would individually carry significant connotation by themselves.
However, in the hierarchy, the inverse head-and-shoulders pattern arguably holds more weight. The 'neckline' break just below 0.7050 fits a textbook assumption that a line has been crossed that can sometimes cue one of the market's favorite scenarios: an early reversal with momentum potential. That said, if we reduce the attention on the H&S pattern, the trendline that shaped 13-months of bear trend was only temporarily surpassed with a close bac below the barrier on Friday. Furthermore, the 200-day moving average at 0.7090 as of Friday never fell. These are good additional milestones to add to conviction, but it can be argued that they are still standing.
Chart of AUDUSD with 100-day and 200-day Moving Averages (Daily)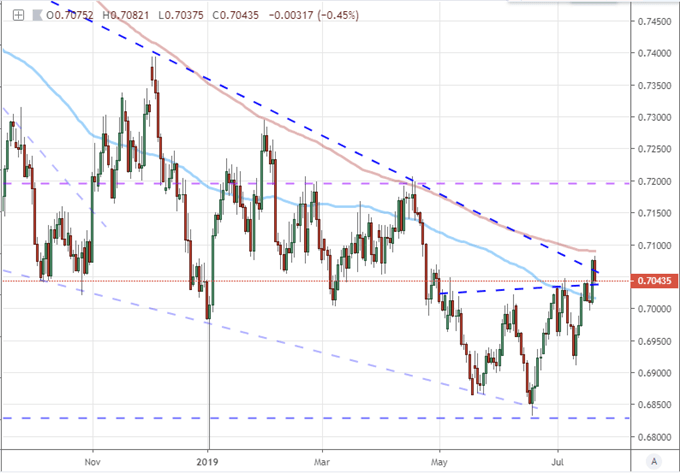 When we adjust the charts down to the lower time frame, we can see the middle ground for which we are currently standing between early potential and still-pertinent technical boundaries. On the 8-hour chart below, the (inverse) head-and-shoulders structure comes in clearer. We could argue where the break point stood, but generally, the trajectory would keep the cross below 0.7050. In other words, we did have a tentative break Thursday. Yet, that 200-day moving average is still in place (600-bar in this periodicity) and the we haven't seen the activity of the pair truly change to that of a momentum/trend bound market.
Chart of AUDUSD with 200-Day Moving Average (8-Hour)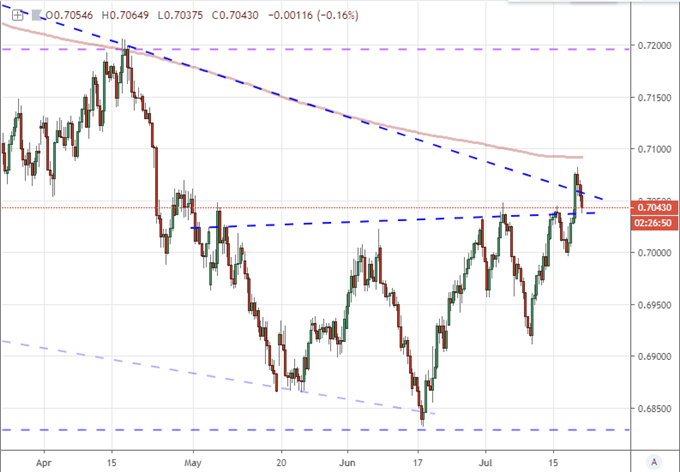 On a higher time frame, the potential for a technical structural reversal can be readily assessed. AUDUSD is coming off a range low that could be a double bottom with the reversal back in January 2016 – I would not consider the flash crash at the turn of this year an equivalent technical milestone. This hesitation comes in after a massive, multi-year decline from highs in 2011 equivalent to approximately 38 percent of its altitude lost. We have seen lower levels all the way back to 2009, but most technical charts will count this as a cycle low. This will carry some level of latent bias, but it doesn't prompt a pressing time frame – meaning: a picture of this time frame can warrant far more time for basing if not properly prompted.
Chart of AUDUSD (Weekly)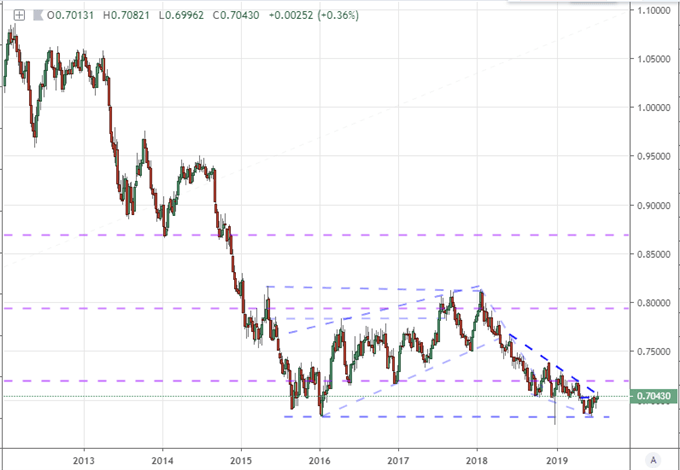 When evaluating whether a prominent technical break like AUDUSD's will transition into a genuine trend, it can be helpful to look at the individual setup for the two participant currencies. From the US Dollar (not shown) there is little pressure on a trade- or equally-weighted index basis to suggest a full reversal is currently in play. This past Thursday's slump from the Greenback was sharp, but it broke very few systemic technical levels with pairs like EURUSD, USDJPY or GBPUSD. For the Australian Dollar's part, there is more appeal. An equally-weighted Aussie Dollar index (below) shows a similar inverse head-and-shoulders to AUDUSD's but the break is noticeably absent. That is potential energy not yet kinetic.
Chart of Equally-Weighted Australian Dollar Index with 200-day and 100-day Mov Avg (Daily)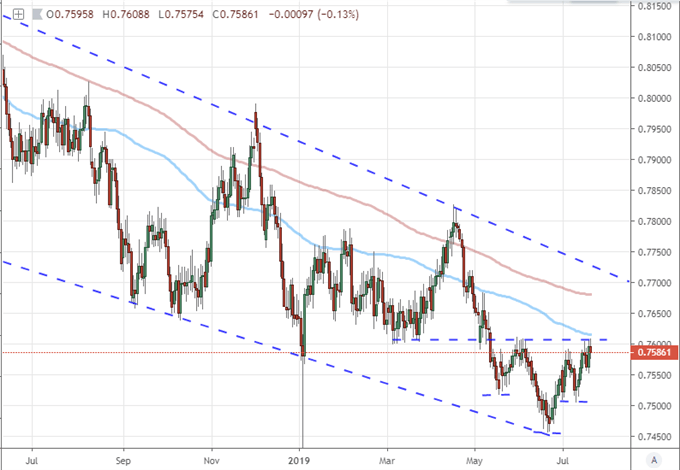 If we are looking for a market to overcome technical restrictions and general market conditions contrary to significant trends or momentum, it is best to find a source of speculative power that draws from influence that usually align to fundamentals. One particular high-level theme that I will watch is the trade wars influence which is best shown through USDCNH. Below, we have the Dollar-Yuan exchange rate inverted as Australia's export relationship means a pickup in the Yuan is a boon to the Aussie Dollar.
Chart of AUDUSD with CNHUSD in Red (Daily)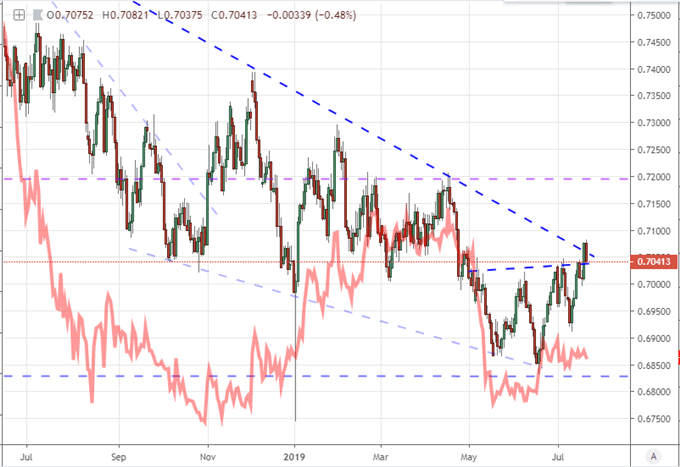 It is a similar consideration for the Australian Dollar to follow trade wars through emerging markets as a whole. However, there is further a caveat through the general state of risk trends, which the EEM ETF is clearly fundamentally bound. AUDJPY is a pair more consistently tied with carry trade which offers a risk perspective from the FX market. Given this relationship, a resurgence of risk appetite is not a true necessity of progress, but it would be very difficult to mount a climb for the Aussie Dollar if this blocked performance. The Aussie Dollar is a 'carry currency' versus many crosses and particular AUDJPY, EURAUD and AUDCHF where the counter currency has an extremely low or even negative yield.
Chart of AUDJPY with EEM Emerging Market ETF (Daily)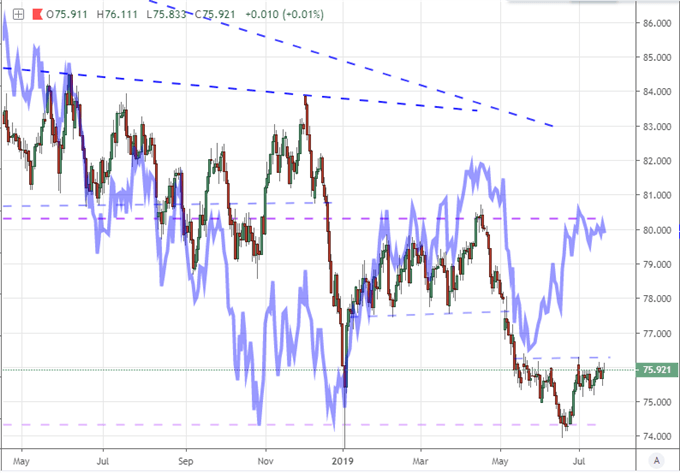 Since we have already looked at AUDUSD and AUDJPY which are two of the favorite Aussie crosses among FX traders, we should consider another major cross with a significantly different structure: EURAUD. Aside from the fact that the Aussie Dollar is the second in the pair, and thereby the picture is inverted relative to say AUDUSD, we can see that it has less of the head-and-shoulders and looks more range in construction. The pair is at present testing trendline support which stretches back to March 2017 – though the second test in this ray isn't until December 2018. A break could carry some technical weight, but we would still be in broad range with 1.5700 and 1.5400 significant next stages.
Chart of EURAUD (Daily)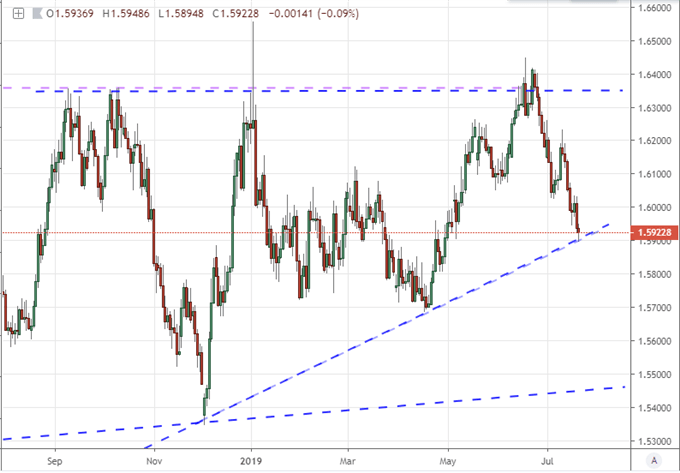 Another pair that is further down the liquidity list among the Aussie crosses but gives a significantly different view than the carry-primed interests is AUDCAD. There is an inverse head-and-shoulders pattern here as well and some trend channel resistance immediately above. What is difficult to see in the daily chart is the fact that the trendline support we tested earlier this month stretches back to 2013 and the Fibonacci level (purple) is pulled from the pair's historical range from 1996's high to 2008' low.
Chart of AUDCAD and 50-Day Moving Average (Daily)
Looking to speculative positioning behind the Australian Dollar, it seems those with both long and short time frames are ready for a bigger bullish reversal – though commitment to that happening now is uneven. For those with a longer time-frame perspective, the COT (Commitment of Traders) report shows a slow creep up from its historical low point for extreme net short exposure. The last stretch to this extreme back in the fourth quarter did not prompt the full tilt reversal many likely hoped for. On the shorter time frame, retail FX traders had flipped net short when the AUDUSD trendline came into view, but this past week's temporary break has tempted some to project a permanent break. That is unusual as retail interests usually follow short-term reversal views which confirms to the broader range.
Chart of Net Speculative Positioning in Aggregate Dollar Futures from CFTC Report (Weekly)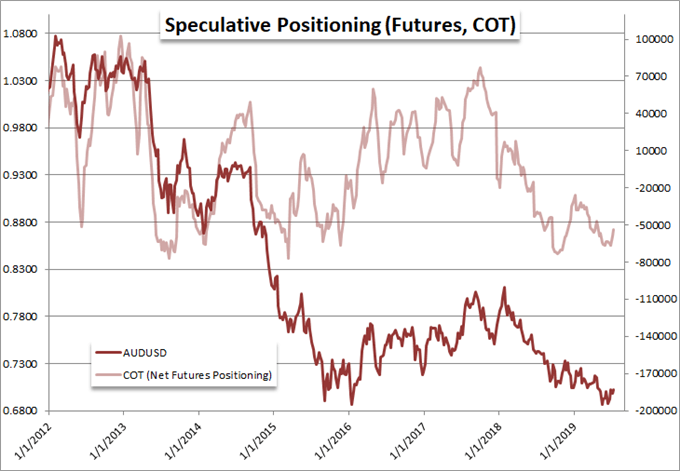 Chart of Retail Trader Positioning from IG Clients (Daily)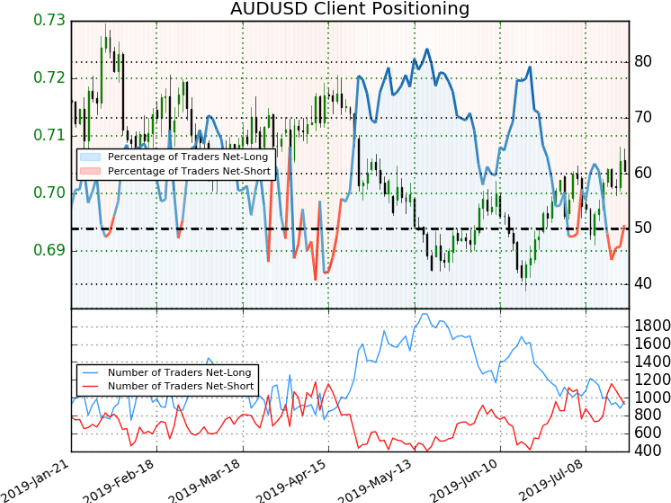 DailyFX provides forex news and technical analysis on the trends that influence the global currency markets.