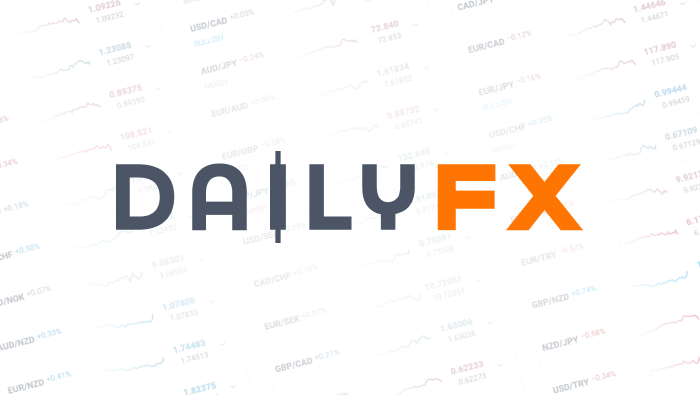 Dollar Feigns Confidence but Depends on Liquidity to Save Its Bull Trend
Talking Points:
The DXY Dollar Index has closed out eight consecutive months of gains for the currency
Pacing through November was tepid with the USD's connection to risk trends an open-ended question
See how retail FX traders are positioning in Dollar-based majors like EURUSD on

the sentiment page
Technical Forecast for US Dollar: Bearish
With Friday's close, the US Dollar managed to close a positive week and month – if we refer to the trade-weighted measure. Always appreciating the calculation behind the market's measures, the DXY Index is heavily weighted towards EURUSD. That particular currency pair has maintained a strong bearish lean – even if it has proven unable to make another bid for the 17-month low 1.1200 mark tested earlier this month. If we were to de-emphasize that specific exchange rate, the picture of the Greenback's environment would change enough to meaningfully raise concern over trend intent. Yet, before we consider the deeper evaluation, the surface level assessment offers us an eighth consecutive month's advance for the DXY. That is the second longest climb for this measure on my records. If that were the only statistic we were to look at, it would seem a roaringly bullish market. Yet, this extreme series only covered a little over 8 percent. For comparison, the nine-month climb through early 2015 charged over 23 percent higher on a close basis.
Chart of DXY Dollar Index and Consecutive Increase/Decrease Candles (Monthly)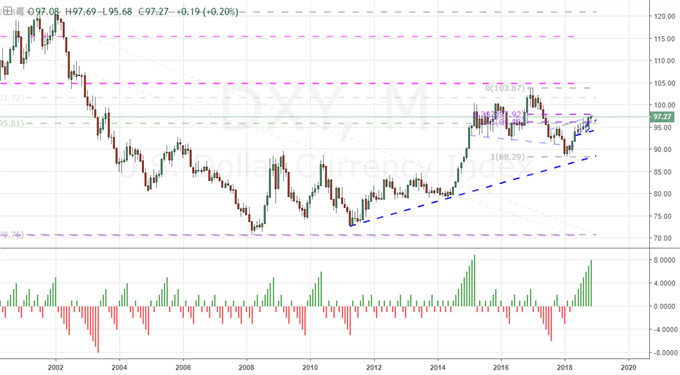 With the tempered progress on the higher time frame Dollar chart a little more obvious when we considerate 'mileage' rather than just consistency from a semi-arbitrary time frame (monthly), we can revert to the struggle for conviction on the daily charts. November's total range was remarkably restrained with the 61.8 percent Fib of the 2017 to 2018 bear wave standing in as resistance around 98. The mid-point to the same span stands around 96.15 offering a loose floor to this uncommitted market. If we were to consider the level of activity over the whole of the past six months, progress measured in the total range the index has moved over that time frame is the smallest since the first half of 2014 when the market was essentially directionless. I take this as a contrarian indicator suggesting the market is due a move that 'normalizes' activity. Yet, given that is evaluated on a monthly time frame, it can happen in an unexpected December charge or in the more seasonally-appropriate January when liquidity fills back out after holiday conditions.
Chart DXY Dollar Index (Daily)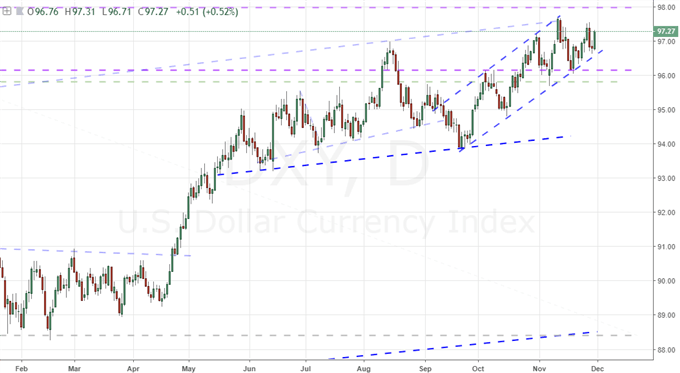 Taking an even closer look at the Dollar's performance without a reference that heaps too much influence on EURUSD, an equally-weighted picture of the currency (below) shows the lack of commitment in the general bullish trend more acutely. A series of lower highs has formed following the top established at the beginning of the month. In fact, for this measure of the currency, November actually registers a significantly loss. I will again make reference to the head-and-shoulders pattern this most recent retreat reinforces, but distinct technical levels on measures that aren't readily traded by the masses don't carry nearly as much weight in promoting genuine market movement.
Chart of Equally-Weighted Dollar Index (Daily)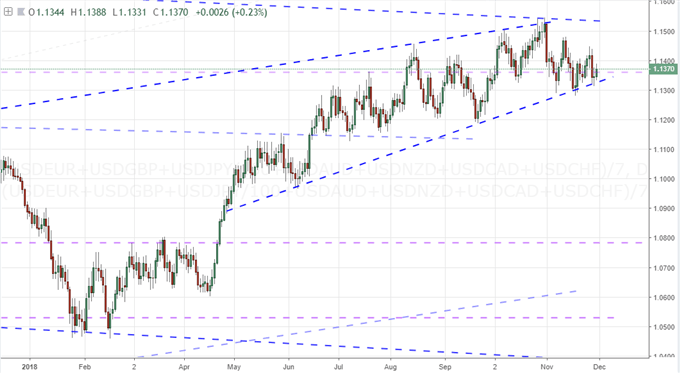 As we plot the next phase of the Dollar's progress into the final month of the year and out into 2019, we need to know what other market measures to keep tabs on for motivation. Volatility will be one of those crucial ingredients in my opinion. There is a more modern connection to market uncertainty (which volatility presumably reflects) and the currency versus one that is considered more traditional. The traditional first is the assumption that the Greenback is a safe haven to heavy financial seas. If there is a severe deterioration in market conditions such that volatility spikes, the inflow of capital in to the US would be a fairly practical assumption. That said, moderate levels of market uncertainty and volatility could work against this currency. It's appreciation over the recent months – and back through 2014 – is positively correlated to risk trends owing to its carry trade appeal on the back of a steady series of Fed rate hikes. Keep an eye on VIX as part of your Dollar analysis.
Chart of DXY Dollar Index and VIX Volatility Index (Daily)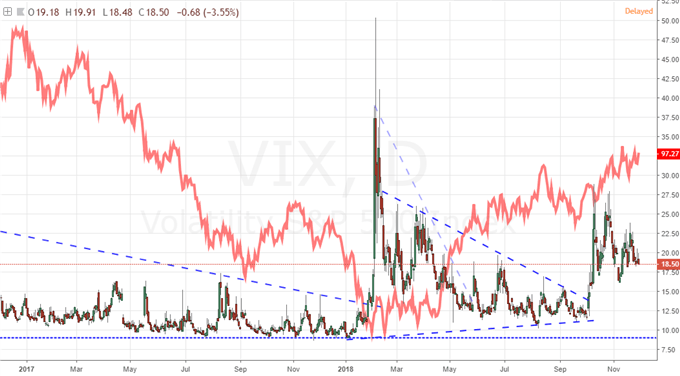 If we are looking for good candidates for both bullish and bearish bearings on the Greenback, there are remarkable technical (and fundamental) candidates in EURUSD and AUDUSD. The former is a better channel for the Dollar bulls. Pairing the world's two most liquid currencies means we diminish the traditional 'risk on versus risk off' set and leverage the Greenback's more modern elements of speculative value. A break below 1.1200 would be a good signal of progress should it make the move, but clearing the top end of the descending trend channel these past few months at 1.1400 would be the 'path of least resistance'.
Chart of EURUSD (Daily)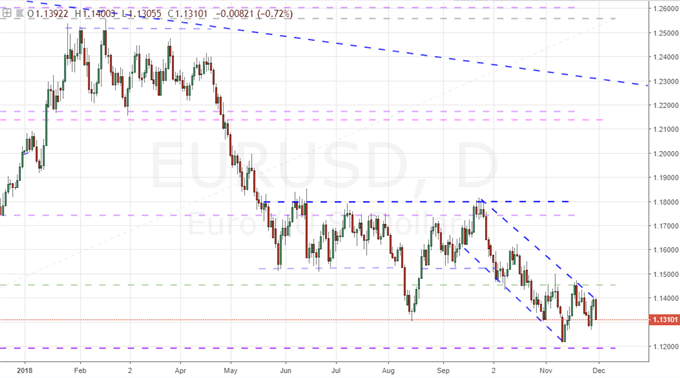 Alternatively, AUDUSD has shown greater progress from its late-October / early-November lows to suggest greater traction for setting up any Dollar-motivated reversals. The Australian Dollar itself has done remarkably well this past month, and finding counterparts that have done well (or poorly depending on the USD view we want to exploit) in their own right is the best means for maximizing probability. In 0.7330, the pair offers a 61.8% Fibonacci retracement of the 2016-2018 range. More remarkable however is the fact that this happens to coincide with a potential 'neckline' in an inverse head and shoulders pattern on the back of a multi-month bear trend from January's high.
Chart of AUDUSD (Daily)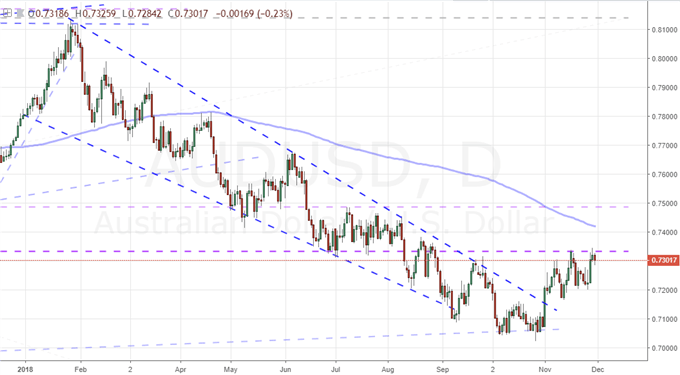 Looking to speculative interests behind the Dollar, the lack of progress for the currency seems to be matched for conviction in open interest. Futures positioning from the COT maintains an notably lax enthusiasm for the currency. We haven't seen significant change in net positioning from the derivative class for a few months now. That said, the market has maintained a notable net-long position – near the highest in two years – following the wild reversal in bearing from the beginning of this year. Not only is it unusual for price action to be this reserved, it is not common to see positioning hold such a steadfast course. I do not suspect that will last for much longer.
Chart of Net Speculative Positioning in Dollar Futures Contracts (Weekly)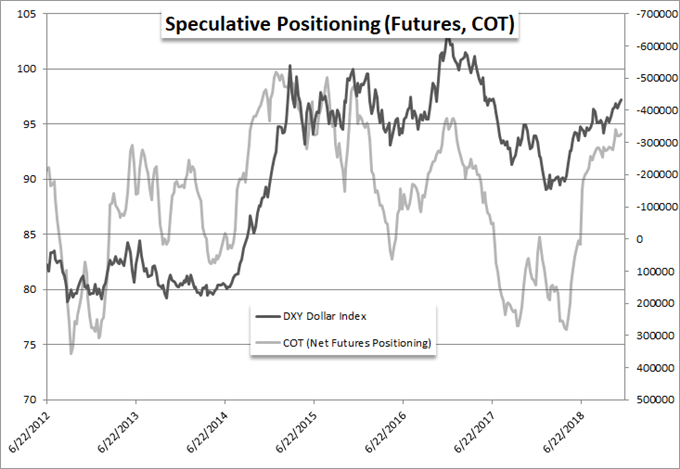 Other Weekly Technical Forecast:
Australian Dollar Forecast: AUD/USD, AUD/JPY May Fall as EUR/AUD Gains
British Pound Forecast: Weekly-Technical-Outlook-Sterling-Probes-New-Lows
Canadian Dollar Forecast: Price Action Muted for USDCAD Until Next Decisive Move
DailyFX provides forex news and technical analysis on the trends that influence the global currency markets.