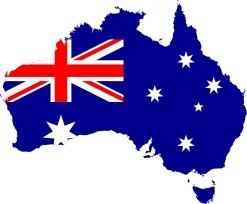 Australian Elections Preview - How Will Markets React?
What's on this page
Talking Points
Labor ahead in the polls, Senate composition will be key

Climate change will be a big driver of votes as weather conditions in Australia become more extreme

A Labor victory could unsettle markets if their pre-election promises are implemented
Q2 Australian Dollar Trading Forecast
As the Australian Federal Elections are approaching and with pre-polling already underway, party leaders have not had much time to campaign for votes since the elections were announced on April 4. While it is not uncommon for Australian election campaigns to be short, some believe short campaigns provide some relief for the economy, as political uncertainty running up to elections tends to put business and household consumption on hold, so a shorter campaign poses less risk to the economy.
Most predictions point to a Labor victory, driven mainly by public dissatisfaction with the current Liberal/National Coalition, which has had three leaders in the last 4 years.
Despite the future of the economy being a main concern to most citizens, the Australian Election Study, which offers a glimpse at the underlying trends around federal elections, is showing that voters are losing confidence in governments being able to influence the economy.
Voter Sentiment
Traditionally, voters that think about the economy and its outlook will prefer the Liberal Party, whilst voters who are concerned about health, education and inequality will prefer the Labor Party.
But climate change is going to be a key driver of votes in this election, as 2018 saw a series of fires, floods and the country's worst drought devastating hundreds of acres of wildlife. Natural disasters are becoming an increasingly worrying concern for Australians which will pay special attention to each party's policies on how to tackle climate change.
And Labor leader Bill Shorten has promised that if they win the elections they will reduce carbon emissions by 45% on the levels of 2005, a big difference on the 26% promised by the current Liberal-National led government.
But with polls showing only a narrow victory for Labor, the composition of the Senate will be key to whether the governing party will be able to pass their policies, and a major focus for investors. And for the first time since the voting system was reformed there will be a half-Senate election. This means that whilst it is unlikely that either of the two major parties will gain a majority in the upper house, the composition of the Senate is not expected to be as fragmented as before because successful candidates will need a larger quota of votes to be elected.
Poll results as of May 15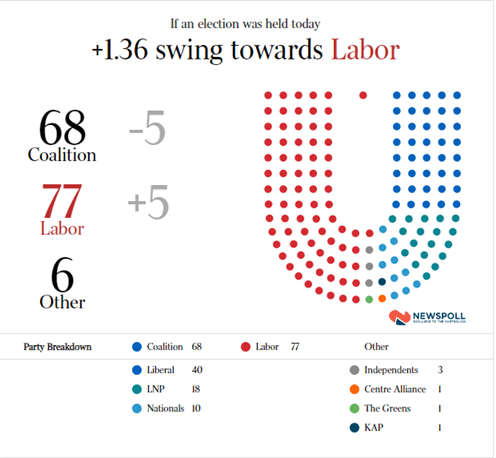 Source: The Australian
Market Reaction to Previous Elections
Evidence shows that stock markets tend to trend sideways during election periods as investors do not like the uncertainty surrounding a possible change in politics, providing no solid direction for stocks. Specifically, for Australian stock markets, previous elections that have resulted in a change of government have been mixed.
Australian Stock Market Before and After Elections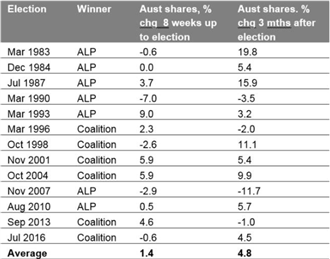 Source: Bloomberg, AMP Capital
Leaving 2007 out due to the financial crisis which it preceded, on average Australian shares have performed better in the 3 months post-election following a Labor victory. The average gain for the stock market after a Coalition victory is 4.65% and 7.75% for the Labor Party.
A clear election result is expected to boost the Australian stock market as the clearing of uncertainty is what makes markets move higher, but uneasiness about Labor policies if there is a change in government could see the post-election rally halted.
Economic Landscape
The AUD jumped on May 7 after the Royal Bank of Australia (RBA) announced it would leave its key Official Cash Rate unchanged at a record low of 1.5%, after a strong jobs market pushed back the need to cut rates further.
But mixed jobs data released on May 16, two days before the final election day, pushed the Aussie dollar lower as it was revealed that unemployment had risen to 5.2% in the month of April, up from 5% the month before, despite jobs growth of 28.4k beating expectations of just 15k. The RBA is known to place special focus on jobs data, especially after it hinted that the previous rate decision had been mostly influenced by a strong jobs market. At the time of this reading, markets are pricing in at least one, if not two, quarter point cuts in the next eighteen months.
Despite inflation being weak, the RBA has focused on the jobs market as unemployment continues to fall, but at least one rate cut is expected to take place in 2019. The RBA seems to have finally acknowledged the situation the economy finds itself in, as it slashed its economic expectations for the following months. Actual GDP growth rate in 2018 was 2.3% well below the bank's last forecasts in February of 2.75%. In response, the bank's forecast of growth for the first two quarters of 2019 has been downgraded from 2.5% to 1.7%. In November 2018 growth rates for 2019 were forecasted as high as 3.25%.
Global factors remain as the key driver for the Aussie Dollar over the coming days as markets keep an eye out for developments in the China-US trade talks which deteriorated last week as the US imposed higher tariffs on Chinese imports and continued this week with retaliation from China. As China is an important market for Australian exports, a slowing China could have a knock-on effect on the Australian currency and equity markets.
Party Policies' Effect on Markets
Liberal/National Coalition Party
The current governing Coalition party has focused its campaign on showing that the country is performing outstandingly well under their guidance, with 28 years of uninterrupted GDP growth and on track to deliver the first budget surplus in 12 years in 2019-20. The last contraction to take place was in 1991 and despite the 2008 financial crisis Australia still managed to grow above 2% that year.
But given that voters believe the government is not able to have a meaningful impact on the economy, the Liberal Party is going to have to expand its arguments to convince people that they can make a difference
And latest polls show that they have not quite managed to do just that, as Labor seems to be taking the lead with their firm stance on tackling matters that worry citizens, such as inequalities, raising house prices and excessive banking power.
The banking sector is definitely the one that has most to win (or less to lose) if the Coalition Party remains in government, as both the Labor and Green party have pledged to implement sanctions on this industry. We expect to see a recovery in the financial sector, and post-election rally in both equity markets and the Aussie Dollar.
If Labor wins the elections there will be a lot of activity regarding unions and the imbalance of power as its policies are aimed at boosting wages for the lowest paid.
The Labor Party has hinted that they would apply strict regulations and punishments on big banking corporations like National Australia Bank Ltd, Westpac Banking Group and Commonwealth Bank of Australia. It announced plans for a $640 million levy on the nation's largest banks to support people that have been ripped off by the financial institutions' "predatory practices". If they win, and they stick by their campaign promises, these shares could take a hit putting pressure on the ASX 200.
Another key policy for the Australian Labor Part (ALP) is cutting excess franking credits, a measure that refunds investors any additional tax that has been paid by the company on their behalf when receiving dividends.
A key group that will be affected is superannuation funds, which are mostly attracted to Australian companies that pay fully franked shares. If a fund is in pension phase, it has no tax liabilities and therefore is eligible to receive a full refund of the taxes paid at the corporate level on their dividends. If the ALP reform is implemented, they will not be able to claim net (or excess) franking credits, meaning that they will not receive franking credits at all.
In response to this, companies may release credits ahead of the reform being implemented, either via dividends or share buybacks, which may lead to investors favouring these stocks over growth stocks if Labor is elected.
Regarding taxes, they will be matching the Liberal-National coalition's tax cuts but will direct more money to lower-income citizens. Its plan is to phase out tax breaks for stock market and property investors to help fund its spending plans on health and education, which could be a risky move.
There is a danger that relying on tax hikes for higher incomes will dampen investments. Tax cuts and minimum wages may provide a short-term boost to spending and economic growth, but higher minimum wages could lead to a less flexible labour market and a negative impact for services, retail and construction stocks.
KEY TRADING RESOURCES:
--- Written by Daniela Sabin Hathorn, Junior Analyst
DailyFX provides forex news and technical analysis on the trends that influence the global currency markets.