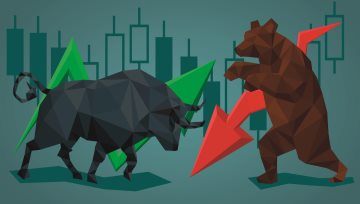 Dow, S&P 500 Rise After Trump Tweets Jawbone Stocks Higher
What's on this page
DOW JONES, S&P 500 RECOVER ON TRUMP TRADE TWEETS – TALKING POINTS
Risk assets like stocks are staging a broad recovery from their recent stumble as the Sino-American trade war heats up
The Dow Jones and S&P 500 moved sharply higher on Tuesday following new tweets from the US President
President Trump has a history of jawboning markets with US China trade talk tweets
Don't miss this article on

How to Day Trade the Dow Jones
The Dow Jones and S&P 500 soared in excess of 1 percent on Tuesday as the US stock market staged a widespread recovery. Equities seem to have caught a bid from President Trump's latest US China trade war rhetoric which coupled with a bounce off technical support levels. Despite the solid rebound in stocks, price action remains in a downtrend following last week's news that tariffs on China will increase from 10 percent to 25 percent on $200 billion of goods.
S&P 500 PRICE CHART: 1-HOUR TIME FRAME (MAY 01, 2019 TO MAY 14, 2019)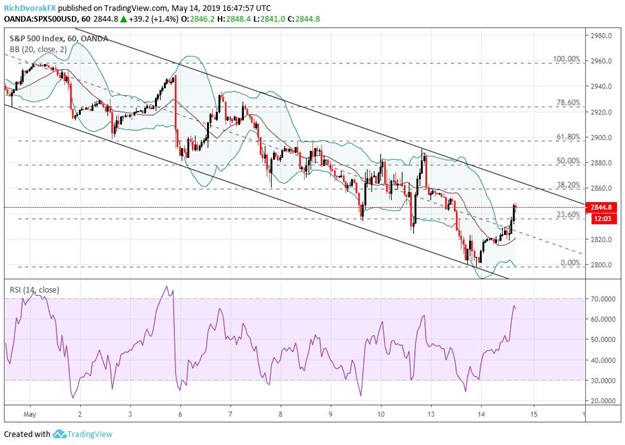 Aside from SPX shooting higher after prices touched support at the psychological 2,800 level, Trump tweets made prior to the US market open likely helped bolster stocks. The US President made a string of jawboning comments like "we can make a deal with China tomorrow," and that "we are in a much better position now than any deal we could have made."
Trump continued with other warm remarks like his "respect and friendship for President Xi is unlimited," while adding "Hopefully China will do us the honor of continuing to buy our great farm product[s]."
Although today's rebound has helped stocks claw back some of the recent downside, the advance may prove to be short lived if President Trump's latest tweets turn out to lack fundamental credence – a scenario that appears likely considering Trump's history of jawboning tweets.
S&P 500 PRICE CHART AND PRESIDENT TRUMP TWEETS ON US CHINA TRADE WAR: DAILY TIME FRAME (AUGUST 30, 2018 TO MAY 14, 2019)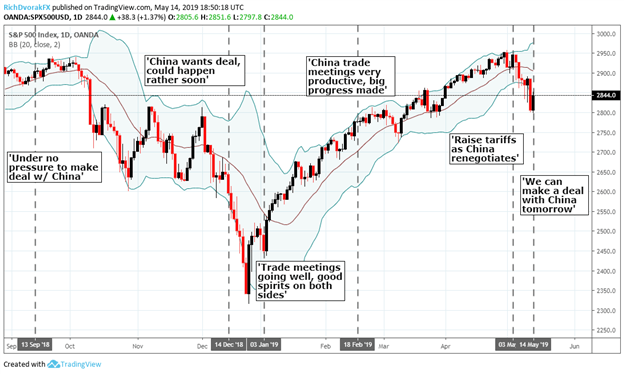 Back when the S&P 500 was trading near its prior record-high in September last year, President Trump took a sterner tone with his language regarding US China trade talks. Specifically, Trump tweeted on September 13 that "we are under no pressure to make a deal with China" which signaled to markets that an agreement would not be reached by the end of the year.
Fast-forwarding 3 months to when the stocks were in the midst of a bear market, the frequency of jawboning tweets seemingly increased but with softer, more upbeat dialect. For example, President Trump tweeted how "China wants to make a big and very comprehensive deal. It could happen, and rather soon!" on December 14 while expounding January 3 that "meetings are going well with good intent and spirit on both sides."
Be sure to download the free Q2 DailyFX Equity Forecast for in-depth analysis and outlook on global stocks!
Other similar comments were made by US President Trump and his administration throughout most of the first 4 months this year which helped fuel the sharp rebound in market optimism and equity prices. But, it appears that President Trump's tone regarding US China trade talks has flip-flopped once again. Days after the S&P 500 notched a fresh all-time high on May 1, Trump tweeted that "the trade deal with China continues, but too slowly," and that tariffs will increase on various Chinese exports.
Stocks reacted poorly to the news after forming high expectations that a deal would be reached and in the near future, but instead swooned over 4 percent after reality sunk in that the US China trade war is escalating instead of ending. But in an apparent attempt to stop the market's bleeding, Trump shifted his rhetoric once again to a more cheerful one with his tweets today.
In sum, it seems that President Trump has a history of jawboning investor sentiment depending on how the stock market is performing. Consequently, extra caution by market participants is warranted as equities now tread water. While today's bounce in stocks may inspire further risk taking, investors may end up disappointed should sentiment falter more quickly upon recognition that Trump's tweets are not indicative of the true state of trade negotiations.
- Written by Rich Dvorak, Junior Analyst for DailyFX
- Follow @RichDvorakFX on Twitter
DailyFX provides forex news and technical analysis on the trends that influence the global currency markets.