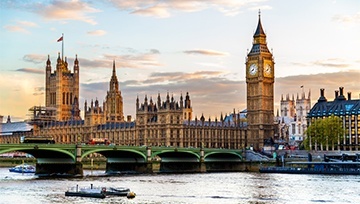 GBP Volatility Likely as a Leadership Challenge to May Comes Closer
What's on this page
Talking Points:
Despite a one-year grace period there are several ways Theresa May can be forced to step down

Markets will welcome any progress in the current political impasse

GBP

reactions to different election outcomes
As FX markets remain focused on British politics, GBP pairs may see an increase in volatility if a change of leadership takes place within the ruling Conservative Party. Despite positive UK GDP figures being released last week, Sterling declined against the Euro for a fifth consecutive day Friday on the stalled Brexit talks. Whilst any progress to overcome the current political impasse will be welcomed by traders, the direction of the move will depend on the perceived effect the outcome will have on the British economy.
THERESA MAY CONTINUES TO LOSE SUPPORT
It is not new that Theresa May faces challenges to her leadership but, as reports emerge that even her closest allies acknowledge it is highly unlikely that she will be able to pass a Brexit deal through Parliament, it is becoming more likely that she will be ousted before the European Parliament elections take place on May 23 and before Tory officials meet on June 15 to consider a vote of no confidence in her leadership.
After a series of polls show that the Conservatives are on course for a humiliation at the ballot box in the European Parliament elections, MPs within her own party are expecting her to name a date for her departure this week as she meets with Tory backbenchers.
Some Tory supporters believe that if the PM does not step down in the coming weeks there will be no party left for other Tory candidates to lead.
HOW CAN THE PM BE OUSTED?
Despite Theresa May's vote of confidence win in December granting her a grace period of one year before she can be formally challenged again, there are other ways she can be forced to resign if she does not decide to do it herself.
Despite there being no formal way Conservatives can oust Theresa May as Prime Minister until December 12, pressure from within the party can lead her to resign. The government could be severely damaged if more cabinet ministers resign over her Brexit decisions, putting pressure on the PM to resign. Another possible way would be to hold an informal indicative vote whereby a lack of support in her leadership may lead her to take the decision to step down.
Theresa May has said before that she will only step down once her deal has been passed by Parliament, and as she has proven to be resilient in the past the question is whether she still stands by her stance after weeks of talks with Labour have yielded no results. If Theresa May fails to name a departure date and provide clarity on the future of her party at her meeting with senior Tories on Thursday, the 1922 Committee of backbench MPs may seek to change its rules so that MPs can force a leadership election sooner than December 12.
The risk is that if a no-confidence vote is passed and no new government can be formed in a fixed 14-day period it will trigger a General Election that could push Brexit back even further and provide more uncertainty in FX markets.
HOW STERLING MAY REACT
UK EU election poll tracker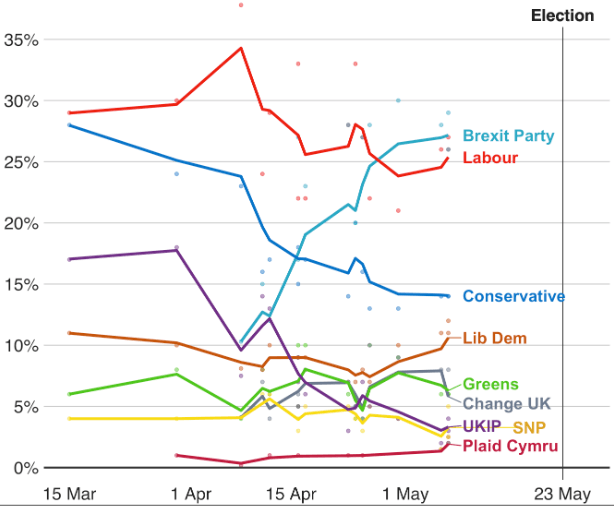 Source: ComRes, Hansbury Strateguy, Opinium, Panelbase, YouGov, BBC News
If pro-Remain parties such as Change UK, the Liberal Democrats, the Green Party and SNP are the ones to gain most of the support they will be pushing for a "People's Vote", a second referendum on Brexit which would allow voters to choose the option to remain within the EU. Despite a second referendum being viewed as a failure to honor the decision made by British citizens in the first referendum that took place in 2016, it could provide some clarity on the future of the UK and that will always be welcomed by the markets. We could see Sterling regaining some ground against other major currencies as traders regain confidence in the future of the currency.
Alternatively, if Nigel Farage's Brexit Party manages to gain enough support and a snap election is called, it will kill hopes of a second referendum and push for an immediate exit from the EU. With detailed policies not to be released until after the European Parliament election and a no-deal Brexit feared by the markets, Sterling could see short-term downward pressure if the Brexit Party wins the election. A long-term rebound would be possible if the new government can steer the UK's split from the EU in a way that boosts the British economy.
Election outcomes that do not provide any clear solution to the Brexit impasse could see Sterling face continued pressure as the currency will face a limbo situation whereby macroeconomic data could be ignored as the GBP pairs focus on the possible Brexit outcomes.
KEY TRADING RESOURCES:
--- Written by Daniela Sabin Hathorn, Junior Analyst
DailyFX provides forex news and technical analysis on the trends that influence the global currency markets.