Currency Volatility: Brexit Latest Puts UK and British Pound at EU's Mercy
What's on this page
EURGBP IMPLIED VOLATILITY – TALKING POINTS
Prime Minister Theresa May submitted her plea to European Council President Donald Tusk earlier asking for a delay to the March 29 Brexit deadline, but the UK's fate now rests in the hands of the EU27 who will decide in unanimity whether to extend Brexit
EURGBP wavers as serious uncertainty over the outcome of Brexit remains and could further fuel volatility for the currency pair
Looking for ways to improve your trading? Check out this guide on

Using News and Events to Trade Forex

or read up on

How to Build Confidence in Trading
Implied volatility across the forex market has risen lately in response to a barrage of high-impact economic data releases and an overwhelming presence of central bank decisions. Although, EURGBP is a currency pair that looks to be of interest in particular given its current susceptibility to large price swings as traders react to the latest Brexit developments.
FOREX MARKET IMPLIED VOLATILITIES AND TRADING RANGES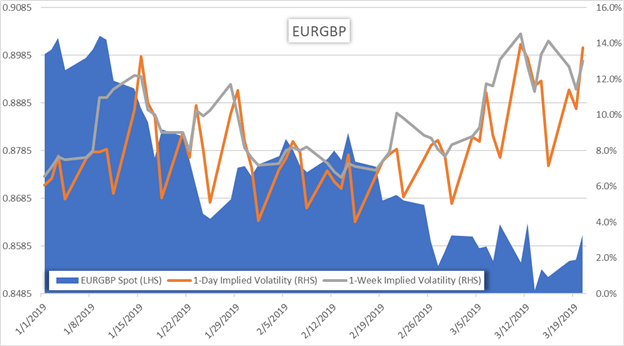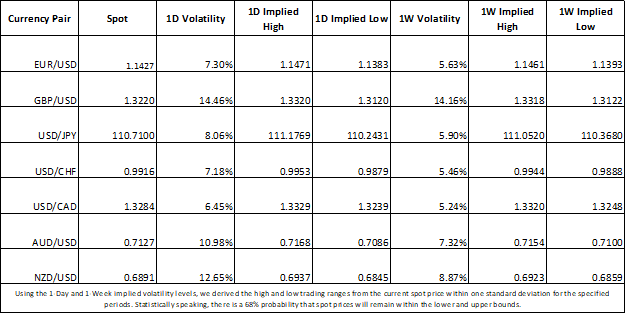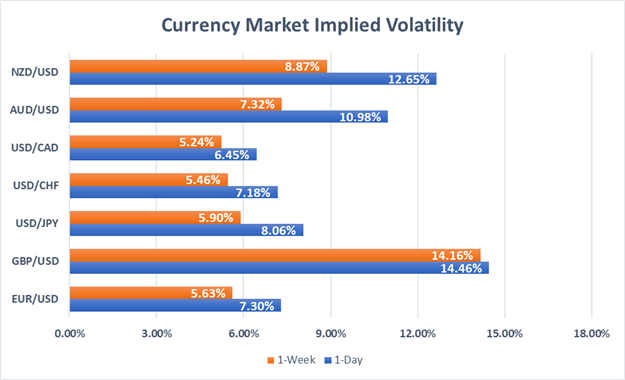 The Euro-Pound experienced another sharp move today as PM May formally requested an extension to Article 50 after British MPs voted to delay Brexit last week. The extension needs to be unanimously approved by the other 27 European Union members, however, leaving much unknown regarding when and how the UK will sever itself from the bloc.
Following the PM's request to delay Brexit to June 30, the House of Commons held a debate criticizing Theresa May as MPs claimed that a short extension request was contingent on passing a withdrawal agreement. But, feasibility of approving a deal quickly faded after Speaker Bercow prevented a third vote on the PM's withdrawal agreement seeing that MPs cannot vote on the same proposition since her deal already failed to garner enough Parliamentary support.
Some European Union politicians also joined the criticism of Theresa May's request to delay Brexit until June 30. An obvious concern from the EU's perspective is Brexit interfering with upcoming EU Parliamentary elections set to begin May 23. The voiced opposition to the UK's request to extend Article 50 likely injected further uncertainty to the situation considering all 27 other members of the European Union must unanimously agree to delay Brexit.
Additionally, European Commission President Donald Tusk issued a follow up statement in response to Theresa May's request which read "I believe that a short extension will be possible, but it will be conditional on a positive vote on the withdrawal agreement in the House of Commons." Tusk also reiterated that the current deal on the table is final and that negotiations will not be re-opened.
Later in the evening, PM May gave her own press statement where she proclaimed that MPs must decide if they want to leave the EU with her deal, leave without a deal, or not leave at all. May added that she "passionately hopes MPs will find a way to back the deal I have negotiated with the EU – a deal that delivers on the result of the referendum and is the very best deal negotiable."
Consequently, the fate of Brexit occuring on the March 29 deadline now appears to be overwhelmingly in the hands of the EU. That being said, EURGBP traders will likely turn to upcoming events in aim of gauging where the currency pair heads from here.
FOREX ECONOMIC CALENDAR – EURGBP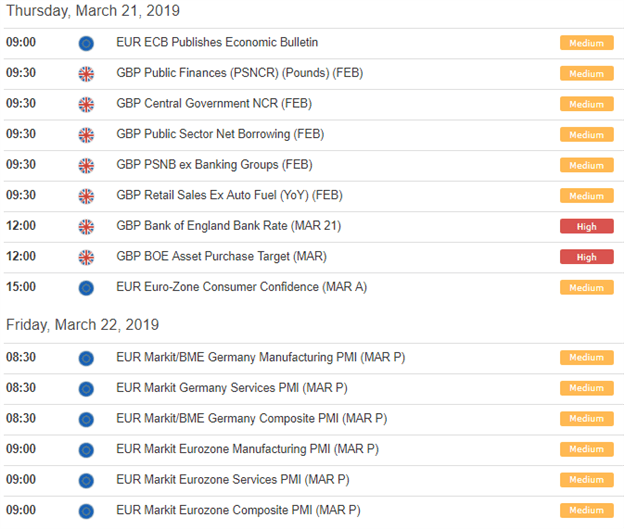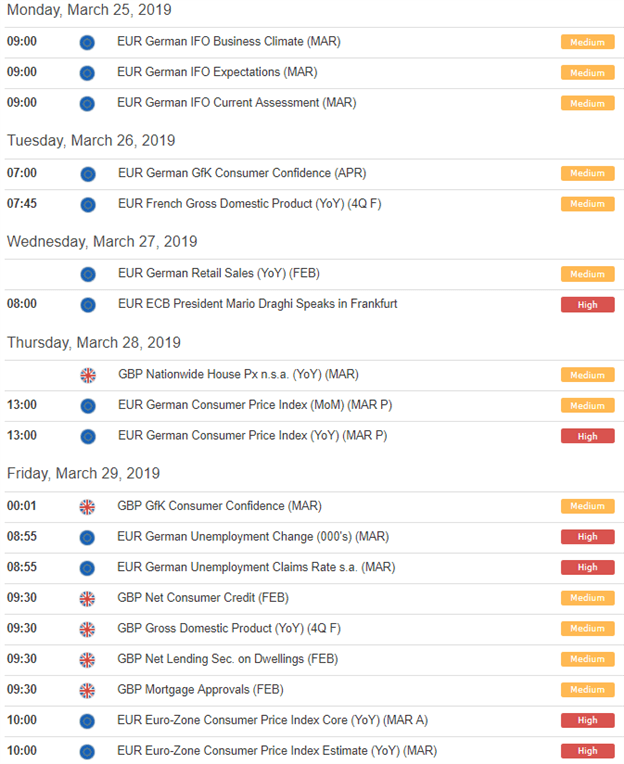 Visit the DailyFX Economic Calendar for a comprehensive list of upcoming economic events and data releases affecting the global markets.
Aside from Brexit, a slew of approaching economic events and data releases coming out of the Eurozone and UK pose additional risks to EURGBP which could stimulate further price gyrations over the coming days. Most prominently, the Bank of England will take the stage tomorrow as it announces its latest take on monetary policy and the British economy.
UK economic data has been holding up surprisingly well in spite of this Brexit uncertainty and BOE Governor Mark Carney could shed some light on the central bank's relatively hawkish or dovish position. Also tomorrow, the EU Summit begins where European politicians will debate the UK's Brexit extension request which hopefully will provide some clarity over the current situation.
As for Friday, PMI data out of the Eurozone could thwart EUR advances if data disappoints or echoes growing concerns over the EU's slowing economy. Next week will include a high-impact speech from ECB President Mario Draghi and European inflation data too – both of which have potential to move the market's needle.
EURGBP CURRENCY PRICE CHART: 4 HOUR TIME FRAME (FEBRUARY 06, 2019 TO MARCH 20, 2019)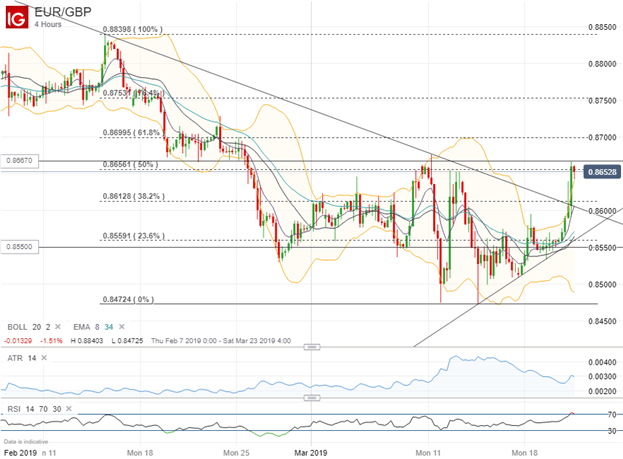 The Euro spiked against the Pound in response to today's developments and sent EURGBP spot prices rocketing above downtrend resistance to the 0.865 level. But, the advance lost momentum at the 50.0 percent Fibonacci retracement line drawn from February's high to March's low where prices rest now.
Slightly above this area is the EURGBP 1-week implied high derived from volatility implicitly priced by options traders and could limit further upside. A breakout higher could suggest a shift away from the Brexit optimism that has largely contributed to the GBP's healthy appreciation for much of this year.
If things dramatically improve for the UK over the coming days – or worsen in the Eurozone – EURGBP might quickly reverse lower. In that case, the 38.2 percent Fibonacci line could be eyed as a potential target if the currency moves to the downside.
Below that level, the 1-week implied low suggests spot EURGBP will trade above 0.855 which could serve as another area of support. Nevertheless, fundamentals driven by Brexit developments will likely dominate EURGBP price action and the currency pair's next direction.
- Written by Rich Dvorak, Junior Analyst for DailyFX
- Follow @RichDvorakFX on Twitter
DailyFX provides forex news and technical analysis on the trends that influence the global currency markets.