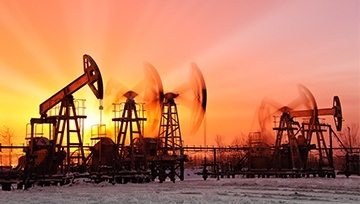 OPEC Preview: Oil Producers to Announce a Fresh Round of Curbs
Oil Price Analysis and News
Baseline Case: OPEC and Non-OPEC to Agree Cut

Link to tentative program, click

here
For a more in-depth analysis on Oil Prices, check out the Q4 Forecast for Oil
OPEC and Non-OPEC ministers will convene on December 6th for the 175th OPEC and 5th non-OPEC ministerial meeting. Heading into the meeting, the consensus is for OPEC and Non-OPEC members to agree a production cut to stabilize prices.
Cataclysmic Drop in Oil Prices
Ahead of the implementation of sanctions on Iran's oil sector, crude oil prices had been trading at near 4yr highs from the beginning of October with Brent above $85 as markets feared possible supply shocks. This in turn sparked the likes of Saudi Arabia and Russia to boost supply in order to keep the oil market well supplied. However, what had taken many by surprise had been the cataclysmic drop in oil prices from October, which saw the worst run of losses since the financial crisis with Brent plunging 30%. A multitude of factors had been behind the drop, most notably, the surprise announcement by the Trump administration to issue oil waivers for 8 nations, including Iran's largest buyers (China & India), subsequently reducing the impact of sanctions.
Alongside this, the general message from the IEA, EIA, and OPEC oil reports had been that oil supply is set to rise given sizeable increases in output from the US (Currently producing at record levels), while the global growth outlook is expected to slow amid the backdrop of trade wars. Consequently, providing a more bearish outlook for oil prices, which had been reflected in the Brent and WTI curve, flipping into contango.
Baseline Case: OPEC and Non-OPEC to Agree Cut
The general consensus is that OPEC and Non-OPEC will agree to cut output from anywhere between 1-1.5mbpd, particularly as oil heavyweights Saudi Arabia and Russia have both stated that they see a need to act to prevent a supply glut. The question is, by how much?
OPEC source reports noted that oil producers had been working towards a minimum output cut of 1.3mbpd from October levels (33.27mbpd). However, it added that Russia's stance on how much they would contribute to the cuts had been the main obstacle (prefer to cut by 150kbpd vs 250-300kbpd).
Potential Scenarios
No Cut: Failure for OPEC and Non-OPEC members to reach an agreement could see oil prices fall sharply with Brent potentially breaking below the YTD lows to hover around the region of $55.
1mbpd Cut: This would be the bare to minimum to help ease the recent sell-off in oil prices, while this would also be the reversal of the 1mbpd boost in oil production by Russia and Saudi Arabia back in September.
1.3-1.5mbpd Cut: Forecasts have suggested that anything less than a cut of 1.3-1.5mbpd would likely lead to an increase in global oil inventories in H1 2019. This would undoubtedly have the most bullish impact on prices, however, a sizeable cut would need the involvement of Russia and is likely to be highly criticized by President Trump.
Recent Commentary from Oil Ministers
| Country | Comment |
| --- | --- |
| Saudi Arabia | Too soon to say if OPEC and allies would cut production as the terms of the deal remain unresolved (Dec 4th) |
| Russia | There will be a decision on whether to cut oil output (Nov 30th) |
| Iraq | OPEC meeting will aim to achieve balance in oil markets and bolster prices (Dec 4th) |
| UAE | There is a requirement for an adjustment in oil production, adds that it is important for everyone to get on board (Dec 4th) |
| Iran | Will not discuss OPEC quota with anyone as long as it is under sanctions (Dec 5th) |
| Kuwait | Will discuss market conditions and how to stabilize oil markets (Dec 4th) |
| Nigeria | There is absolute resolve to stabilize oil market and whatever actions taken will be taken (Nov 28th) |
| Angola | No recent commentary |
| Venezuela | Hoping to raise output next year but will respect any new deal if OPEC agrees to reduce output from December (Nov 11th) |
| Libya | No recent commentary |
| Algeria | No recent commentary |
| Ecuador | Would support an OPEC production cut (Nov 26th) |
What Traders Need to Know When Trading the Oil Market
Important Difference Between WTI and Brent
Oil Impact on FX
Net Oil Importers: These countries tend to be worse off when the price of oil rises. This includes, KRW, ZAR, INR, TRY, EUR, CNY, IDR
Net Oil Exporters: These counties tend to benefit when the price of oil rises. This includes RUB, CAD, MXN, NOK.
--- Written by Justin McQueen, Market Analyst
To contact Justin, email him at Justin.mcqueen@ig.com
Follow Justin on Twitter @JMcQueenFX
DailyFX provides forex news and technical analysis on the trends that influence the global currency markets.