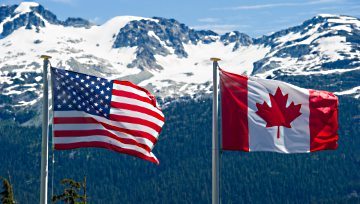 USD/CAD: Will the Sell-Off Continue?
What's on this page
Talking Points:
The

Canadian Dollar

is supported by consistently positive fundamental news, including a U.S. / Canada trade deal, strong economic

growth

and a rising

oil

price

This week, open interest and volume in Canadian Dollar futures increased, suggesting the price move has staying power

Large speculators' futures positioning is neutral, suggesting that price could have further room to run

USD/CAD

may not be the best place to play a rising Canadian Dollar
USD/CAD gapped lower at Sunday's open following news that the U.S. and Canada were nearing a deal on trade. That agreement was, in fact, confirmed not long into the trading week. The NAFTA tailwind drove USD/CAD to slide towards the 1.2800-level before bouncing back to 1.2900 by Thursday as the Dollar regained momentum against rivals.
Judging by the market's reaction and CAD's continued strength, the news did two things. First, it eliminated uncertainty about whether a deal could be reached. Second, and more importantly, it reinforced Canada's positive economic story.
From a technical perspective, the longer that USD/CAD accepts prices below 1.30, the more that a continuation of that move seems likely. Ahead of a potentially explosive Friday (with both U.S. and Canadian employment and trade numbers), here is a closer look at the market and what we can learn from Canadian Dollar futures markets.
TopstepFX allows you to trade forex without risking your own capital. Perfect your trading strategy real-time in simulated markets and then, when you prove you can profit, earn TopstepFX's capital to trade.
The Canadian Dollar is Supported by Fundamentals, the Trade Deal and Rising Oil Prices
From a fundamental perspective, the looming will-they / won't-they debate back and forth on trade was like a black cloud over the Canadian Dollar. While the likelihood was low that the U.S. and Canada would not reach a deal, the potential consequences were so high that traders had to account for it – even as the Canadian economy performed well.
Now that the tail risk is removed, traders can start to focus back in on Canada's performance. And things look good. Last week, GDP suggested that the Canadian economy could grow at 2% in the third quarter, above the Bank of Canada's expectation of 1.5%.
Now, let's throw rising Crude Oil prices into the mix. November Crude Oil prices are at contract highs and levels not seen in four years, an encouraging sign for continued economic expansion and inflation.
Strong growth, combined with hotter-than-expected CPI, points to one thing: the need for the BoC to hike interest rates even further. And that next move is expected at the Bank of Canada's October 24th meeting, where the bank is expected to hike interest rates for a fifth time since July 2017.
This Week Open Interest in Canadian Dollar Futures Supported Trend Staying Power
Even as the price of USD/CAD has steadied since Sunday's news, interest in Canadian Dollar futures on the CME has expanded. Open interest of CAD futures rose 15 percent since Thursday. Rising open interest is an indication that more market participants are taking part in setting prices.
In addition to open interest expanding, volume also jumped last Friday, following the Canadian GDP release; and Monday, following the NAFTA news. CAD futures traded 77,739 contracts on Thursday before trading 82,704 contracts on Friday and 108,556 contracts on Monday. In the past two days as the price has consolidated ahead of U.S. and Canadian employment figures, futures contracts are trading back around the 60,000-70,000 mark.
Large Speculators' Futures Positioning is Neutral Rather than Extreme
Speculative positioning on USD/CAD is neutral – meaning large speculators are not overly long or short the Canadian Dollar. The latest CFTC Commitment of Traders Report (CoT) shows that large speculators are net short 19,532 CAD contracts. Since January 2017, this positioning is right in the middle of a range that has seen speculators short as much as 100,000 contracts and long as many as 80,000 contracts. So relative to that, we're right in the middle of the range.
The weekly CoT report is something that traders should keep an eye on as it is typically a contrarian indicator of price. For example, large speculators were net short nearly 100,000 CAD contracts as the price bottomed in May 2017, only turning bullish right in time for prices to top in September 2017.
The same trend played out this year. These traders were long more than 40,000 contracts as prices topped in early February, before flipping to go short near the interim bottom in March.
USD/CAD May Not be the Best Bullish Canadian Dollar Play
Even given these strong underlying factors, traders must ask themselves if USD/CAD is the best place to play Canadian Dollar strength. The answer is likely no thanks, in part, to broad and continued U.S. Dollar strength.
Another potential option: EUR/CAD. Though EUR/CAD dropped 500 pips (from 1.53 to 1.48) in the past week, it is forming a pattern of lower highs and lower lows that is technically encouraging. And, it has another 600 pips that it could fall before hitting the upward-sloping trend line that has supported prices on the weekly chart since August 2012 lows just under 1.22 (below).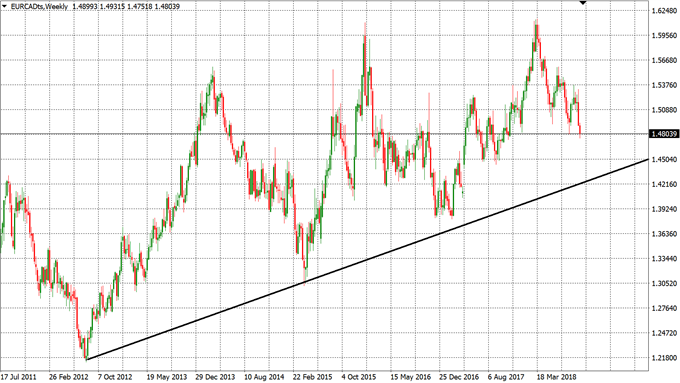 Some caution is warranted ahead of Friday's Canadian employment figures though. While I don't expect it to alter the positive fundamental and technical picture, it wouldn't be surprising to see a slight Canadian Dollar sell-off as participants cash in on the recent move.
Mark Meadows is an currency analyst at TopstepFX, a proprietary trading firm that funds retail forex traders with live capital. Learn more how you can earn TopstepFX's capital at www.topstepfx.com/.
DailyFX provides forex news and technical analysis on the trends that influence the global currency markets.