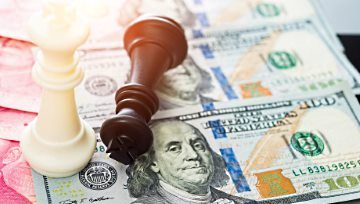 Trade War Concerns Look to Preoccupy Weekend G20 Meeting
Talking Points:
President Trump unveils threat of import tariffs on $500 billion worth of Chinese goods

Ministers may also discuss the President's comments regarding the Fed

The meeting could share a similar fate to the G7 summit in Quebec, overrun with tariff debate
Gain insight on market moving events from our Live Webinars and learn to trade more effectively with our Free Trading Guides.
With a new threat of dramaticallyescalating tariffs, US President Donald Trump could prompt participants at this weekend's G20 meeting to dedicate more time to discussing trade fears than less-pressing, scheduled topics. If so, the meeting held in Buenos Aires will not be the first to be overrun by trade talks, with a recent G7 summit in Quebec sharing a similar fate. Scheduled topics of discussion encompass: the future of work and infrastructure development (two priorities of the Argentine G20 Presidency), global growth, international tax system and financial inclusion.
The topics that could threaten the schedule will likely be the ongoing steel and aluminum tariffs, proposed auto tariffs (originally targeted at the EU), and the new threat of $500 billion in tariffs on China- all originating with the United States. Unprecedented remarks on the Federal Reserve's policy path by the President Trump may also come up.
Delegates at the G-20 summit in Buenos Aires – finance ministers and central bank governors – are also working on language that urges improved communicationto mitigate trade tensions, according to a person with directknowledge of the discussions. Although the US President's Tweets have caused boisterous debate, his trade and FX tweets were not mentioned during formal G-20draft talks, a person said, asking for anonymity
Despite the opportunity and opportune timing for a critical discussion on trade relations, some participants attempted to curb expectations of a meaningful insight – much less response – at this gathering. German Finance Minister Olaf Scholz said Friday "it doesn't look like we will make major progress on trade at G20 this weekend."
Stay up to date with important economic data with our Economic Calendar.
If Scholz's premonition rings true, next week will present officials with further opportunities to handle trade more directly as Jean-Claude Juncker, head of the European Commission will come to the White House to discuss auto tariffs with President Donald Trump on the 25th. Similarly, Mexico's economy minister will also visit the White House to discuss NAFTA the following day on the 26th.
Articles Relating to the Ongoing Trade Wars:
1. Yen May Rise as US Autos Tariff Threat Revives Trade War Jitters – By Ilya Spivak, Senior Currency Strategist
2. Fed Monetary Policy Report Expresses Worry over Trade Wars – By Peter Hanks, DailyFX Research
3. Yuan, Stocks May Retrace on Modest GDP, China's Retaliation in Trade War – By Renee Mu, Currency Analyst
4. US China Trade War & a Brief History of Trade Wars – 1900 until Present – By DailyFX Team
5. Auto Tariffs - and Retaliations - Grow More Likely as Trade Wars Rage On – By Peter Hanks, DailyFX Research
---Written by Peter Hanks, DailyFX Research
DailyFX provides forex news and technical analysis on the trends that influence the global currency markets.