Auto Tariffs - and Retaliations - Grow More Likely as Trade Wars Rage On
Talking Points:
Trade wars continue to rage on as countries explore trading partners outside the US

Japan and the EU sign bilateral trade agreement that will likely increase Japanese auto imports in Europe

NAFTA remains unresolved with a new Mexican government looking to take the reins in December
What do the DailyFX Analysts expect from the Dollar, Euro, Equities, Oil and more through the 3Q 2018? Download forecasts for these assets and more with technical and fundamental insight from the DailyFX Trading Guides page.
The initial steel and aluminum tariffs imposed by the United States in March have since ballooned into a much more diverse and costly trade war. With various countries coming under threat from the most recent wave of tariffs and retaliatory duties, governments are looking for the next industry to target in reprisal. For the US, the auto industry may be next to come under scrutiny considering President Donald Trump ordered the Commerce Department to investigate the effects of a 25% tariff on vehicle imports (particuarly from the EU) nearly two months ago.
Such a tariff would spell trouble for many nations, including: The United Kingdom, Germany, Italy, Japan, South Korea, Mexico, and Canada. Although the nations have various export industries, autos are among the top in each of the above economies.
Table 1: Auto Exports as % of Total Exports and Exports as % of GDP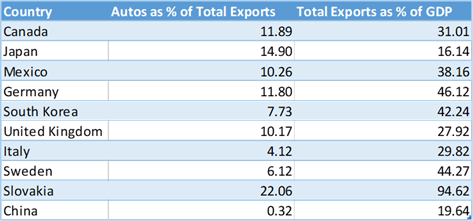 Look for important economic data releases that could influence your trades with our Economic Calendar.
Each of these nations has a vested interest in avoiding increased duties put on vehicles and some nations have already begun to lower barriers with other nations in anticipation of finding economic support to compensate for troubles with the US. The European Union and Japan signed a bilateral trade agreement Tuesday, eliminating $1.17 billion in tariffs paid by European companies and $2.35 billion for Japanese companies. Collectively, the two regional economies account for roughly 30% of global economic output and their deal would allow for increased vehicle exports to the EU from Japan.
As for the other vehicle exporting nations, new arrangements have yet to be made. NAFTA will likely remain unresolved as a new government looks to take power in Mexico come December. This leaves the $74 billion in vehicle exports from Mexico and Canada to the US at risk.
Table 2: Auto Exports to the US by Country for 2017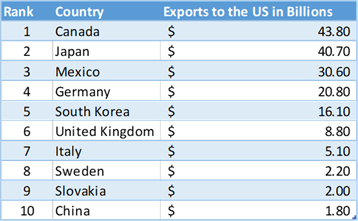 On Thursday, Commerce Secretary Wilbur Ross testified before a Senate Finance hearing on current and proposed auto tariffs. At the beginning of the hearing, Mr. Ross said it was "too early to say" if the tariffs are needed. The hearing was held to determine whether government action is required to assure the viability of US domestic production.
As the trade war continues, auto tariffs will be one of the most hotly contested topics. Considering the sector has been a sticking point in NAFTA negotiations for months and given the global nature and remarkable economic heft, the industry is an attractive option for an administration keen on rebalancing trade.
Articles Relating to the Ongoing Trade Wars:
1. Yen May Rise as US Autos Tariff Threat Revives Trade War Jitters – By Ilya Spivak, Senior Currency Strategist
2. Fed Monetary Policy Report Expresses Worry over Trade Wars – By Peter Hanks, DailyFX Research
3. Yuan, Stocks May Retrace on Modest GDP, China's Retaliation in Trade War – By Renee Mu, Currency Analyst
4. US China Trade War & a Brief History of Trade Wars – 1900 until Present – By DailyFX Team
Let me know in the comment section below if you think the US will impose auto tariffs. You can also reach out to me on Twitter at @PeterHanksFX.
---Written by Peter Hanks, DailyFX Research
DailyFX provides forex news and technical analysis on the trends that influence the global currency markets.