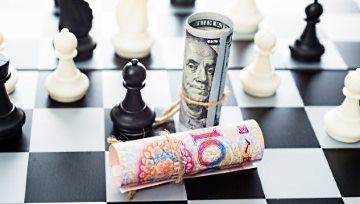 NATO Meeting Ends With US Allies Promise to Reach Spending Target
Talking Points:
NATO Secretary General Stoltenberg agreed uneven spending exists within the alliance

US President Donald Trump informally proposed members spend 4% of

GDP

up from 2%

Currently, only 5 of 29 members meet the 2% GDP guideline

President Trump questioned energy imports from Russia by NATO members
Gain insight on market moving events from our Live Webinars and learn to trade more effectively with our Free Trading Guides.
The Leaders of the North Atlantic Treaty Organization (NATO) met in Brussels, Belgium for a two-day summit spanning July 11th and 12th. As the first day of the summit came to a close, US President Donald Trump's comments dominated headlines in familiar fashion. Since President Trump took office, he has been highly critical of the spending guideline put in place by the alliance. Currently, the US spends 3.6% of GDP on NATO and is one of only five nations that reach the 2% guideline. The other members that meet the guideline are the UK, Greece, Poland, and Estonia. In a NATO agreement made in 2014, members pledged to meet the 2% target by 2024, a timeline seemingly too slow for President Trump. In an informal proposal, he suggested each member state provide spending equal to 4% of GDP. The criticism and proposal dominated headlines with leaders, including Secretary General Jens Stoltenberg, widely accepting the complaint of unequality and pledging to spend more.
Another key takeaway from the first day was President Trump's criticism of Angela Merkel's Germany. Claiming Germany was 'totally captive' to Russia, President Trump questioned the purchase of Russian energy by NATO members. The pointed criticism is likely related to the construction of the Nord Stream 2 pipeline. The pipeline, set to become operational in 2019-2020, will run from Russia to Germany (Ust-Luga to Greifswald) and double the pipeline capacity between the two nations. The pipeline is opposed by the US and some EU members, including European Council President Donald Tusk.
At present, the summit has not produced any tangible market impact as ongoing trade wars continue to dominate investor concerns – particularly in the aftermath of the United States' recent, surprise announcement of another $200 billion tariff proposal on China. The summit will continue tomorrow and President Trump is scheduled to visit the United Kingdom and meet with Russian President Vladimir Putin in Helsinki, Finland on July 16th.
Stay up to date with important economic data with our Economic Calendar.
---Written by Peter Hanks, DailyFX Research
DailyFX provides forex news and technical analysis on the trends that influence the global currency markets.