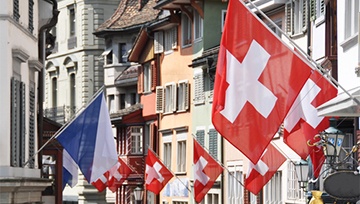 Swiss Initiative Proposes Sovereign Money System; Posing Risk to Franc
What's on this page
Talking Points:
Initiative proponents claim that only 10% of current money supply is from the Swiss National Bank

The sovereign money scheme intends to protect tax-payers from bailing out banks

Swiss National Bank Chairman Thomas Jordan warns the move would damage Swiss economy

If implemented, the system may pose significant risks to the Franc's status as a safe-haven currency
Learn the number one mistake traders make when trading. Download our Traits of Successful Traders Guide in the Beginner section of the DailyFX Trading Guides page.
The proposal facing Swiss voters on June 10th aims to have money created by the Swiss National Bank instead of the current system where money is created electronically by commercial banks. Supporters for the initiave claim the system would make the Swiss banking system more secure and less complicated, citing that only 10% of current money supply is from the Swiss National Bank. Similarly, they argue adopting the system would avoid dangerous asset bubbles and free tax payers from the prospect of bailing-out banks if threatened with collapse. While the system has been proposed in Iceland and the Netherlands in years past, it has yet to be adopted. Swiss National Bank Chairman Thomas Jordan stands opposed to the new scheme.
The chairman cited a multitude of reasons for his opposition, with the most prominent being the uncertainty the new system would pose for the Swiss economy. Although the chairman conceded the proposal's intentions were noble, he went on to say "acceptance of the initative would plunge the Swiss economy into a period of extreme uncertainty." He then added, "Switzerland would have an untested financial system that would differ fundamentally from that of any other country, this would create turmoil on the financial markets even before its implementation." The move could also restrict the supply of credit to households, making borrowing more expensive and potentially slowing business growth.
As we look to concrete effects, any uncertainty surrounding the Franc and the Swiss economy would undoubedtly put the currency's safe-haven status in question. However, a survey collected this week shows the vote is poised to fail with 49% against the measure – while 35% are for it and the balance undecided – a reason for cautious optimism among Franc holders. Year-to-date, the Franc has given up ground to the Euro, currently resting in the range between 1.1900 and 1.2000. On a larger scale,EUR/CHF stands on the cusp of fully recovering ground lost following the dramatic removal of the SNB's primary monetary policy tool (the 1.2000 floor on EUR/CHF) back in January 2015.
Chart 1: EUR/CHF Daily Chart 2018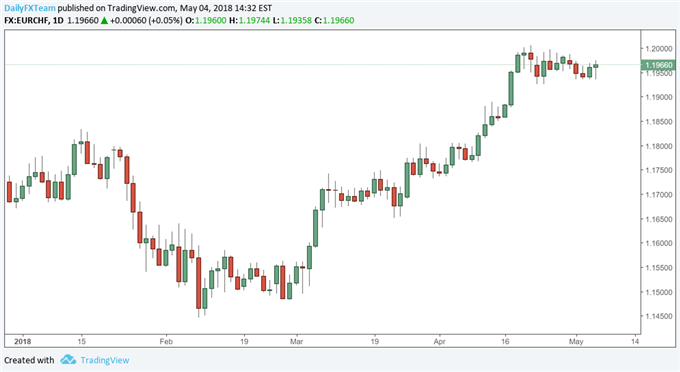 Chart 2: EUR/CHF Weekly Chart 5 Year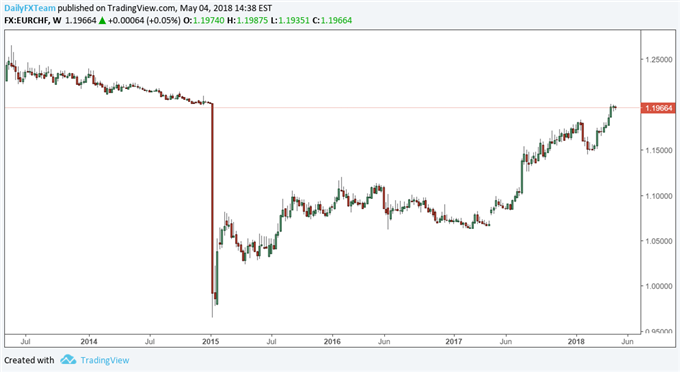 DailyFX provides forex news and technical analysis on the trends that influence the global currency markets.